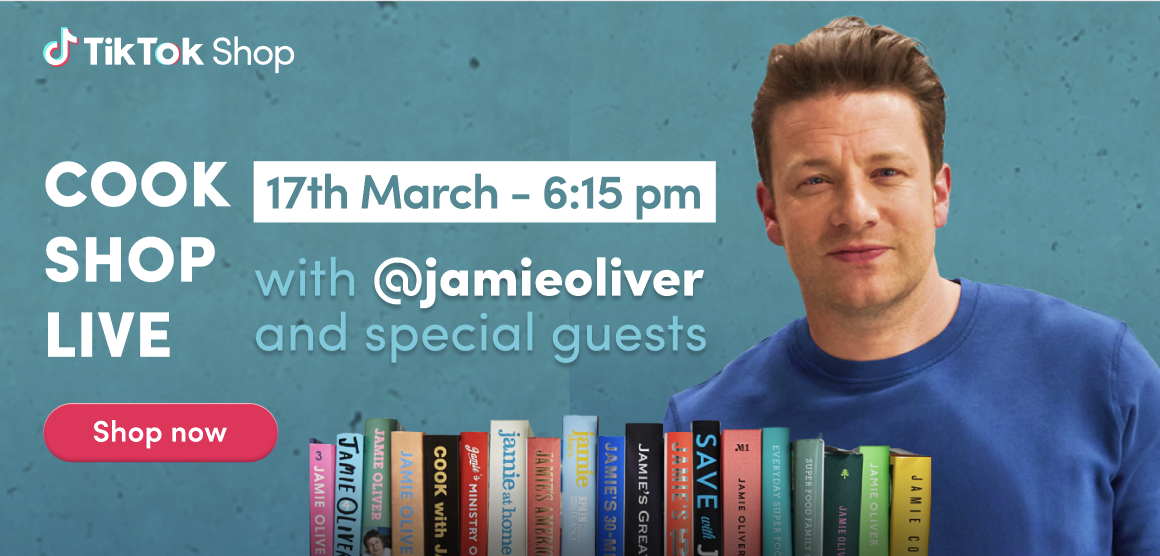 Celebrity chef Jamie Oliver (@jamieoliver) is set to host a live event exclusively on TikTok, revealing a first-look at his much anticipated cookbook ONE: Simple One-Pan Wonders, as well as launching the chef's published back catalogue on TikTok Shop UK.
On Thursday, 17th March, Jamie will host a special TikTok LIVE at 18:15 GMT with a host of special guests including TikTok creator Julius Fiedler (@bakinghermann), presenter Saskia Marriott (@saskiamarriottpresents) and Brit Award nominee Tom Grennan (@tomgrennan). As part of the live event Jamie will launch his very own TikTok Shop on the platform, meaning those feeling inspired will be able to buy one of his 25 best-selling cookbooks, published by Penguin Michael Joseph, directly in app.
The food community on TikTok, or #FoodTok, is thriving with people sharing their favourite recipes and cooking tips, all with a uniquely TikTok spin. Food content has now clocked up over 15.4 billion views on the platform. #FetaPasta, anyone? This ever-growing community of home cooks and food creators will have the chance to join Jamie after-hours at his London HQ to enjoy this one-of-kind event.
Cookbook memories and inspiration
The evening will kick off with Jamie and Julius as they discuss some of their favourite recipes from Jamie's back catalogue of best-selling cookbooks. Expect to hear about Jamie's memories of creating the books, some of his favourite recipes, as well as a few anecdotes on his career since he hit the limelight with the Naked Chef 23 years ago.
Jamie will then be joined in the kitchen by singing sensation Tom Grennan (@tomgrennan) for a spot of canapé tasting, before the pair dive into a brand new recipe from Jamie's new book ONE: Simple One-Pan Wonders. Those tuning in should expect to see Jamie's simple, no fuss cooking with a brand new one-pan spin on some delicious dishes with techniques, tricks and tips never seen before. Be sure to make notes so you can recreate the recipes at home.
Joined by TikTok creators Johnny Kyung-Hwo (@johnnykyunghwo) and Chanell Wallace (@chanellawallace), Jamie will also be setting them a series of quick, one-pan cooking challenges inspired by Jamie's new cookbook.
The LIVE will also include a Q&A, giving you the chance to ask Jamie all your burning questions (no pun intended). Ever wanted to ask one of the UK's top chefs what to make for a quick midweek dinner, or how to cook delicious vegetarian food on a budget? Well, this is your chance.
LIVE Shopping
For the first time during the LIVE, viewers will be able to purchase any of Jamie's best-selling cookbooks directly on TikTok, with special discounts across 23 titles including the best-selling 30 Minute Meals, 5 Ingredients and Veg.
Throughout the livestream, be sure to keep an eye out for the Shopping Bag icon on screen. Viewers will be able to tap to see pinned products or browse Jamie's Shop on his TikTok profile, before selecting any products they wish to purchase all within the TikTok app.
Every customer who comments during the livestream will also enter a competition to win one of ten exclusive Jamie Oliver signed copies of ONE: Simple One-Pan Wonders when it's published in September this year.
James Verity, Creative Director at The Jamie Oliver Group comments, "Not only are we excited to be one of the first cookery brands to launch a TikTok Shop in the UK, but our COOK SHOP LIVE event is the perfect place for Jamie to celebrate his new book ONE. The innovation TikTok creators bring to their recipes is exactly why it's the perfect place for Jamie to share an insight into how he came up with the ideas for the recipes in his new book. The TikTok community is going to be all over the tips, hacks and clever, amazing recipes and we can't wait to share them."
Exclusive music performance
And what's more - BRIT award nominee Tom Grennan will close the night with a live performance of his song Little Bit of Love. Seeing as Tom's helping Jamie to cook earlier during the livestream, we can't help but wonder if Jamie might be tempted to help Tom with his performance...
Take it from us, this is one LIVE you won't want to miss.
New to TikTok and want to get ready for this shoppable LIVE? Simply download the app for free via the Apple App Store, Google Play or Amazon.