Cormac Keenan, Head of Trust & Safety, TikTok
Since we first established our presence in Europe, we've taken a local approach to supporting our growing community of creators. As part of this, we established our EMEA Trust & Safety Hub in Dublin at the start of 2020, to sit alongside Mountain View and Singapore as one of three regional centres designed to further enhance our localised approach to content policy. The goal of this team is to ensure our process in Europe complements local cultures and context, and work closely with European regulators, policymakers, government and law enforcement agencies in pursuit of the highest standard of user safety possible.
Beginning with fewer than twenty people at the start of the year, there are now nearly 600 people based in our EMEA Trust & Safety Hub fully dedicated to keeping our European users safe. Supported by in-market specialists, our entire user safety strategy, decision-making and enforcement operation for Europe and the UK are led by this experienced team, with senior leaders spanning functions including policy-making, product and process and quality assurance, as well as experts in areas such as minor safety and hate speech.
The rapid growth of this EMEA hub complements the extraordinary growth of our community. Today, over 100m people in Europe are active on TikTok every month and we want to ensure that as this community continues to grow, we are doing everything we can to keep TikTok a safe space for positive, creative expression.
With this community growth also comes the need for even more expansion. While our initial focus was on establishing and growing our EMEA Trust & Safety function, we are continuing to make strategically important investments in Europe beyond community safety. We now have over 2,000 employees here, working across a wide range of areas including brand and creator engagement, commercialisation, music, product, privacy, policy and safety. These numbers are growing fast and we expect to add at least another 200 roles over the next three months in Ireland alone - bringing our total headcount there to over 1,100 by January 2021.
Another key function that we've recently established is our European data protection and privacy team, which we have built out with the appointment of both our Head of Privacy for EMEA and Data Protection Officer earlier this year. Related to this, we also intend to establish our first European data centre in Ireland by 2022. This €420million investment will create hundreds of new jobs and ultimately become the home of European user data.
One further important part of our expanding European operations is our commercial business - brands are a welcome part of the TikTok community and no matter how big or small your business, no matter what you're making or selling, we believe your brand deserves to be discovered here. We believe that SMBs are the backbone of the global economy and the engines of growth in Europe. Led out of Ireland by our Head of SMB and an expanding team, our SMB hub is dedicated to supporting businesses to engage the TikTok community and grow their business.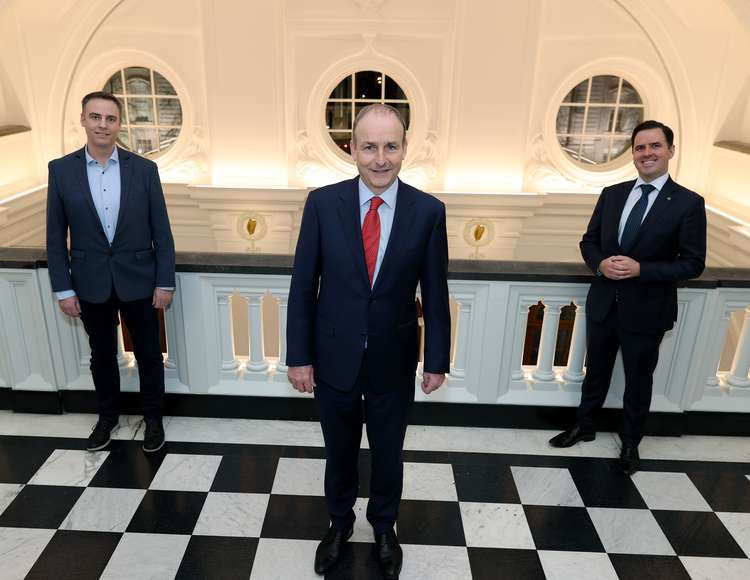 Pictured at Ireland's Government Buildings (November 2020) at the announcement of TikTok's 1,100 jobs for Dublin are Cormac Keenan, Head of Trust and Safety TikTok; Taoiseach Micheal Martin TD; and Martin Shanahan, CEO IDA Ireland.
An Taoiseach Micheál Martin said: "TikTok is an amazing success story, made even more remarkable by the short period of time in which it has been operational. Its rise globally has been mirrored by its impressive growth in Ireland – from just twenty employees at the start of 2020 to over 900 today. I welcome TikTok's commitment to Ireland and its pledge to increase numbers to over 1,100 in 2021. These are high quality jobs, but more specifically, they are aimed at ensuring that people can use the app safely while upholding the highest data protection standards.
"TikTok's decision to build a new data centre in Ireland will create hundreds of new jobs, and the investment affirms the quality of the Irish workforce, while underlining the Government's commitment to keep Ireland at the forefront of digital innovation."
Tánaiste and Minister for Enterprise, Trade & Employment, Leo Varadkar TD, said: "This is a major expansion of TikTok's business functions here in Ireland, especially in the all important areas of trust and safety, data protection and privacy. I am delighted that TikTok has chosen to expand its operations here, and to this degree, creating 900 roles to date and with the promise of an additional 200 by the end of January. It is further proof that Ireland is a location of choice for technology innovators."
Vanessa Pappas, Interim Head of TikTok: "We're truly humbled by the phenomenal growth TikTok has experienced this year. To support that vibrant community of creators, we have created over 2000 jobs in Europe, across commercialisation, music, product, privacy, policy and safety - with more still to come. This is thanks to the rich talent pool, diverse technology sector, and rich heritage of arts and culture, that make Europe such an attractive place to invest. It was an honour to meet with Ireland's Taoiseach yesterday to talk about our incredible growth, future plans for investing in the region and the thriving community of European creators that have embraced TikTok."
TikTok is a community like no other: it's a platform that entertains and informs users, fuels creators' career ambitions and provides unique opportunities for brands and music artists to reach and engage with their respective audiences in exciting and unexpected ways. None of this would be possible without the expanding talent that makes up the TikTok team - and the high-quality leadership we've assembled in Europe across trust and safety, data privacy and protection and commercialisation is critical to our continued growth and expansion.