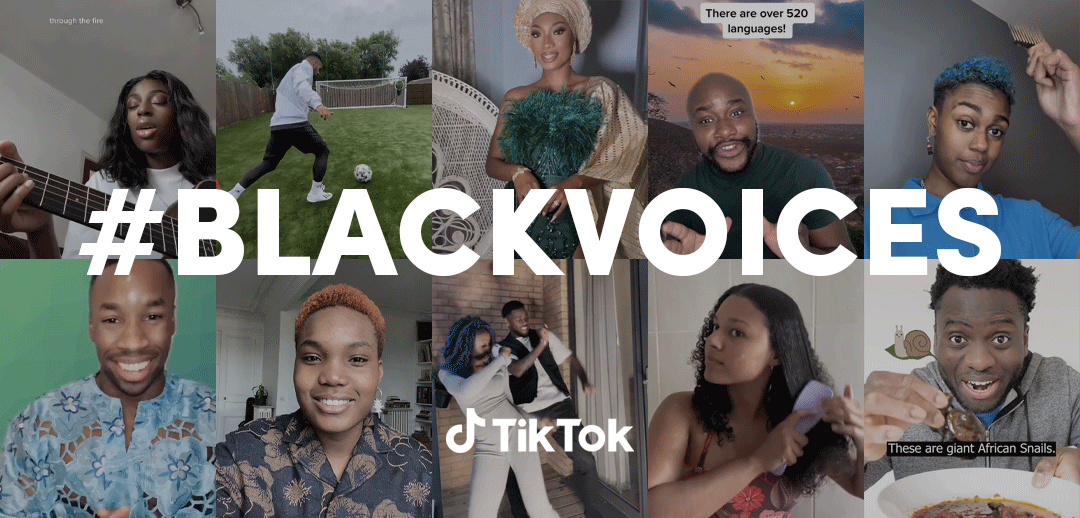 Introducing our Black Creator Traiblazers and Partnership with Havas Entertainment's JUMP, Havas Media Group, STUDIOCANAL (a CANAL+ Company), and Universal Music Group for Brands (UMGB)
Earlier this year we announced our Black Creator Trailblazers programme, a new initiative designed to nurture and develop 30 talented, emerging Black creators, musicians and artists, further celebrating the thriving Black creative community on TikTok.
Today, we can reveal the 30 creators who will join the Black Creator Trailblazers programme and announce a new partnership with Havas Entertainment's JUMP, Havas Media Group, STUDIOCANAL (a CANAL+ Company) and UMGB the global leaders in culture, entertainment, media and communications.
Havas Entertainment's JUMP, Havas Media Group, STUDIOCANAL (a CANAL+ Company) and UMGB have committed an incredible £100k in media and brand partnerships to the Trailblazers as they begin their careers in the creative industries. The new cohort of creators will also benefit from a series of bespoke educational events, workshops, and community-building forums with some of today's most impactful and influential Black entrepreneurs and industry experts across music, entertainment, culture, and business.
The workshops will focus on topics including becoming a brand in your own right, how a film studio works and brand content 1-0-1, with the first one about the creator economy hosted by writer, content creator and presenter Chanté Joseph. Having presented several programmes for Channel 4, and a TikTok creator herself, she is the perfect person to launch the workshop series.
We're also thrilled to announce a further £100k Black Creative fund that will be made available to the Trailblazers by TikTok, to help them realise their creative dreams. Each creator will be given a unique opportunity to pitch for the funds in whichever discipline they choose, for a cash injection to help kick start their career!
Meet the Trailblazers
The Black Creator Trailblazer programme is part of our long-term commitment to provide a step up for emerging talent and support those looking to break into the creative industry and build a sustainable career.
Through the #BlackVoices challenge we called on creators to show the TikTok community why they deserved to be a part of the first ever Black Creator Trailblazers programme.
Entrants were asked to share why they are proud to be one of the many #BlackVoices on TikTok.
The standard of entry was extremely high and revealed the breadth of talent across the UK. Here are the winners...
@thegrubworkskitchen @handluggageonly @davidlarbi_ @lukevernon @djkrystallake @marshaldn @thelucy.a @scarysappho @dr.blondieperes @lindaniellaart @skinfiltrator @justinkarthur @tanyahomeinspo @meetthethorpes @danonkar @priscillaaaaaa_x @travellingtuesdays @staroneuk @kaynekawasaki @masonblakee @karimnewton @yasontheinternet @hadealspeaks @zai_rambles @bellewoghirenn @nayyeeohhhmeee @liljr_ltd @kyronhamilton @benjy_lookbook
Sarah Leccacorvi, Head of Content & Creative, Havas Entertainment and joint head of JUMP comments, "Havas Entertainment's JUMP is proud to be collaborating with underrepresented groups to create a more inclusive culture to positively impact the creator economy and benefit brands in more ways than one. And by joining forces with TikTok, along with the power of music and film from UMGB and STUDIOCANAL, we will start to build something special with and for diverse creators that will super-fuel branded content for our clients."
Greg James, Global Chief Strategy Officer, Havas Media Group, said:"When we think about what meaningful media means today, I can't think of anything more meaningful than empowering and championing these trailblazing Black creators on a platform like TikTok. We look forward to collaborating with and learning from this talented group and bringing this program to other creator communities around the world."
Jamie McHale, Head of Theatrical Marketing, STUDIOCANAL UK comments: "We're thrilled to be partnering with Havas, UMGB & TikTok on the Trailblazers campaign. Working with content creators is an important part of our marketing & communication strategy and we greatly welcome the opportunity to support & build relationships with more Black TikTok creators for our future campaigns."
Trevor Johnson, Head of Marketing, Global Business Solutions for Europe at TikTok comments, "At TikTok, we take great pride in the diverse community we hope to nurture on our platform. Through the Black Creator Trailblazer programme we want to elevate the next generation of Black creator voices, allowing them to monetise their creativity and reach new audiences. The 30 creators are all incredibly talented and exciting and we're delighted to be able to support them on their journey through the programme, the £100k fund we are pledging and through our partnership with Havas Entertainment's JUMP, Havas Media Group, STUDIOCANAL and UMGB ."
New to TikTok and fancy exploring more Black content creators? Getting involved couldn't be easier, simply download the app for free via the Apple App Store, Google Play or Amazon.