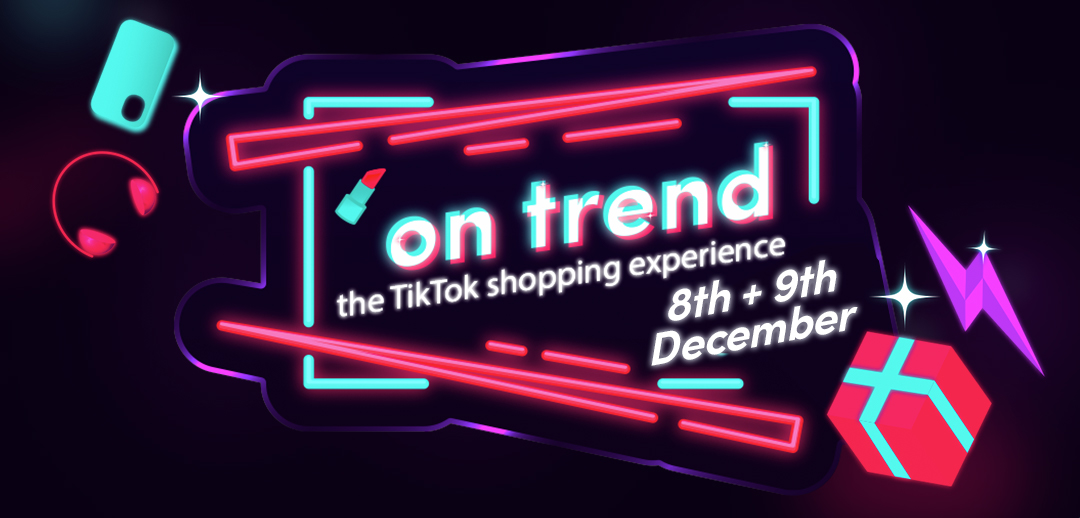 You can take full advantage of this holiday season by continuing to shop for your favourite items on TikTok and feast yourself on two days of exclusive live entertainment all at the same time, as TikTok brings in a new age of shoppable entertainment.
Running from 5.00pm today and tomorrow, 8th-9th December, 'On Trend' is a unique shopping event which will feature offers and exclusive discounts by iconic and popular brands you won't want miss, as well as great entertainment from a host of your favourite creators, entertainers and musicians.
Shopping doesn't have to be a chore
Hosted by TV's Rylan Clark-Neal, and featuring a host of other amazing names including the original diva Gemma Collins, we've got an all-star line-up that has been especially curated for you to make online shopping fun and entertaining again.
Covering everything from beauty, fashion, nutrition and tech, we have prepared a jam-packed schedule of LIVE events featuring your favourite brand and creators, such as Nikki Lilly, Kirsty Belle and you1stlondon. With products for sale from brands including as Charlotte Tilbury, LOOKFANTASTIC, L'Oréal Paris, Nutri Bullet, and many more popular beauty and tech products, you've got a chance to get your holiday shopping (or even a little treat for yourself) in the bag over the next two days.
No holiday event - or TikTok video - will be complete without music, and On Trend is no different. We're bringing you special performances by singer-songwriters and prolific TikTok creators Wes Nelson and Sam Ryder, who have each grown huge fan bases in our community.
For an added twist, Guinness World Records is getting involved with a fun challenge for Gemma Collins to get stuck into, and the event will be brought to a close with a special LADbible quiz.
Check out the sparkly line-up
By combining the creative, entertaining content TikTok is known for with the biggest names and TikTok creators, we are creating a new kind of shopping experience that brings together all your favourite parts of discovering and buying new products, with a distinct TikTok twist.
There will be trending products on TikTok across 10 hours of LIVE entertainment starting at 5pm tonight and 5pm tomorrow all from the TikTok UK (@tiktok_uk) account, with the sessions from Guinness World Records (@guinessworldrecords) and LADbible (@ladbible) on day two taking place from their own accounts.
How to shop on TikTok
From hashtags like #AsSeenOnTikTok to #TikTokMadeMeBuyIt, TikTok has fast become a destination for people discovering the biggest trending items across beauty, food and tech. Brimming with new #beautyhacks, creative #makeuptransformations and honest #techreviews, there's no better place to discover and learn about new products thanks to our creative community of over 1 billion people around the world.
With On Trend, we want to build on that by creating a new and exciting way for our community and consumers to discover new brands, learn about new products and be entertained on TikTok.
Our community can access these special On Trend LIVE sessions by visiting our TikTok UK (@tiktok_uk) account from 5pm on both day or through the Discover page by searching for 'On Trend' in the search box.
The LIVE shopping days are on 8th and 9th December, with products being sold by retailers and brands directly on TikTok. When you see a dedicated On Trend LIVE, you can click on the Product Link in the bottom left corner of the LIVE to see more about that product and options to buy. You can also click on the host page's Profile to access the Shop tab directly in their account and browse all products for sale.
You must be over 18 and have a valid credit or debit card to purchase products on TikTok. Click on the products you wish to buy to add them to your basket. Enter your shipping details, followed by payment information using either a credit/debit card or Apple Pay.
New to TikTok and want to explore more trending products? Getting involved couldn't be easier, simply download the app for free via the Apple App Store, Google Play or Amazon.