We know isolation and lockdown can be boring (there was an entire #BoredVibes TikTok challenge about it!) so to keep house-bound Britain happy and entertained, TikTok has been providing a live stream series called #HouseofTikTok featuring a star-studded line-up.
What is the #HouseofTikTok?
The #HouseofTikTok offers live stream videos ranging from health and fitness to mental wellbeing and entertainment. We have celebrities and creators hosting the live streams to entertain our users stuck in isolation, including Love Island stars and Pussycat Dolls.
Commenting on the launch of #HouseOfTikTok, a TikTok spokesperson said, "TikTok is a platform for positive, creative expression and our #HouseofTikTok live streaming series is designed to keep people active, entertained and upbeat. With most of us spending our time at home, we hope this series of livestreams – led by some of our best loved creators and celebrities - helps to bring a little bit of joy to people's everyday lives."
Beginning on March 30th - TikTok kicked off the ongoing #HouseofTikTok live streaming series led by some of its most-loved celebrities, including Love Islanders Eyal Booker and Montana Rose Brown, Pussycat Doll Ashley Roberts and TV presenter Mark Wright.
Designed to help keep people active, entertained and upbeat as they spend most of their time at home, celebrities and creators will be posting brand-new live content on their TikTok channels from Monday.
What's on the Agenda and What's Coming Up?
On Monday 30th of March we saw Love Islander Eyal Booker (@eyalbooker) show how to keep fit from your front room.
Next, Fitness fanatic and TikTok Creator Laura Lou Crane (@lauraloucrane) led a live yoga class to help you stretch and unwind.
Finally, renowned magician and TikTok Creator Arshdeep Soni (@arshsoni10) left us wondering 'how did he do that?' with his live magic routines.
On Tuesday 31st make-up artist and TikTok Creator Keilidh Cashell (@KeilidhMUA) took us behind the scenes of a live make-up tutorial.
On Friday April 3rd, Pussycat Doll Ashely Roberts (@iamashleyroberts) taught us how to become a world-class dancer in under an hour.
On Saturday we had Towie star and TV heart throb Mark Wright (@wrighty_) show us a live workout to help stay active. Artist and TikTok Creator James Lewis (@Jamesllewis) then showed off his talents with a live painting demo.
Sunday's live stream was hosted by Love Islander Montana Rose Brown (@montana) who shared her tips for managing mental wellbeing during lockdown.
Tuesday 7th of April, athlete Dame Kelly Holmes (@damekellyholmes) shows us how to train like an Olympian with her live workout.
Thursday 9th of April, @DynamoMagician goes live at 7pm and teaches us how to do some of his amazing magic tricks. Then catch his TV show on Sky at 9pm.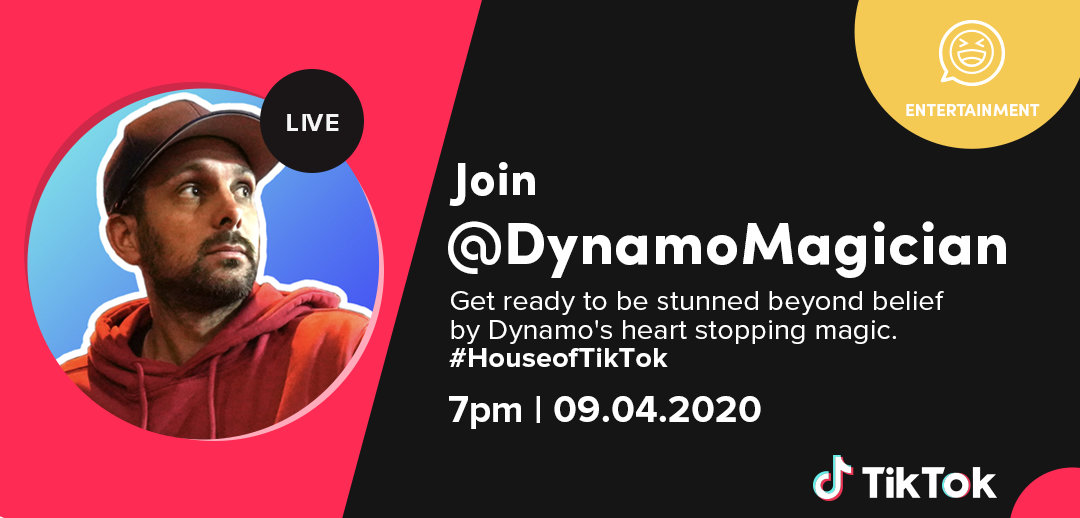 https://www.tiktok.com/@dynamomagician/video/6810356353874365701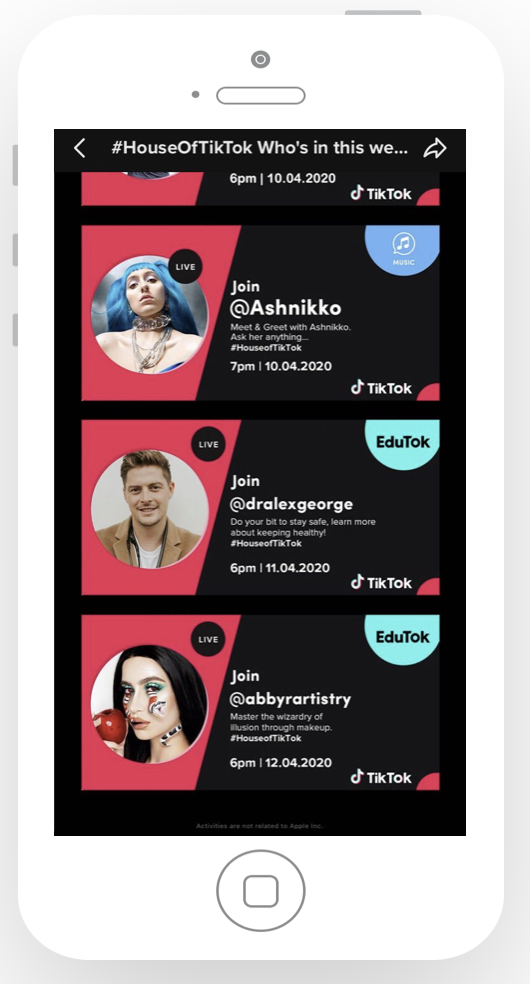 #HouseofTikTok Hashtag Challenges
As well as the live streams, TikTok has also been launching a host of related in-app hashtag challenges for users to get involved in so that they can put their own creative spin on the livestream series. These include:
#WorkoutFromHome - Gyms may be closing, but we're determined to stay active. Plank on your coffee break, crunch on your lunch, or give us 10 burpees between meetings. Show us how you're doing your #WorkoutFromHome.
#CupboardCooking - Reach to the back of your cupboards and get creative! Show us what you can whip up from the delights of what's already in your kitchen.
#DIYSkincare – Running low on your favourite beauty buys? Got a great recipe for a lip scrub? Nailed your natural facemask? Share the skincare hacks you've perfected!
#NeighbourhoodWatch - Do a good deed for a neighbour in need!
#TenTouchChallenge - Test your 'keepie uppie' skills with whatever item you can!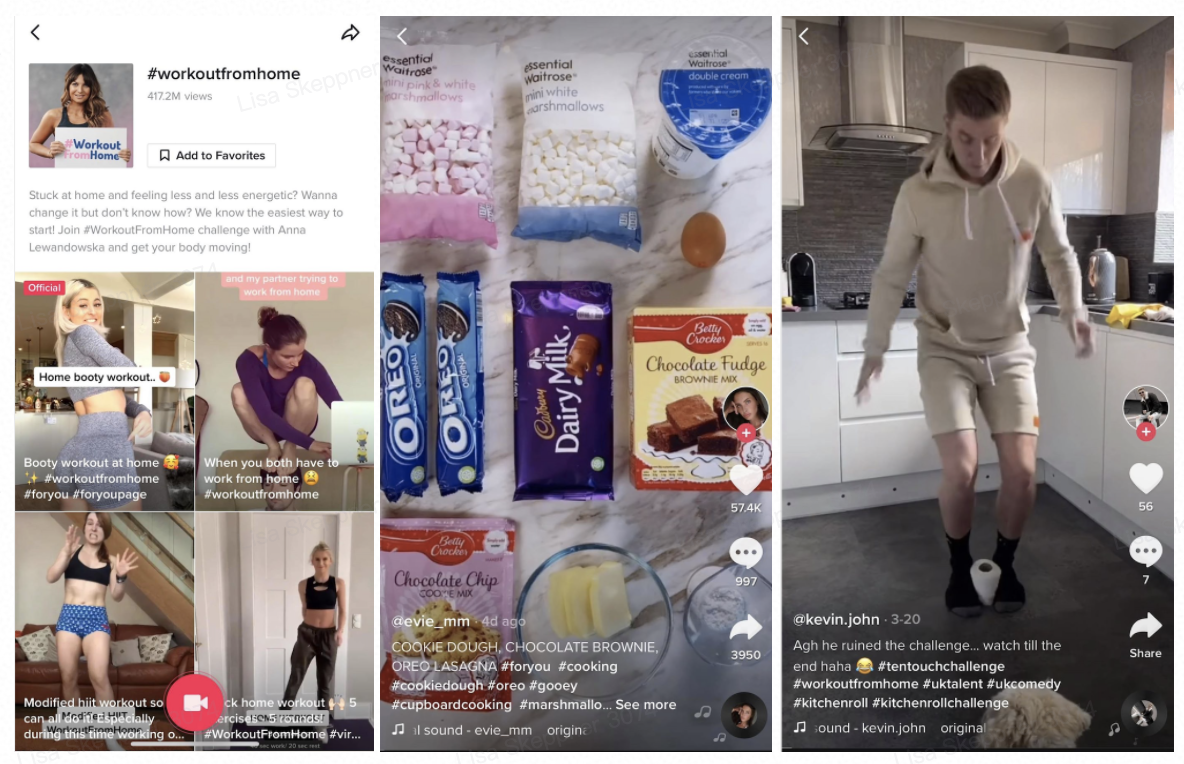 Don't be bored at home, join in on the fun on TikTok!
To find out more about what TikTok is doing to support its community through Covid-19, visit here:
https://covid19responsefund.org/

To visit the #HouseOfTikTok, simply download the TikTok app via Apple App Store, Google Play or Amazon