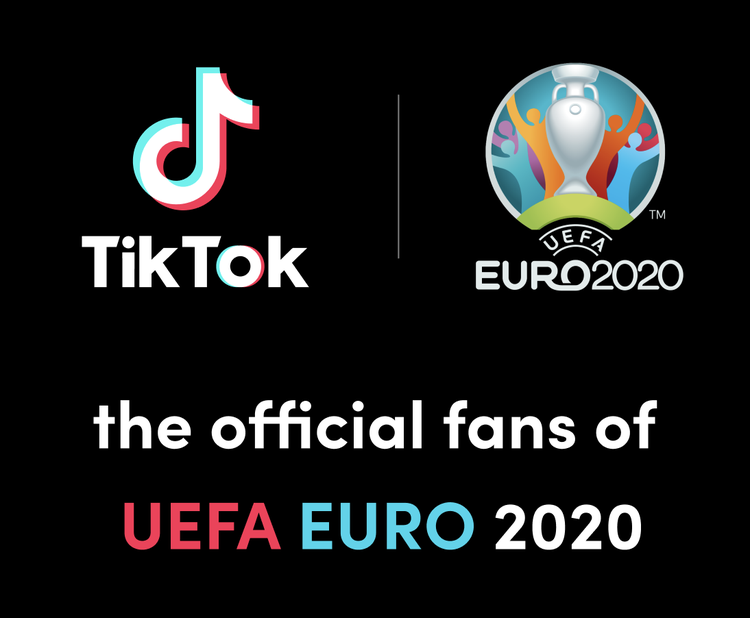 EURO 2020 has officially kicked off on TikTok, with national teams and players coming to TikTok to show everything from tricks and tips to reliving memorable moments.
TikTok has become a vibrant hub of sports content in the last two years with football content kicking off on the platform. In the last year alone, the daily consumption of popular sports hashtags has quadrupled to 1.5 billion video views daily, with football (and soccer) content amassing over 185 billion video views* in total to date, including some of the most popular footballers and football moments being watched, recreated and relived. TikTok's most-followed footballers include Poland captain Robert Lewandowski and top England striker Phil Foden, who boast over 5 million followers between them.
TikTok has become the place where people find their communities and rally around a shared love of the sport they love - and it's not just football that fans have been enjoying. Extreme sports like Parkour (5.8 billion video views), UFC (5.2 billion video views) and MMA (4.8 billion video views) have also become hugely popular on TikTok as fans find their tribes and get involved in sharing and watching their favourite adrenaline-pumping sports moments.
As the world now gets ready to enjoy the #EURO2020 football tournament, here's how you can stay on top of the trends, be in on the action and create your own football TikTok masterpieces alongside some of the world's best football players and teams who already showing us their TikTok skills. From Patrice Evra's #StitchEvra hashtag, inviting fans to tell him they love the game without telling him, to Raheem Sterling's #KeepToTheBeat ultimate kick-up challenge and Jack Graelish's #PlayLikeJack call up wherein fans try to recreate Jack's skills.
We have also partnered with COPA90 bringing fan-first football content to TikTok - there really is a host of footballing content to explore on TikTok this summer!
Here's a snapshot of some of the incredible EUROs activity you can discover in-app.
EURO 2020 Hub
To help you find everything you need in one place, we've created the new EUROs Hub! You'll find trending content, popular football creators, daily match schedules, results and LIVEs with some of your favourite stars.
Find the EUROS Hub on the discover page or search 'EURO 2020' to get started.
Challenges
Want to be part of the action? There's a TikTok EUROs challenge for you! First up we have national football challenges for England, Scotland and Wales supporters. The national teams themselves are getting in on the action, including:
#WelshWithCymru - 6th June Celebrate the start of the EUROs with the Wales national team who are taking to TikTok to challenge fans to learn some Welsh footy terms!
#AskEngland - 8th June Calling all England fans! Now is your chance to put your burning questions to Gareth Southgate's #EURO2020 squad. Leave a comment or submit a video using #AskEngland to be in with the chance of having your questions answered by a member of the squad! Comedian and football creator @OllieBall has already had his question answered... Yours could be next!
#TellMeYoureScottish - 10th June Scotland's #EURO2020 squad is using the Stitch feature to challenge fans to share something that about themselves that proves they're Scottish without actually telling them…
John Barnes x New Order 'World in Motion' rap challenge
Is there a more iconic footballing song than England legend John Barnes' collab with New Order? To celebrate the beautiful game, we're launching a special EUROs rap challenge. Football icon John Barnes has recreated his famous rap over New Order's song 'World in Motion' as part of the TikTok hashtag challenge #WorldInMotion. The track made its debut ahead of the 1990 FIFA World Cup for the England national football team and now, 30 years on, it's a true football anthem.
The WorldInMotion hashtag challenge encourages fans to recreate their own version of the iconic rap - check out Barnes's video on New Order's official TikTok channel [@NewOrder].
New Order is also sharing their favourite submissions on their own account, so to get practising to be in with a chance to feature on their page!
EURO Anthems & Guest Playlists
Martin Garrix – EURO 2020 'We Are The People'

The EUROs wouldn't be complete without it's very own anthem - luckily Martin Garrix produced a brand new track earlier this month, titled 'We Are The People,' which is set to be the walk out music for the matches.
Ex-footballer, Ian Wright has been dueting fans' videos of their football skills under the hashtag #WrightyReacts and now as we get ready for the EUROs, Ian has created a playlist of tracks to soundtrack all of your football creations to! Ian has created a video explaining how to access and use the playlist which includes tracks like Tion Wayne and Russ Million's, 'Body', Stormzy's 'Vossi Bop' and 50 Cent 'In Da Club'.
If that wasn't enough Euros excitement, we've brought you a guest playlist from the one and only Raheem Sterling – whose favourite tracks are getting us pumped for the much-awaited tournament next week! Check out the Man City & England player's top picks which include Little Simz's viral hit, 'Venom' as well as bangers like Wes Nelson's 'Nice to Meet Ya'.
Football Music Charts
But the celebrations don't stop there... we'll be launching our very own Football Music Chart highlighting the top tracks for football video creations each and every week. The chart, discoverable in-app as 'Hot 50 Football', will go live on Friday 11th - check it out and make sure you're using all your favourite footie sounds!
LIVE events you won't want to miss!
Don't want to miss the exclusive backstage content, goals, laughs and drama of the EUROs? Join us on TikTok LIVE! From football legends to the UEFA volunteers, EURO 2020 LIVE events will take football fans behind the scenes and give them unrivalled access to all the moments that make the tournament come to life.
Starting with the opening day in Rome, EURO 2020 will take us on the journey with fans as they arrive at the stadium and as the tournament progresses, you can expect to see incredible, unique LIVE match ups with TikTok creators and legendary UEFA ambassadors. There'll also be a chance for fans to see inside the stadia for a glimpse at the behind the scenes, inner-workings of the grounds.
And of course make sure to check out the TikTok UEFA EURO 2020 LIVE with Ed Sheeran who will perform a special gig at the TikTok UEFA EURO 2020 Show on Friday 25th June, featuring the very first performance of his new single, as well as a number of classic tracks for his global fans. The virtual concert is being filmed at Portman Road, the home of Ed Sheeran's beloved Ipswich Town Football Club, and will be streamed exclusively on Sheeran's TikTok channel starting from 9pm BST.
Football players to follow
We know you want to keep up with all the action and behind the scenes sneak peeks of the EUROs so we've collated a list of the players you need to follow on TikTok:
Harry Maguire (Manchester United)
Kyle Walker (Manchester City)
Kalvin Phillips (Leeds United)
Declan Rice (West Ham United)
Phil Foden (Manchester City)
Jack Grealish (Aston Villa)
Raheem Sterling (Manchester City)
Create your own unforgettable match-moments with these new EUROs effects!
We have a tonne of new features joining the TikTok lineup, just in time for this year's summer of sport. Football fans across the platform can get creative and show support for the players and teams they love.
Virtual Trophy Tour
The virtual trophy tour feature has allowed TikTok users to snap themselves with the Euros trophy, as it travels through cities across Europe. Fans have been using TikTok's new AR effect to lift the trophy for themselves - don't miss out on your chance to hold the trophy and feel like a winner.
Place the Goal
Fancy yourself as a top goal scorer? With TikTok's place the goal feature, you can give your favourite strikers a run for their money. Creators will be able to use the effect to place a TikTok goal on their screen and flick an animated football straight into the back of the net.
Virtual Try-on
Wear your colours with pride this summer using this new feature. Users can select fan clothing and face paint from their home nation to virtually apply to their face and body. You can even mix and match two countries, for those with split allegiances!
Firework Scores
Set the sky ablaze with football-themed fireworks on your videos! Users will be able to celebrate victory by typing match results or the name of their team and watch it come to life as part of an impressive virtual firework display.
Make it a Football Team
Using this new feature, users can turn anything they want into their very own football team. From your car keys to candles, stationery and snacks, bring inanimate objects to life as a keeper, centre forward, centre midfield, and wingback.
Everything can be a ball
Why stop with just a team? Users will also be able to scan any object and watch it appear on screen as a ball. Try some kicks and keepy uppies. A powerful shot will even set your "ball" light on fire!
VAR gesture
Whatever your allegiance, VAR can make us all emotional. By using hand gestures, creators will be able to trigger a new video transition effect. A vertical rectangle will appear on the screen and gradually grow to fill the whole space. Users can place a second video inside that rectangle, and watch the first video transition into the second. Now you can VAR anything!
Sign for an Equal Game
We can only fight racism if we stand together as a team. Join us and Sign for an #EqualGame. Use the #EqualGame effect to show your support for equality in football and unlock the profile frame.
This feature will allow users to sign with their name, unlocking the TikTok equality badge for their page. We're calling on all members of the football community to get behind the initiative and pledge for greater equality in football. Show your support by signing the pledge.
Explore our new features in-app now - find the EUROS Hub on the discovery page or search 'EURO 2020' for more!