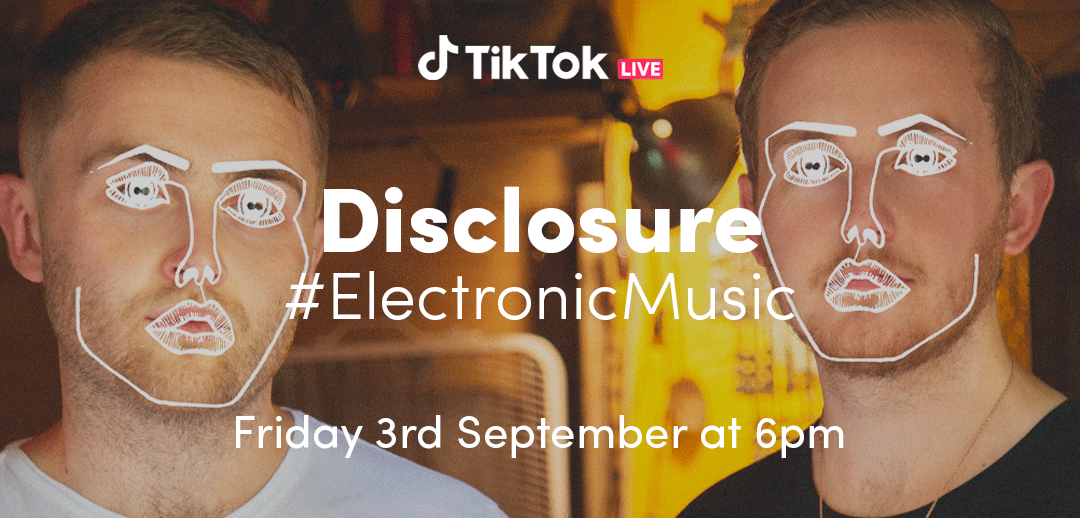 As music fans return to clubs and festivals, TikTok is kicking off a celebration of electronic music, calling on iconic DJs and legends of dance to bring the beat for the TikTok community.
Disclosure is kicking things off this Friday at 1800 BST with a special TikTok LIVE performance, following the announcement earlier this week of their first London tour dates in seven years. Livestreamed from their tour bus, the duo will be performing new tracks from their Never Enough EP as well as their favourite dancefloor-fillers.
We're launching fresh new hashtags to celebrate all the artists, DJs, producers and fans on our platform, starting with #ElectronicMusic. DJs like The Blessed Madonna and Carl Cox have already been posting videos to #ElectronicMusic, celebrating the return of live sets, while artists like Calvin Harris and Disclosure have been dropping new music. #Remix has also landed, encouraging people to share their favourite remix or mash-up.
Every week, we're also releasing special guest playlists from top electronic artists so that you can tune in and create to their most loved tracks from their catalogue and others. You can already check out Nina Kraviz's guest playlist in app, with classic techno hits like Aphex Twin's Windowlicker, and her new dreamy electronic track Skyscrapers. And we'll have more to come from The Blessed Madonna, Carl Cox, TSHA and Black Coffee.
Electronic music is one of the most popular genres on TikTok, with emerging producers sharing how they create and remix tracks, while big name electronic artists post about life in studio, at home or now, back on tour. Our creators also love using everything from techno beats to house bangers as the backing tracks to their videos, whether it's Paralympian Gold Medalist Richard Whitehead heating up the running track with Swedish House Mafia's Miami 2 Ibiza, or beauty creators posting tutorials against Pink Pantheress' Just for me.
Toyin Mustapha, Artist Partnerships at TikTok said: "It's been amazing seeing DJs and music artists celebrate the return of dance music at clubs and festivals, and we wanted to celebrate with them. Electronic music has always been a hallmark of the TikTok community, and we've been truly humbled by the many producers and acts who have embraced TikTok, sharing how they mix tracks, livestreaming performances, and posting their catalogue of music for people to reinvent and make their own. We can't wait to see the electronic music scene get even bigger on TikTok, with more DJs and artists creating and collaborating on our platform every day."
Speaking about their upcoming TikTok LIVE Disclosure added: "We're so excited to return to the stage and be playing shows in front of people again but we know it'll be a little longer before we can make it to our fans around the world. So, we're taking to TikTok for a special DJ set... live and direct from our tour bus. See you Friday at 6pm."
New to TikTok and want to dance to the beat? Getting involved couldn't be easier, simply download the app for free via the Apple App Store, Google Play or Amazon.