The wait is finally over! Women's footballing elite from all over Europe have touched down in England and it's now just a day until the UEFA Women's EURO 2022 officially gets underway.
Seeing over a billion views on the platform, we know our community loves to engage with and celebrate all the incredible #WomenInSports on TikTok. As a Global Sponsor, we'll be bringing the TikTok community closer to the action of summer's most-anticipated football event, while celebrating the spirit of this iconic moment in the women's sporting calendar.
Building on the success of our partnership with UEFA for EURO 2020, our community can get involved in a variety of creative ways, from using our innovative special effects and sounds in their videos, to joining in with TikTok LIVEs and EUROs-inspired hashtag challenges.
Follow UEFA's dedicated Women's EURO 2022 TikTok account (@womensfootball) for all the best action and behind-the-scenes content from the tournament. As part of TikTok's partnership, UEFA will post a daily 'Cultural Highlights' compilation; showcasing the fan experience in and outside the stadiums, the best moments from the UEFA Women's EURO matches, and the coming together of fans in this wonderful celebration of women's football in England.
Players, pundits and creators including BBC presenter and former England defender Alex Scott (@alexscott), Lionesses Mary Earps (@1maryearps) and Beth Mead (@bethmead_), Swiss forward Alisha Lehmann (@alishalehmann7) and freestyle football world champion Liv Cooke (@livcookefs) will also be giving the TikTok community a unique window into the tournament. Our community in the UK will also be able to enjoy the best moments from BBC Sport on the platform during the tournament.
#SwipeOutHate with footballers from across Europe
Like all fans, we're all too aware that racism and other hate speech in football is still far from being eradicated. At TikTok, we are determined to protect the experience of enjoying football on our platform from those who seek to spread hate and division. Our Community Guidelines make clear that we do not tolerate hateful behaviour, bullying or harassment. We use a combination of technologies and moderation teams to show the red card to this behaviour by removing videos, comments and accounts that spread hate and bully others.
As we continue our work to keep hate off our platform, we also want to encourage positive conversations and joyous connection on TikTok. Building on our #SwipeOutHate x #EqualGame campaign from the Men's 2020 EUROs, we've created a new series of videos where we encourage our community to #SwipeOutHate and keep the negativity off the pitch. These will launch in the coming days.
In addition to these videos, starting today, we will add a temporary public service announcement (PSA) to football-related hashtags reminding people to report content they think doesn't belong on TikTok to our teams. This PSA will be active throughout the tournament.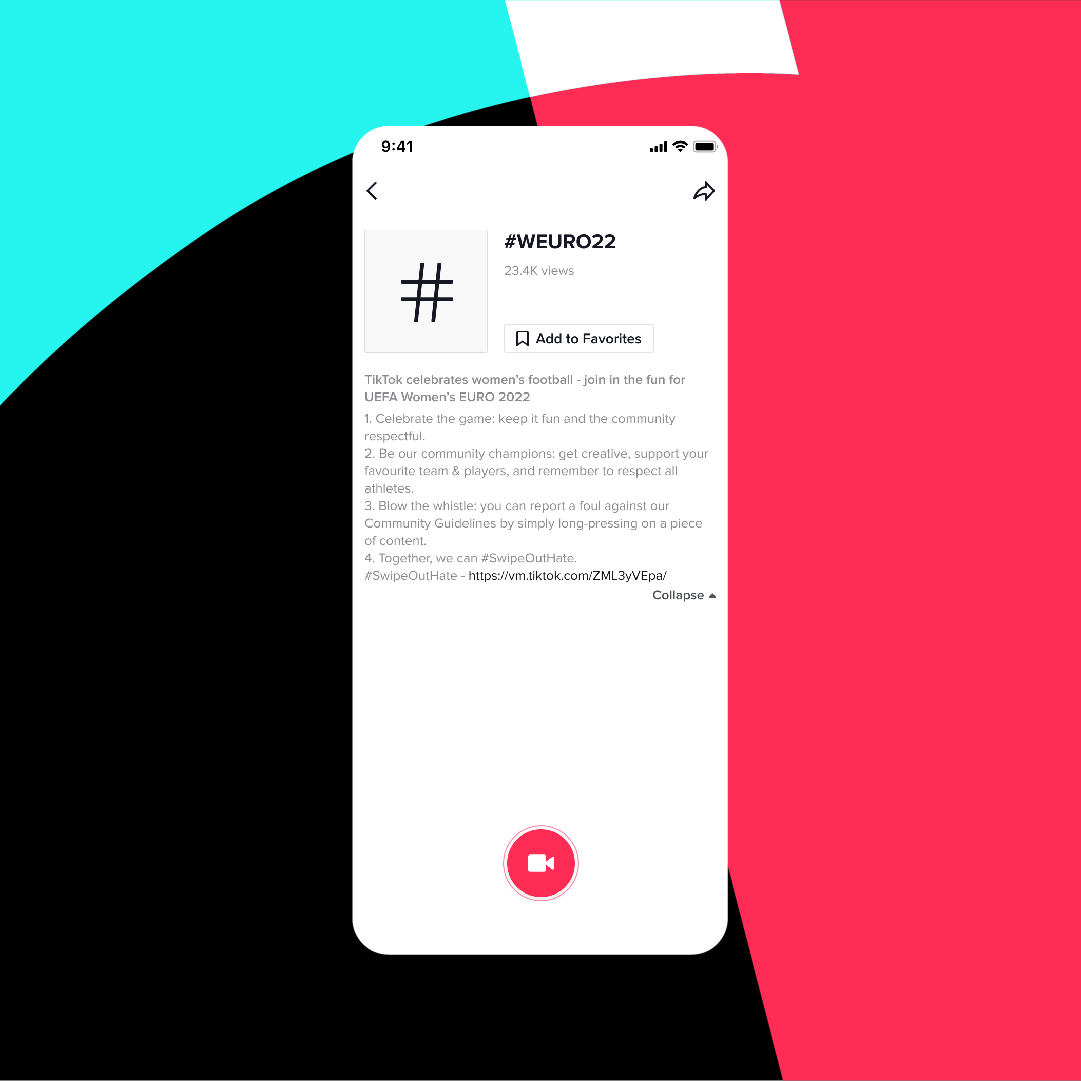 Empowering our community with safety tools
While we continue to invest in technology and industry-leading teams to counter hate on TikTok, we also offer our community a range of safety tools to empower our community to feel in control of their TikTok experience and help people foster a supportive and positive environment.
These tools include protections which allow community members to restrict who can interact with their content, limit who can comment on their videos, and prompts for people to reconsider posting a comment that may be inappropriate or unkind.
Consulting partners to develop these resources
Partners are critical to our progress. We regularly consult academics and experts from across the globe to keep abreast of evolving trends and to help us evaluate and improve our policies and enforcement processes. Ahead of the UEFA Women's EUROs, we held a roundtable with football industry veterans, football players and the UEFA team. This discussion led to creating our new hashtag PSA, described above, and inspired our updated #SwipeOutHate campaign.
Michele Uva, Director of Football and Social Responsibility, UEFA, said: "UEFA wants to tackle online abuse by inspiring, activating and accelerating concrete action across European football. We are excited to kick off a dedicated Respect programme at the UEFA Women's EURO, aiming to create awareness, provide education, and monitor and report online abuse across all future UEFA competition finals. Within this context, we are delighted to work with and enhance the efforts of TikTok to implement concrete actions to stop online abuse."
Guide to watching EURO 2022 with COPA90
We've teamed up with COPA90 to bring fans the ultimate local guide to watching EURO 2022 matches across the host cities, from Brighton all the way up to Wigan. Aiming to elevate the fan experience at the Women's EUROs by working with COPA90, we'll be able to showcase to our UK-based community how to have the most fun during the tournament and celebrate women's football. Follow @copa90 for top tips on travelling to the stadium, nearby attractions and the best places to eat when you get there.
For your chance to be featured on the COPA90 Road to Wembley Hub, simply post your videos using the hashtag #DYT.