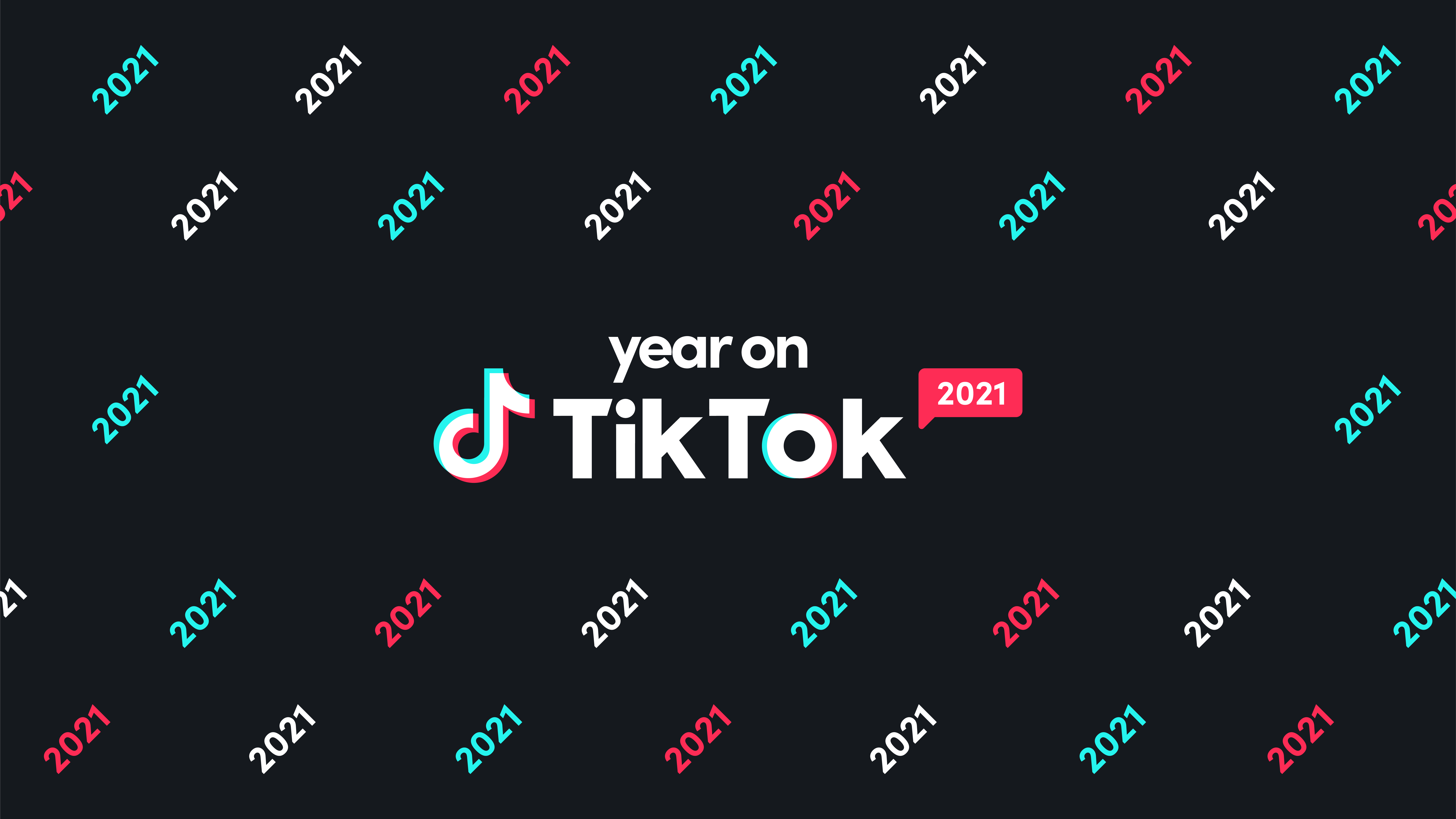 Music is at the heart of the TikTok experience. It's the glue that connects the platform's many threads, providing a throughline between individuals and communities who bring their own spin to the latest trend. In turn, TikTok occupies a central place in the creation, consumption, and interpretation of modern music. TikTok is a playground where artists and creators can interact, combining their unique sensibilities and talents to propel trends to the forefront of culture. Stars can preview new songs to a legion of hungry fans, who jump at the opportunity to create content inspired by a musical element or favourite lyric.
After turning heads in 2020, TikTok continued its tremendous growth to be a dominant force in music and the music industry in 2021. Approximately 430 songs surpassed 1 billion video views as TikTok sounds in 2021 – a threefold increase over 2020. The most popular of these songs approach, and even exceed, 20 billion views on videos they soundtrack. The staggering view counts on TikTok do not exist in a vacuum, but directly translate to real-world commercial success: over 175 songs trended on TikTok in 2021 also charted on the Billboard Hot 100, twice as many as last year.
"2021 has truly been a milestone year for Canadian artists and music on TikTok, and has provided so many amazing music moments to celebrate. We watched Justin Bieber serenade us LIVE for Valentine's Day, welcomed icons like Avril Lavigne and The Tragically Hip to the platform, supported emerging acts like JESSIA and Lilyisthatyou on as they made their way into the mainstream, and helped relaunch MuchMusic, one of Canada's most influential pop culture brands. From discovering new artists to re-discovering old favourites, our global community of one billion people and the music industry at large have taken note of the richness and diversity of talent Canada has to offer - there's no denying that music starts and lives on TikTok." - Adam Burchill, Head of Music, Canada, TikTok
Trends on TikTok open doors to underground and DIY scenes like Hyperpop and Glitch Hop, exposing them to a global audience. TikTok saw trending songs from dozens of countries, and from every continent. This map touches on a fraction of TikTok's global impact.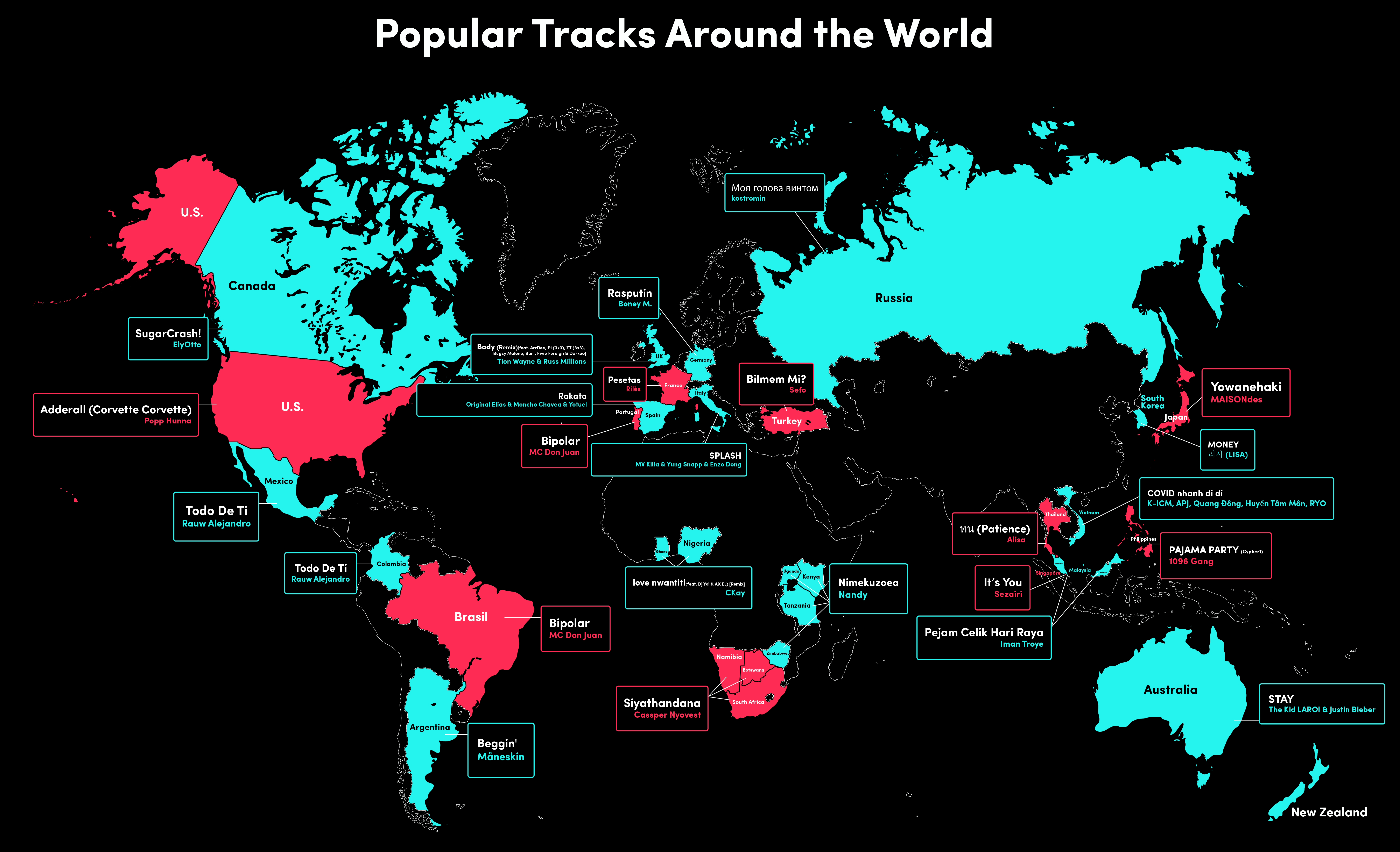 TikTok remained the top source of music discovery for fans of all backgrounds, paving the way for the next generation of music stars, and helping usher in artists as diverse as Olivia Rodrigo, ElyOtto, PinkPantheress, RealestK and Måneskin to stardom.
For our second annual music report, we decided to take an in-depth look at what music makes TikTok tick. We'll explore the biggest songs and the most popular trends, but we'll also take a peek under the hood to reveal some of our favourite music moments, and to explore how artists and creators used TikTok's most unique features.
So to quote one of TikTok's least likely, but most popular trending songs: "on and on we push...into the thick of it!"
'Cause I Am Me: Emerging Artists of the Year
TikTok is home to a voracious community of music mavens, always on the hunt for the next big thing - it's the ideal platform for exciting new artists to find and build an audience without sacrificing creative autonomy or compromising their authenticity.
Following in the footsteps of artists like The Kid LAROI, Tai Verdes, and Tate McRae - who made TikTok's list of Emerging Artists in 2020 and had banner years in 2021 - Canadians bbno$ and RealestK used TikTok to raise their profiles in a major way this year and are just two of the twenty. For the full list of Emerging Artists of the Year, click here.
bbno$: The internet-savvy Canadian rapper started gaining attention on TikTok in 2019 with the megahit, Y2K-produced "LaLaLa," but he demonstrated his versatility and star quality with trending hits like the energetic "edamame" and the wistful "Help Herself."
RealestK: Trending on TikTok with his song "WFM" (which earned a co-sign from Giveon), the Toronto-based teenager is one of the most promising voices in his city's deep R&B scene.
On Repeat: Top Tracks by Canadian Artists
It's been a big year for ElyOtto, who is crowned the most popular in Canada by video creations for hyperpop anthem "SugarCrash!". The song also topped #4 on top global tracks on TikTok and cracked the top 10 list of Top U.S. Pop Tracks.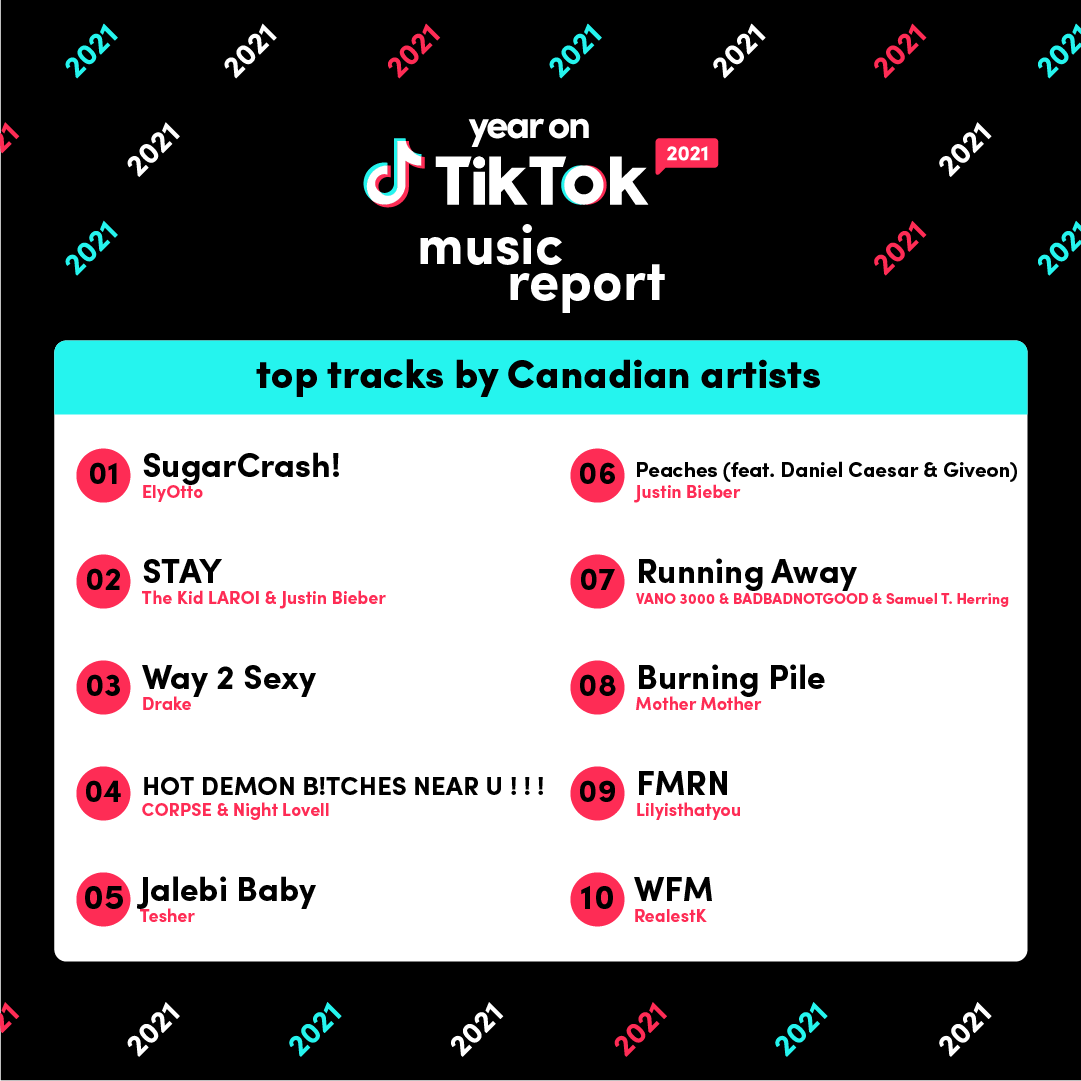 Rewind: Call It A Comeback!
One of the most interesting things about TikTok is how the creativity of our community creates new context for a piece of music. TikTok has a knack for making the old new again, helping a new generation of fans re-discover former chart topping hits, but this year TikTok also gave wayward songs a home, as a host of non-current yet non-classic songs reached trending status and gained second life as a result. Whether it's "Burning Pile" by Mother Mother or "Bills, Bills, Bills" by Destiny's Child, our community has breathed new life into older tracks and brought their own creative flare to these sounds.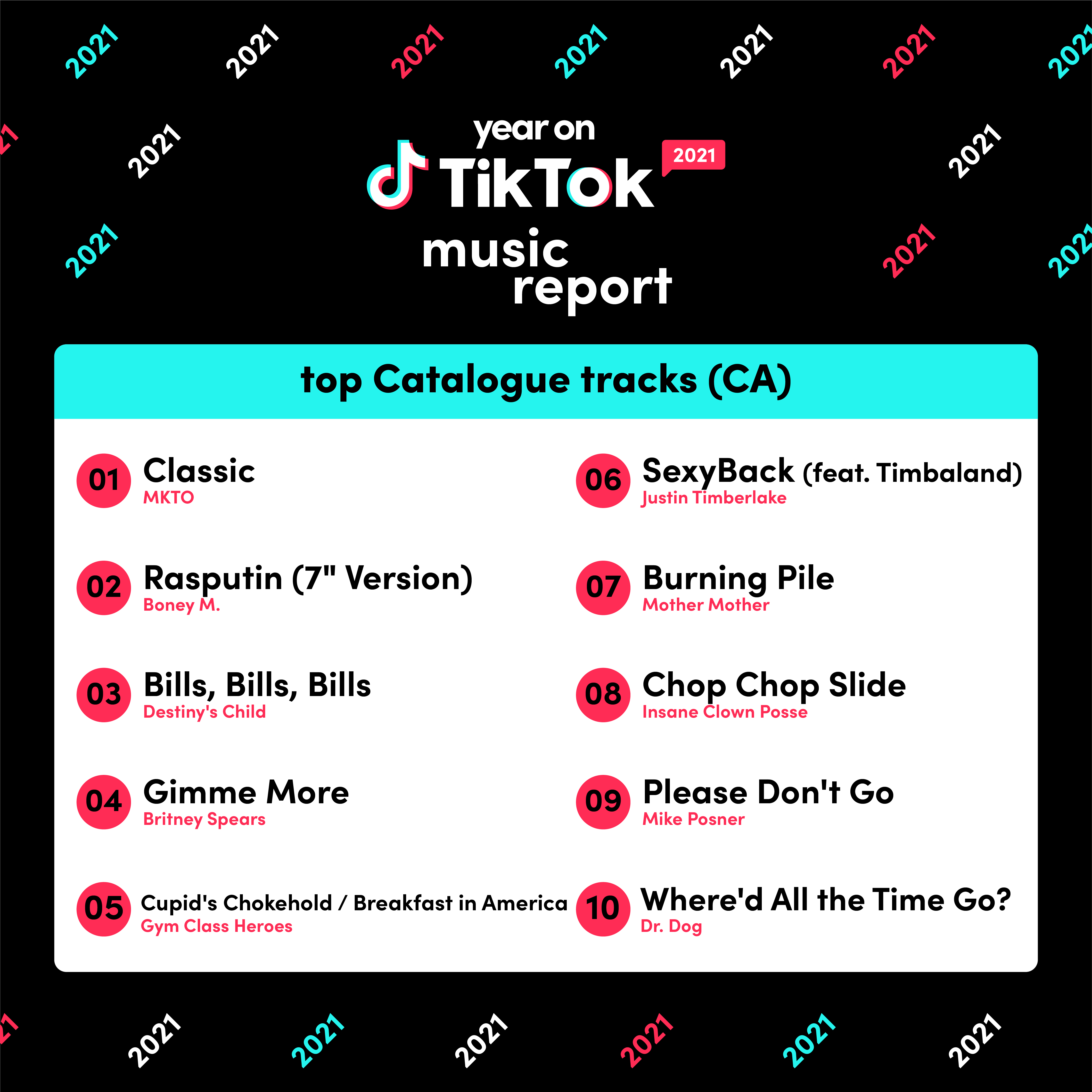 Welcome To The Internet: Music Moments of the Year
SHIVER ME TIKTOKS! #SeaShanty blows the app down
There once was a trend that blew up on TT/And the name of the trend was #SeaShanty. That's right mateys, Sea Shanties had a major moment on TikTok in early 2021, making waves with users eager to show off their voices as well as those just looking to vibe. The salty sea dog most responsible for the surprising shanty surge is Scottish singer Nathan Evans, who won the community's hearts and minds with rousing acapella-and-hand-percussion renditions of shanties like "The Scotsman" and "The Wellerman." The latter became a TikTok hit, with users of all vocal ranges using TikTok's duet function to add their own harmonies. The #SeaShanty community is a niche, but a sizable and growing one–the hashtag has over 6.3 billion video views, and "The Wellerman" climbed into the Top 20 of the Spotify U.S. Viral 50 chart.
Vano 3000 and BADBADNOTGOOD encourage users to make their own #adultswim bumpers
New York rapper/producer Vano 3000 (@supvano) stumbled onto an unlikely trend when he shared "Running Away," a remix of "Time Moves Slowly," a 2016 collaboration between Canada's own, Jazz trio BADBADNOTGOOD and Future Islands lead singer Samuel T. Herring. Vano's remix pitches up the original, soups up the drums, and sets the kind of cloudy and atmospheric vibe that users on TikTok immediately likened to the sounds that would accompany the classic bumper ads that air during Cartoon Network's Adult Swim block. Since Vano posted a video of himself chowing down on fast food while vibing to the song, the sound has racked up over 195k video creations, most of which saw creators using text on screen to couch their favourite bits of offbeat wisdom using the classic AS bumper format. The hoopla around the trend inspired BADBADNOTGOOD to join TikTok with a video of the band playing Vano's sped-up arrangement of their song, and an official version of the song credited to Vano, BBNG, and Herring came out in June. Even Adult Swim itself hopped on the trend via their own TikTok account. Vano has loudly voiced his appreciation for the fans who helped #vano3000 (678 million global views) and #adultswim (1.1 billion global views) into trends.
Please welcome music royalty
TikTok is an engine of music discovery, capable of helping a new artist reach the biggest audience possible, but it's also a great platform for celebrating the legacy of some of music's biggest legends. In 2021, some of the most iconic acts in music history joined the platform, bringing songs from their legendary catalogs with them. In October, TikTok came together to welcome The Beatles, who officially joined the platform in conjunction with the release of Let It Be (Super Deluxe), inspiring a dramatic re-arrangement of "Eleanor Rigby" by TikTok creator Cody Fry that eventually earned a GRAMMY nomination as well as Swedish elite ABBA, who landed on the app ahead of Voyage, their first new album in 40 years, and have become staples on For You feeds. TikTok's epic #RockTober celebration continued with the arrival of Led Zeppelin and a LIVE featuring Canadian pop-punk band Simple Plan - who found a new audience on the platform thanks to the #ImJustAKid trend. We'd be remiss not to mention epic debuts by country queen Shania Twain, Canada's crooner Michael Bublé and Indie legends The Tragically Hip. And we'll never forget Avril Lavigne 's her first video on the platform, where she brought in original sk8r boi Tony Hawk.
Songwriting Starts On TikTok
Emerging artists and songwriters use TikTok to bare their soul and to strut their stuff. They have faith in the community's ability to spot talent and the app's discovery power to help an emerging artist make major waves. Canadian singer-songwriter JESSIA had an idea for a chorus for her latest song, so she recorded it in her car and posted on TikTok, racking up over 1 million views in just one day. Two days later, producer Elijah Woods caught wind of the song and produced JESSIA's acapella hook into a pop bop. The song, called "I'm Not Pretty," became a body positivity anthem, generating over 60k video creations and 9 million Spotify streams in its first month of release. JESSIA eventually charted on Billboard's Emerging Artists and Digital Song Sales charts. Now signed to Republic Records, JESSIA followed up her TikTok success by releasing a remix to "I'm Not Pretty" with an appearance from Bebe Rexha.
Hyperpop sugar crashes onto TikTok
Music fans on TikTok have an advanced sonic palette, and the blown-out synths, distorted percussion, and manipulated vocals of hyperpop seems directly aimed towards their pleasure centers. Hyperpop artists reverberate across For You pages of all kinds: the snotty rhymes of 100 Gecs to the percolating, dark trap music of WHOKILLEDXIX, to the mutating chiptune of Kero Kero Bonito, to the sonic assault of genre progenitor A.G. Cook. TikTok's undeniable hyperpop hit of the year was ElyOtto's "SugarCrash!" (6.8 million video creations), a chaotic confection that combined the day-to-day stresses of teenage life with a mutated melody built to stick in your head for ages at a time.
Behind the Music: Most Viewed Canadian Artist Accounts
We know TikTok is the home of authenticity and joy and we've been delighted by the great videos our artists have shared this year. Be it jumping on a trend, giving us a look at the creative process of developing their music or just having fun, we've had a glimpse into their real selves, like never before. Our community has loved getting close to the music creators that inspire them and we can't wait to watch, share and react to these TikToks in 2022. Here are the most viewed Canadian artist TikTok accounts.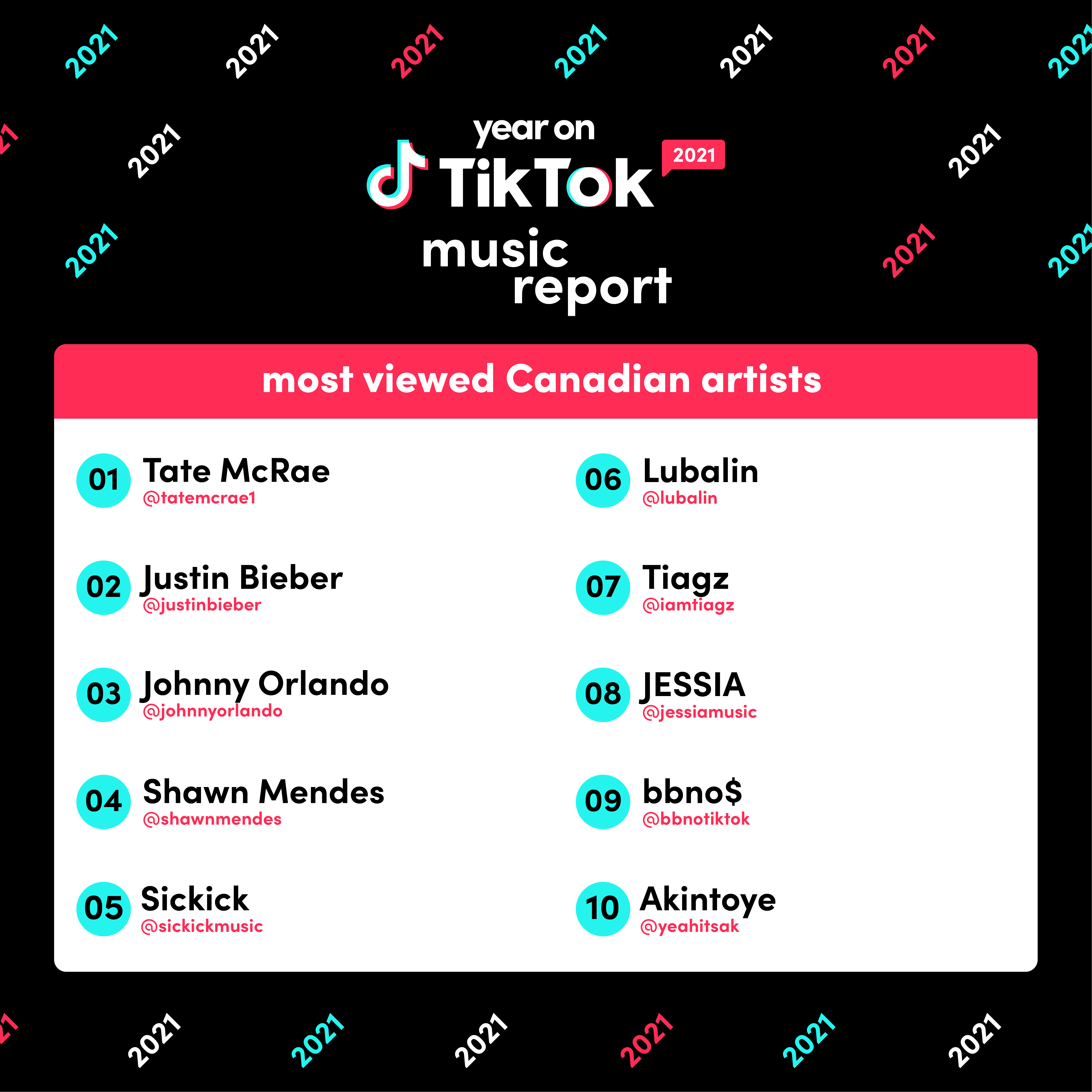 No Choice But To Stan: Canadian Artist Accounts With The Most Growth
TikTok is a place where emerging artists rub shoulders with superstars. The list of artists with the most new followers includes those who emerged this year, like Sickick, and artists who recently joined the platform, like Avril Lavigne. This year also saw major growth from Justin Bieber, Shawn Mendes, The Weeknd and Mother Mother.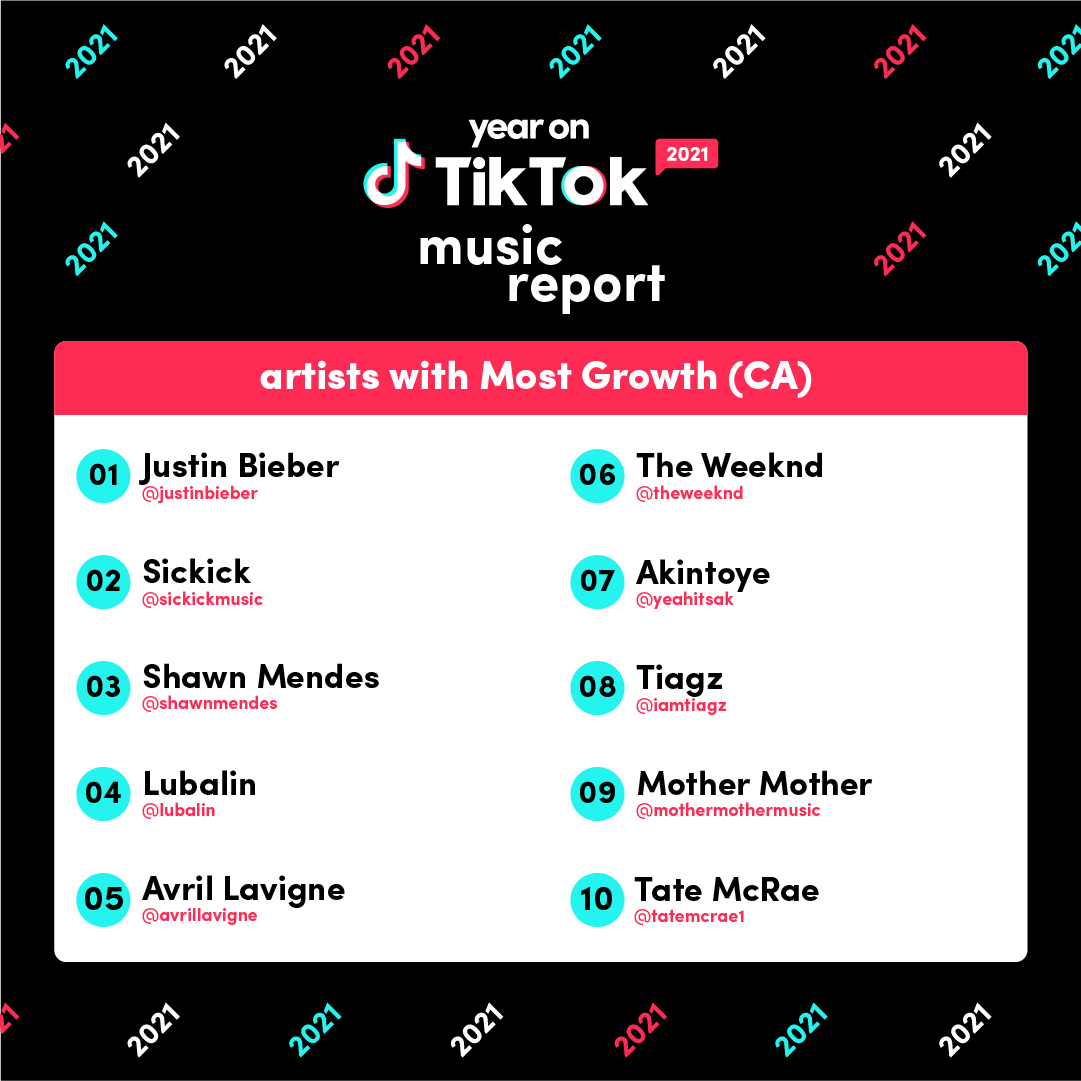 Most viewed Canadian artist videos
From platform debuts to birthday shenanigans and comedic raps about being broke, artists on TikTok made an impact with much more than just music in 2021. Ranging from funny to nostalgic to truly hitting home, these videos generated millions of views and brought joy to fans and onlookers alike.
Not running away from these Top Hip-Hop Tracks
The top hip-hop songs on TikTok are a testament to the strength of the genre and the wide-ranging tastes of the TikTok community. Every type of rap music is represented here, from superstar showcases (Drake) to Bollywood bangers (Tesher) to catchy yet untraditional songs associated with TikTok Effects (bbno$, Masked Wolf, Erica Banks). Though there are plenty of hits from big names, this list is a showcase for emerging stars from all over the rap map.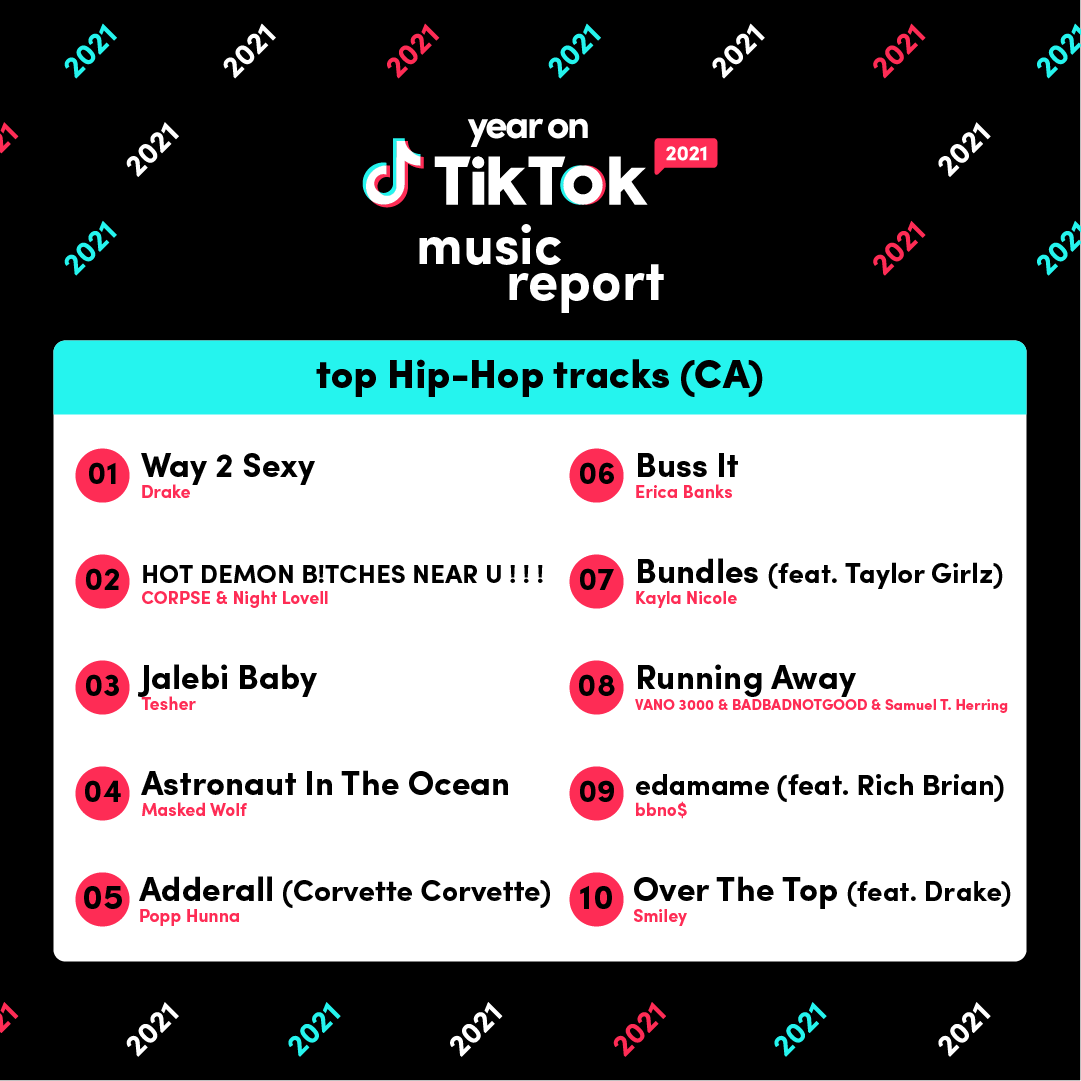 Tok to the Future: Top Pop Tracks
Pop fans on TikTok are passionate about their faves, breathlessly anticipating their next moves. The most successful pop stars on TikTok embrace their fans' love, feeding them tidbits of new music along with generous heapings of personality. The pop stars who made the Canada's top Pop songs of 2021 all stay active on the platform while crafting songs that stick in listeners' minds. The mutual embrace between pop stars and pop stans creates a sense of community and collective goodwill: they celebrate the success of stars like Doja Cat or Olivia Rodrigo or ElyOtto –stars that made their name on the platform – as if it were their own.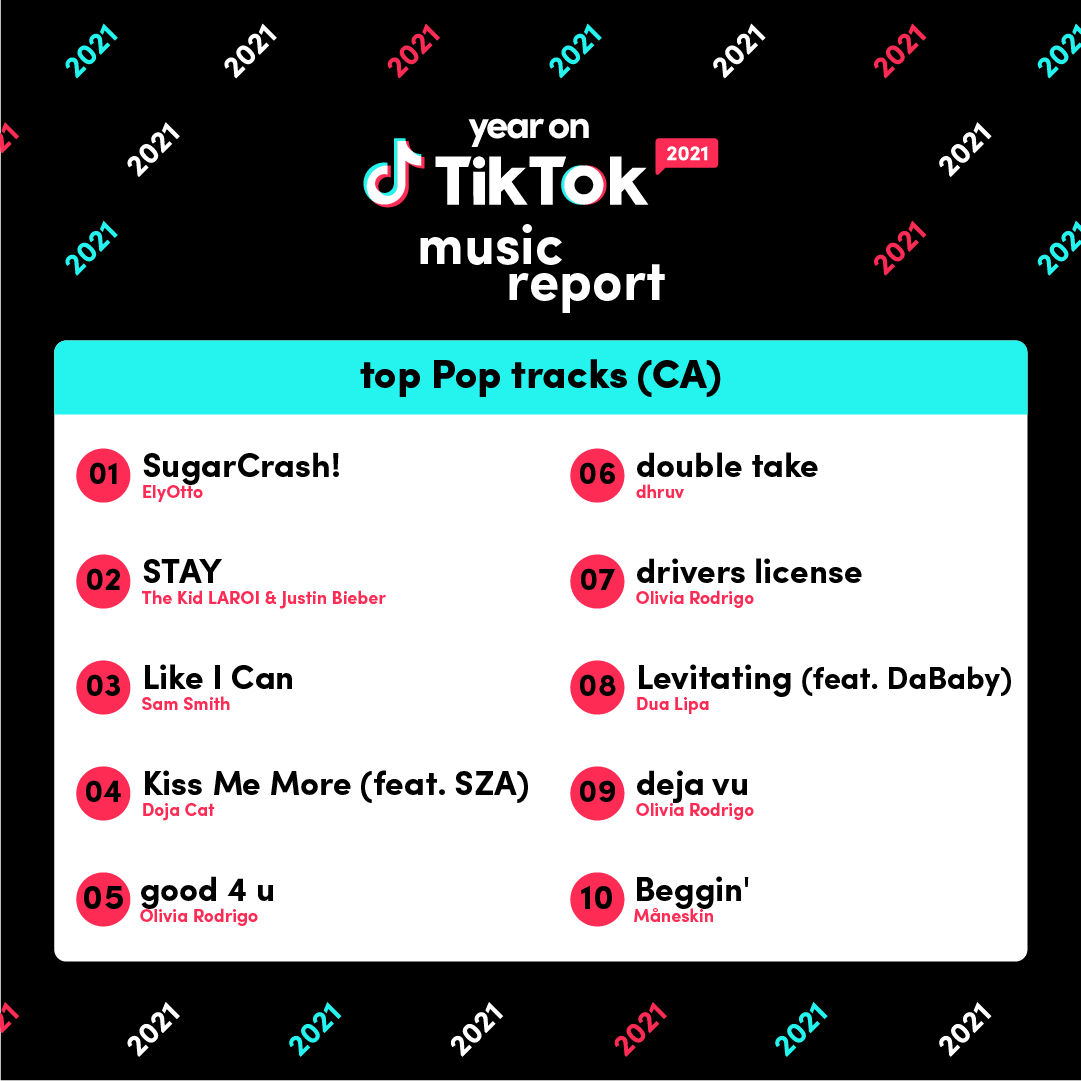 Top R&B Tracks: Worth Waiting For
TikTok has a devoted community of R&B lovers on the platform, who appreciate the genre in all its forms. TikTok's biggest R&B songs of 2021 announced the arrival of new stars, like Giveon, whose tear-inducing, deep, and velvety vocals elevated hits like Justin Bieber's "Peaches" and his own "Heartbreak Anniversary," and RealestK, who makes sonorous hymns for late nights. Classic styles are also represented here, including Silk Sonic's immaculate retromania and OVO's Roy Woods.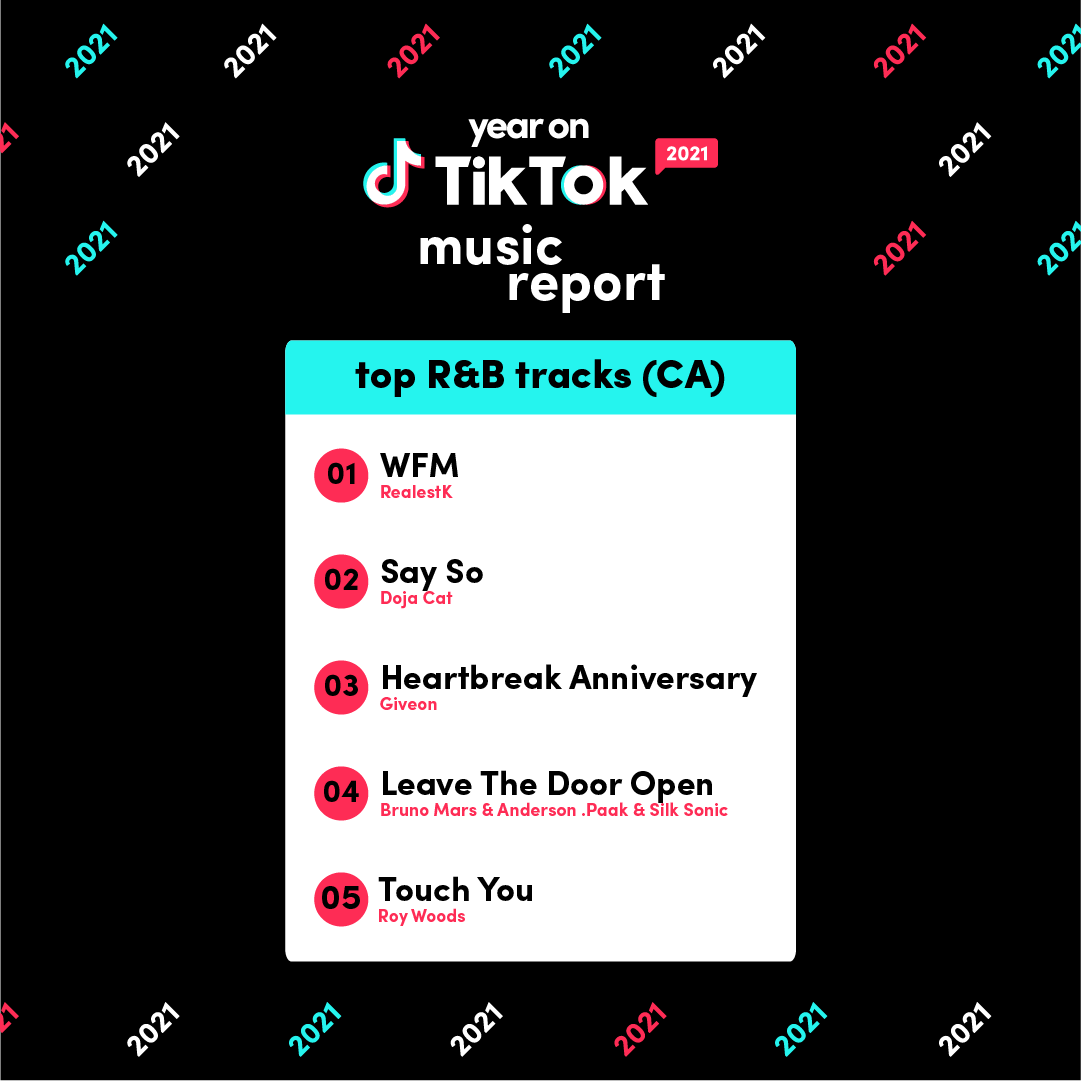 A deeper dive: Songs
NEED YOU TO STAY: Global Top Tracks
TikTok's list of top songs for 2021 features a mix of megahits from unlikely sources strewn across the globe, with two Canadian artists (ElyOtto and Justin Bieber) breaking the top five. Streaking across For You pages powered by irresistible dance challenges and memes, the community's diverse tastes propelled pop songs from Australia, hyperpop from Canada, and ragged rock from Italy into the stratosphere. Here are the year's most popular songs, along with their stories:
Masked Wolf - "Astronaut In The Ocean" - Originally released in 2019 by a then-unknown rapper from Sydney, Australia, "Astronaut In The Ocean" became one of the year's biggest sleeper successes, its existential angst soundtracking millions of TikTok videos and racking up billions of views en route to a Top 10 Billboard placement.
Måneskin - "Beggin" - Capturing the hearts of a continent after winning Eurovision, Italian rock band Måneskin earned a surprise TikTok smash with their cover of Frankie Valli's 1967 hit.
Popp Hunna - "Adderall (Corvette Corvette) - A dance challenge propelled Popp Hunna's fast-paced heater to trending status for months on end, as the song launched from the streets of Philadelphia to far corners of the globe.
ElyOtto - "SugarCrash!" - Expressing conflicting emotions with saccharine synths and abrasive auto-tune, "SugarCrash!" turned Canadian 17-year-old ElyOtto into a household name – his song reflects the TikTok community's deep love for hyperpop.
The Kid Laroi & Justin Bieber - "STAY" - The Kid Laroi was highlighted by TikTok as an Emerging Artist after his success on the platform in 2020 and he more than made good on his promise in 2021. Laroi revealed "STAY" (partially penned by TikTok-beloved Charlie Puth) as a snippet on TikTok months before its official release–building enough momentum to earn a featured spot from Bieber and eventually topping the Billboard Hot 100 for seven non-consecutive weeks (and 11 weeks topping the charts in his homeland of Australia).