By Adam Burchill, Head of Music, TikTok Canada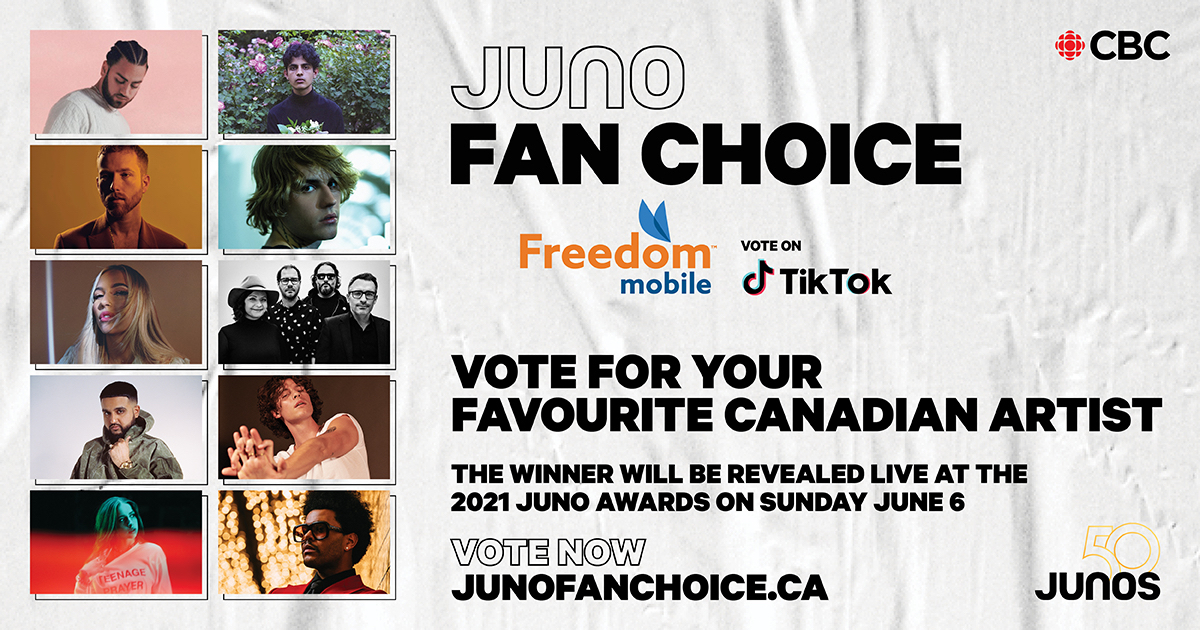 The JUNO Awards and TikTok have joined forces to celebrate Canadian artists for this year's JUNOS. TikTok is the Official Voting Platform for JUNO Fan Choice Presented by Freedom Mobile, and today we're announcing that the 2021 JUNO Awards will be livestreamed on TikTok. Fans across Canada can tune into CBC Music's TikTok account (tiktok.com/@cbcmusic) on June 6 at 8pm ET/5pm PT, where Canadian actor, producer and Freedom Mobile's spokesperson Will Arnett will be joined by TikTok creators and stars The Basement Gang (tiktok.com/@basementgang) to reveal who is taking home this year's JUNO Fan Choice.
There is still time to get your pick in, and no limit on the number of times you can vote! So visit weekly, daily or even by the hour.
• JP Saxe
• Nav
Community Support
TikTok's mission is to inspire creativity and bring joy, and storytelling is central to the platform's ability to empower the voices of creators. Furthering this mission, last month, MusiCounts announced a partnership with TikTok Canada to support the MusiCounts Band Aid Program and the MusiCounts Learn resource, KANATA: Contemporary Indigenous Artists and Their Music. "Teaching with TikTok" tips will be integrated into the resource to support secondary school teachers wishing to bring contemporary Indigenous music into their classroom. On TikTok, Arkells' Max Kerman revealed the allocation of $1M to 95 schools across Canada through the MusiCounts Band Aid Program. A portion of these funds were donated by TikTok Canada.