On TikTok, businesses of all sizes are empowered to grow their brands through creative content and storytelling. Since we launched the TikTok For Business platform, we've seen brands around the world make real connections with the TikTok community, by embracing the culture that makes our platform unique.
Today marks a significant milestone in the evolution of TikTok For Business in Canada. We're launching new advertising solutions for SMBs making it seamless, easy, and efficient for brands to meaningfully connect with the TikTok community. In Canada, with the introduction of self-serve advertising tools and the availability of TikTok's new Shopify channel, we're continuing our support to advertisers at each step of the campaign creation process.
Brands are an important part of the TikTok experience, and we've seen that our community loves connecting with the brands they're passionate about. In a recent study, 88% of TikTok users said that they discover new content that they enjoy while using the app, and about half of users said they discover new products through advertisements posted by a product or brand.
"Brands are recognizing the power behind the TikTok platform and are seeking out new ways to engage with our community," said Joshua Bloom, GM of Global Business Solutions, TikTok Canada. "The launch of self-serve and TikTok's new Shopify channel in Canada will provide businesses of all sizes with the tools needed to seek out a highly engaged audience. We're constantly exploring new and innovative ways to connect brands with our users, and these new features are the perfect way to help us grow and expand our capabilities."
Self-Serve Advertising Tools
The TikTok For Business Ads Manager empowers businesses of all sizes to reach their ideal customers on TikTok through a simple interface. With new creative tools and performance features designed with small businesses in mind, it's now easier than ever to start activating at scale on the platform.
Product highlights include:
Creative tools: TikTok has a suite of creative tools that enable every marketer to embrace the creativity and authenticity of the TikTok community. Everyone has the opportunity to tell their story, and TikTok's creative tools help brands represent the most authentic version of their brand.
Flexible budgets: TikTok Ads Manager was designed for fast set up for every level of expertise. Flexible budgets allow businesses to adjust their spending at any time.
Performance targeting: Intelligent targeting enables businesses to get discovered by new engaged audiences.
New Channel for Shopify Merchants to Engage TikTok Users
Through our partnership with Shopify, we're excited to provide Shopify merchants with simple, scalable solutions that enable businesses to authentically and impactfully engage with the TikTok community.
Following the initial announcement of availability to US merchants in October 2020, the TikTok channel for Shopify is now available to businesses in Canada. The channel will help Shopify's merchants across the country create and run campaigns directly geared toward TikTok's highly engaged community. Through this partnership we're making it easier for Shopify merchants to tap into the creativity of the TikTok community, be discovered, and optimize their marketing campaigns.
"Shopify helps brands grow. We're excited that our expanded partnership with TikTok will help Canadian merchants meet - and make sales to - their customers where they're spending time," said Ian Black, Shopify's Managing Director, Canada. "Social commerce is becoming the digital mainstreet, and with the TikTok channel, our Canadian merchants can connect with new audiences using content that feels authentic and genuine to the TikTok experience."
Through the TikTok channel, Canadian merchants can access core functions of the TikTok For Business Ads Manager all from within Shopify. Highlights include:
New, "1-click" pixel: Shopify merchants can install or connect their TikTok Pixel with the click of a button, making it quicker and easier to track conversions.
A One-Stop-Shop for TikTok Campaigns: Merchants can create campaigns, target audiences and track performance in one place.
Creative Made Simple: Everyone has a story to tell on TikTok, and the TikTok channel enables Shopify merchants to create native, shareable ads that resonate with the community. TikTok's intuitive creative tools help turn merchants' products into high quality TikToks in minutes.
Advanced Matching: This new TikTok Pixel feature enables Shopify merchants to send hashed customer information to more effectively track conversions from TikTok ads and retarget audiences while maintaining user privacy.
Ad Credits for Merchants: Eligible merchants who spend $27 in 14 days will receive $132 in ad credits to jumpstart their first TikTok campaign.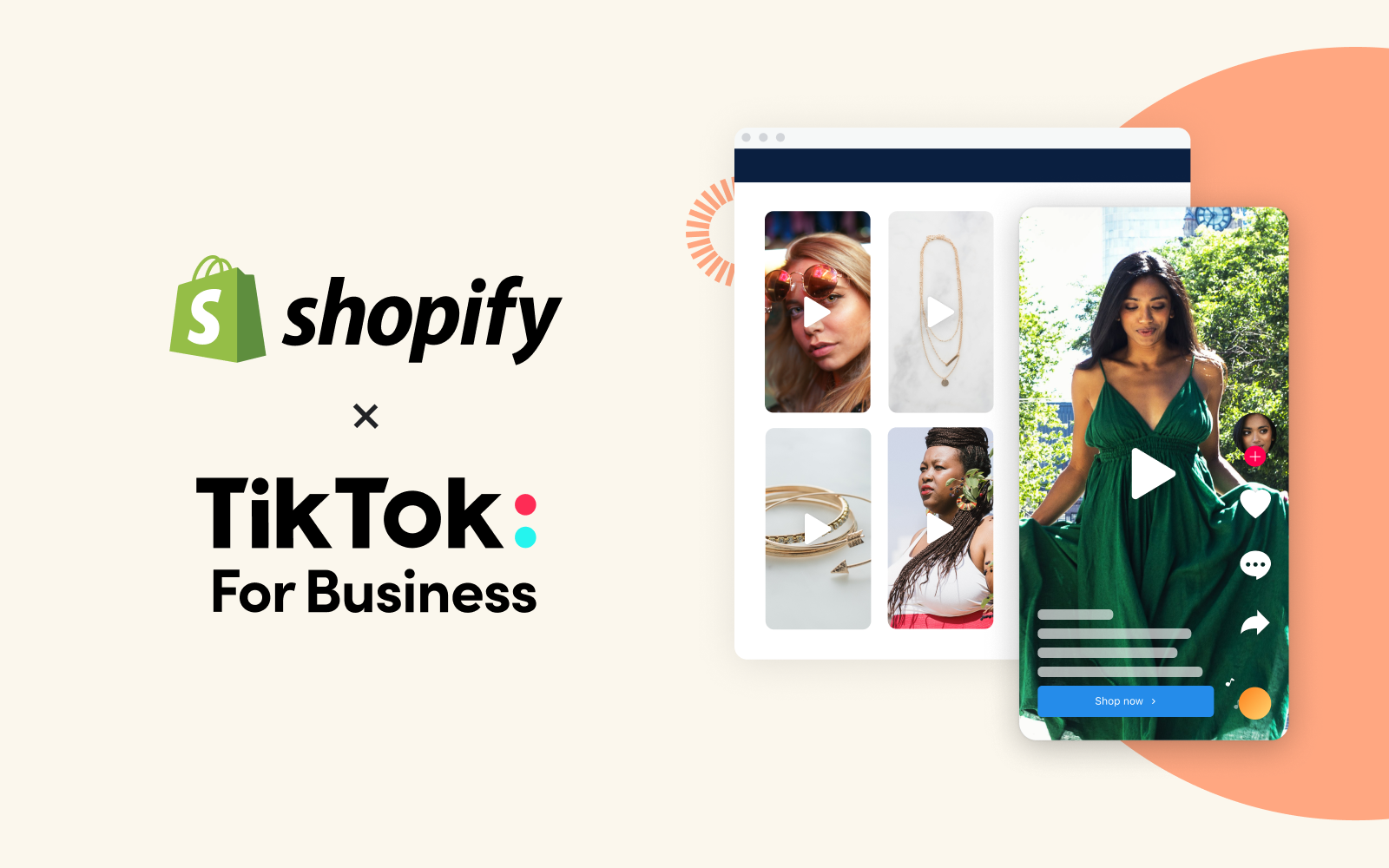 Self-Serve and the TikTok channel for Shopify is now available in Canada. To learn more, visit our TikTok For Business Help Center here.
#ForYou: Ready Set Grow Summit
Canadian SMBs are invited to TikTok's #ForYou: Ready Set Grow Summit on March 24th, 2021. The virtual event will host workshops, education sessions and interviews with small and medium sized businesses, TikTok experts and top TikTok creators. The summit will help new advertisers to build their brands on TikTok, find a following and use advertising to drive sales. To register, please visit the #ForYou: Ready Set Grow Summit event page.
Paying our Fair Share
TikTok is committed to supporting Canadian users, creators, brands, and small businesses. This commitment extends to paying our fair share of taxes in Canada, whether it be sales tax on advertisements sold to Canadian customers, or corporate tax on profits from our Canadian business. In the next few months, we will complete the process of bringing all of TikTok's Canadian business activities under our local Canadian business entity, which means that all advertisements sold to Canadian clients, including those purchased through the new self-serve advertising tool, or directly from our Canada-based team, will be subject to applicable provincial and federal sales taxes.