At TikTok, we want our community to feel empowered to express themselves authentically and feel safe speaking frankly about different life experiences or challenges. Mental Health Awareness Month is observed each May in Canada and this year we're focused on helping people find community and share their stories, hear from experts, and connect to a range of well-being resources and information. Throughout the month, we'll have a range of TikTok LIVE programming, music playlists, and community spotlights featuring creators and organizations who help raise awareness and de-stigmatize mental health conversations.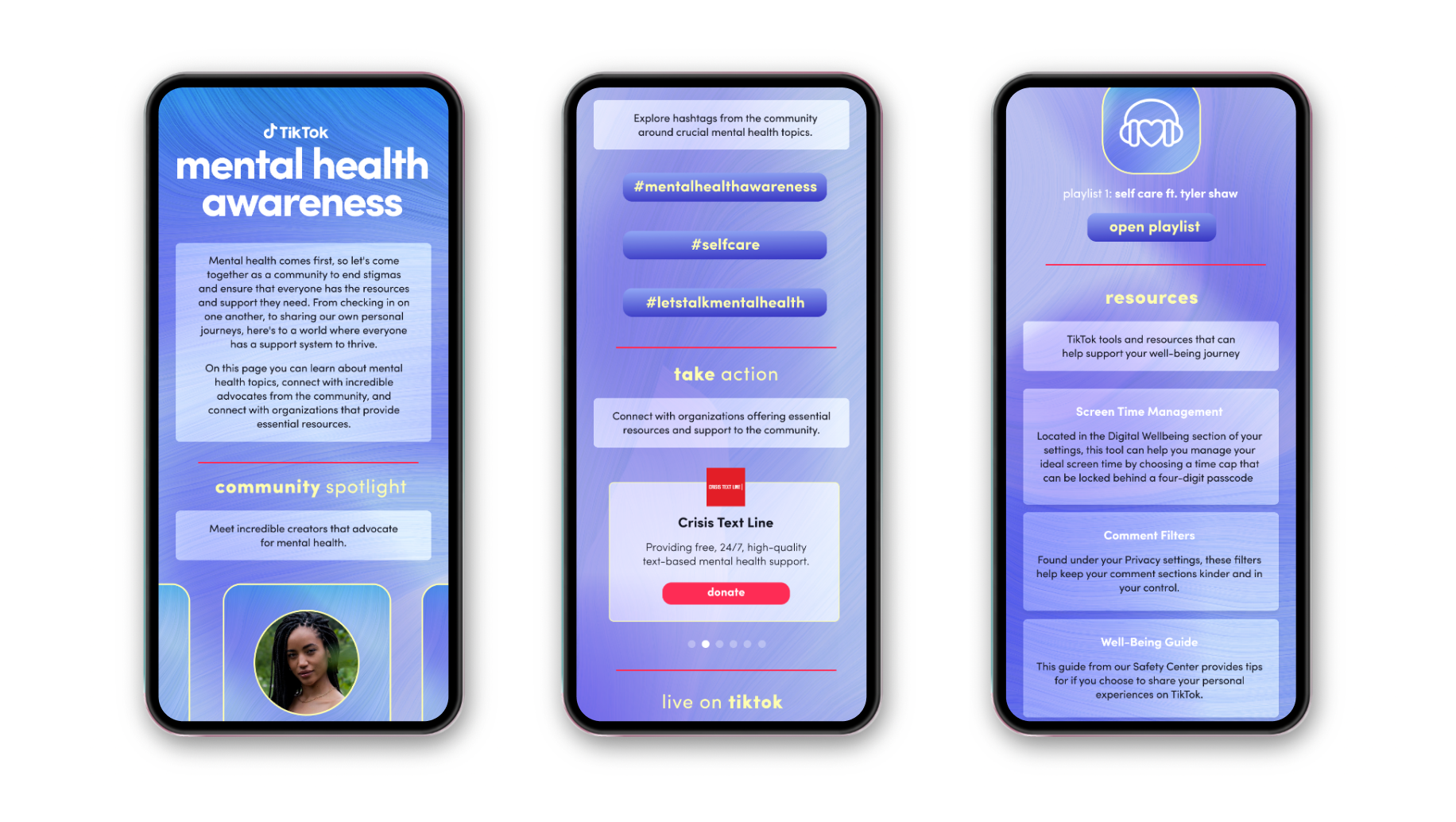 Encouraging supportive conversations
Fostering a welcoming, inclusive environment is at the heart of everything we do. Hashtags are an easy way for people to find community. Whether you're someone who has a story to share or you're looking for your community, there are several ways to connect through hashtags, including:
Spotlighting groundbreaking creators
We celebrate the people who are able to be candid about their path to better mental health. From open discussions around depression and anxiety to tips on managing body image and self-esteem issues—these creators are doing the important work of opening up channels of communication about such a necessary topic. Today, we're recognizing some of the creators who help drive authentic and empathetic conversations:
Partnering for greater impact
Though each person's mental health experience is unique and personal, we know that achieving a world where everyone can discuss their mental well-being and receive the care they need will require everyone to act. We believe that we're stronger together, and we're grateful to the organizations who share their expertise on TikTok. This month we're spotlighting several organizations that are working to build a more inclusive future:
Programming for change
Music and sound has the power to bring people together, to help them relax, or even to get through difficult times. In this spirit, we invite everyone to tune into our special LIVE programming events happening throughout the month, including:
Supporting well-being
We build well-being into our policies to support our community members and partner with experts to develop resources to connect our community to information, such as our Well-Being Guide, which contains tips for those who want to mindfully share their journeys, and Eating Disorder Guide, to help people struggling with eating or body image concerns.
We believe that people should be able to explore safely, which is why we redirect searches and block harmful hashtags. For instance, when people search #eatingdisorders or #suicide within the app, they'll find support resources, such as helplines and information on how they can find help. Additionally, we offer features that help people decide which amount of screen time is best for them, tailor their feeds to avoid potentially triggering content, and filters to help them manage their comments.
Mental Health Awareness Month shows just how far conversations about well-being have come on TikTok. We're proud to be a place where people can share their stories, break down stigma, and find community. We know that mental health is a complex area, and we aim to navigate it with help from experts, nuance, and most of all, kindness.