Latin culture is a tapestry of inspiration and celebration. From creators redefining boundaries, to small businesses finding success by leaning into their heritage, to artists that highlight the infectious beats of Latin music — there's a connection that transcends borders and languages. This Latin Heritage Month and year round, we celebrate the innovative creators, business owners and cultural changemakers who are impacting their communities and shaping the future. As we highlight #CasaTikTok, we're excited to debut our ¡Adelante! programming — inviting our TikTok community to join us as we look "onward and forward" to a future that Latin creatives continue to change for the better.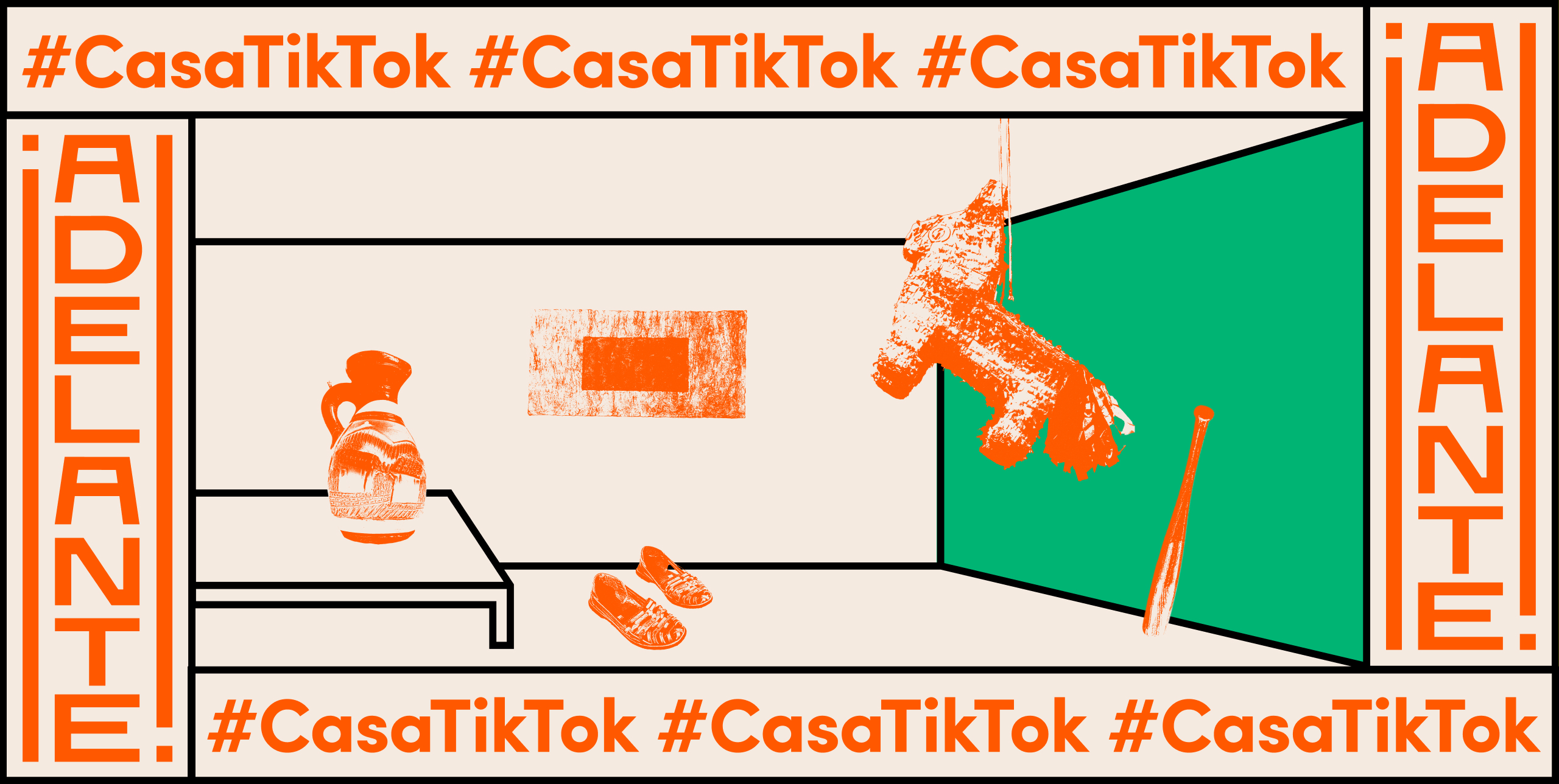 For Latin Heritage Month 2023, we are thrilled to continue to elevate Latin creators and community leaders who are breaking boundaries and inspiring others both on and off the platform. Our Latin Heritage Month celebration will feature an exciting lineup of programming — including the unveiling of our first-ever 2023 TikTok Latin Visionary Voices list; the launch of our Latin Heritage Month content hub; the continuation of our #CreciendoconTikTok grant program for small businesses; social spotlights honouring the impact and influence of TikTok's Latin community; an IRL creator celebration of #CasaTikTok in Miami and more.
Meet the 2023 Latin Heritage Month Visionary Voices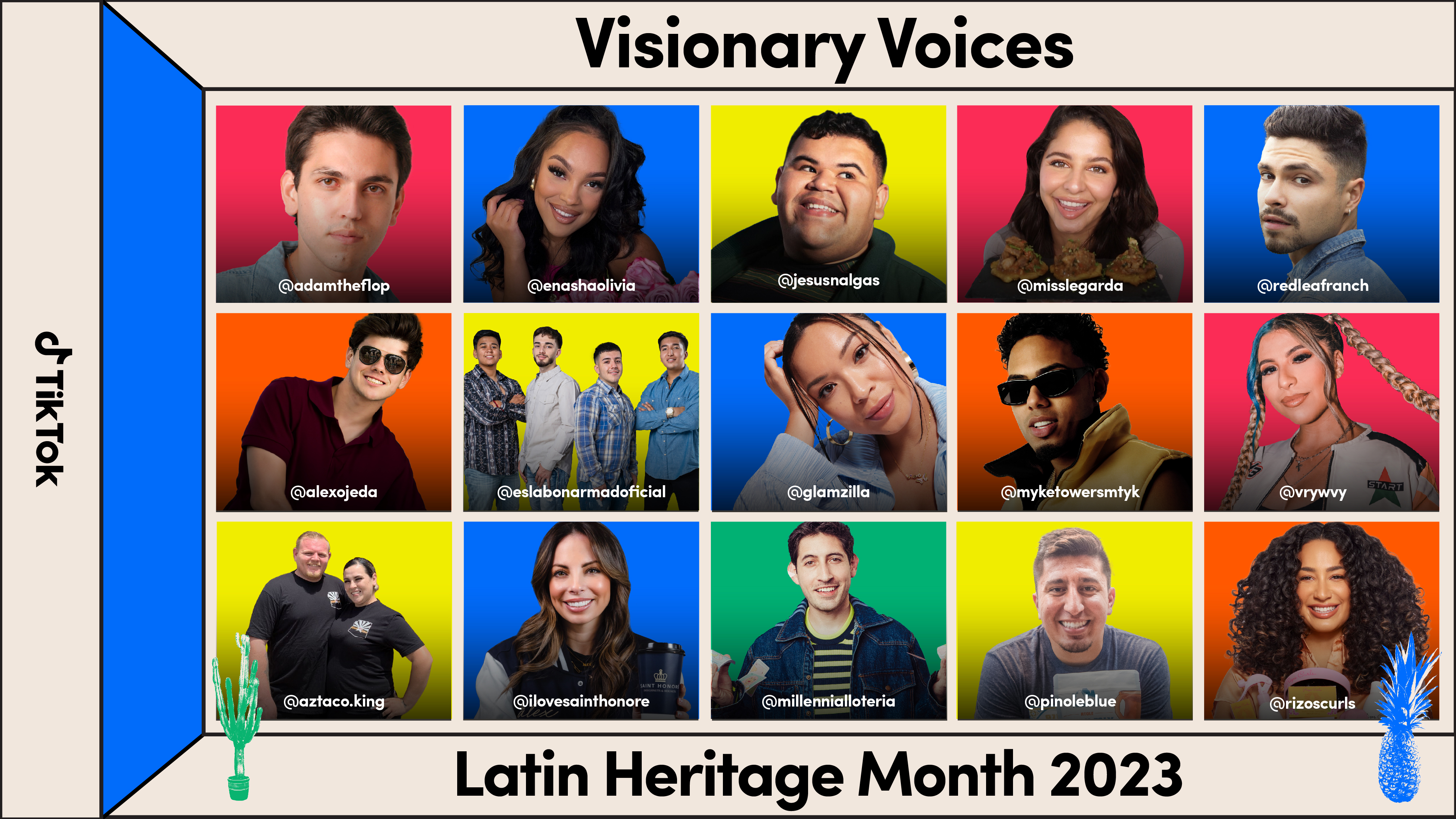 [Photo Credit: Images provided by Visionary Voices honourees]
The #CasaTikTok community is filled with industry-shifting creatives who continue to impact TikTok culture and inspire global audiences. Our new 2023 Latin Heritage Month TikTok Visionary Voices list honours 15 of these visionary creatives, business owners and changemakers who are making a positive impact on TikTok and beyond. These innovative creators use their platforms to celebrate and honour Latin Heritage and are recognized across three categories — Creators, Industry Disruptors and Small Business Owners. Read more about our Latin Heritage Month Visionary Voices below:
Creators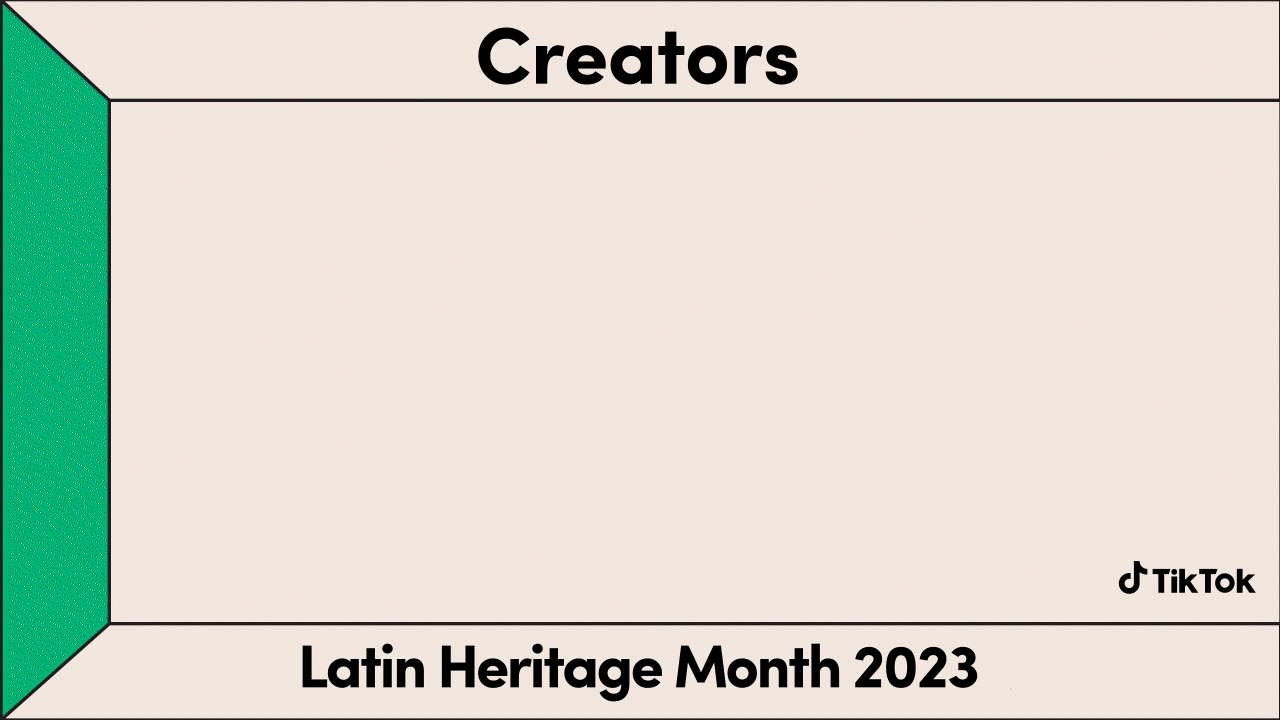 @adamtheflop (Los Angeles, CA) - Adam Barrera uses his platform to share engaging, entertaining content about the music industry. With a master's degree in Social & Emerging Media, Adam blends his love of internet culture and music to create insightful commentary about songs, charts, artists' careers and timely pop news.
@enashaolivia (Chicago, IL) - Enasha Bondurant is a creator from Chicago who creates content that focuses on self-care and the beauty of living a soft life. She shares vlog-style videos on her platform in hopes of inspiring and elevating other individuals to love themselves to the fullest and step into the best version of themselves.
@jesusnalgas (Los Angeles, CA) - Hailing from South Los Angeles, Jesus Nalgas has built a devoted fan base online who all enjoy his hilarious POV skits, relatable story-telling and intimate LIVEs that showcase moments of community. He is passionate about being in front of the camera and loves creating content that makes people laugh and feel confident, reminding them to never give up and follow their dreams.
@misslegarda (Los Angeles, CA) - Maria Legarda is a Colombian actress and content creator. An immigrant to the U.S., Maria stays connected to her Colombian roots through cultural exchange and entertaining food content, enhanced by her vivacious personality and witty sense of humour. Whether she is trying food from different parts of the world, creating delicious and unique recipes or opening up about mental health, Maria is passionate about showing her audience her authentic self and empowering Latinas worldwide.
@redleafranch (Morrison, TN) - Brian Brigantti is a gardener and creator based in Morrison, Tennessee. He recently began his journey back to Mother Nature and now shares his love for gardening, cooking and leading a life full of abundance with his followers.
Industry Disruptors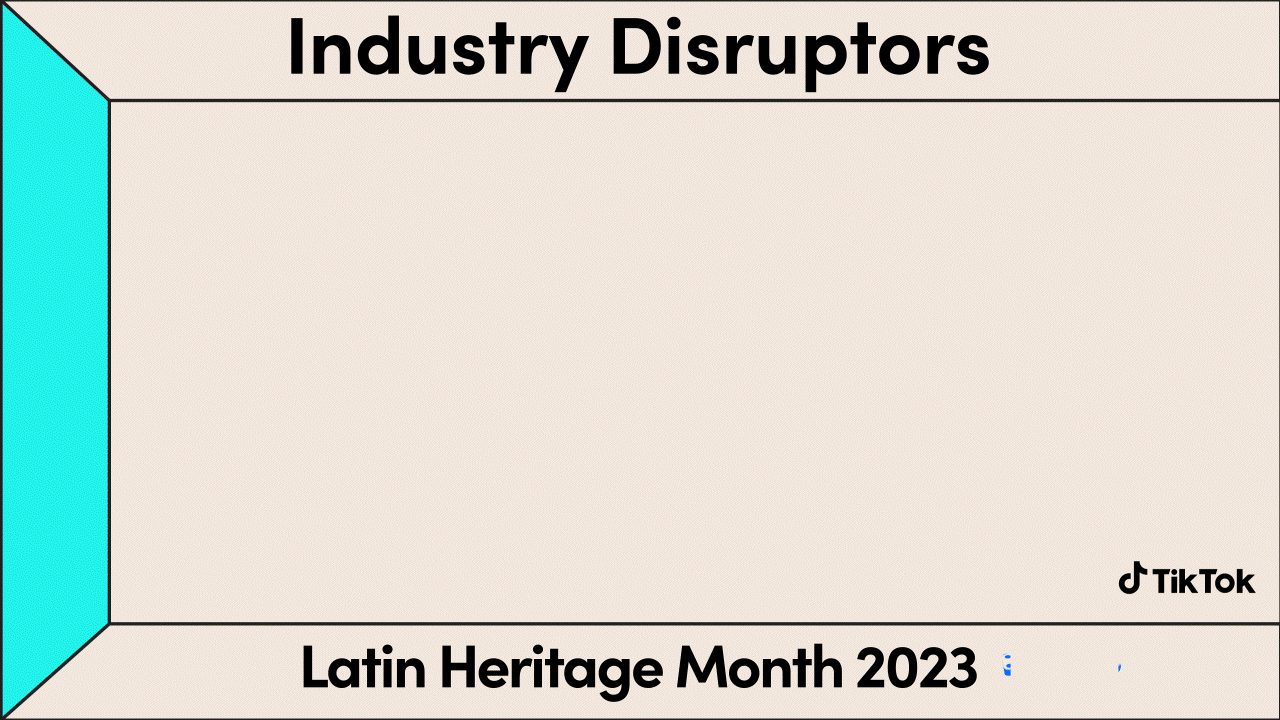 @alexojeda (Austin, TX) - Alex Ojeda is a Mexican-American creator who shares captivating content spotlighting the world's most thrilling travel experiences. Born in Mexico City and now based in Austin, Texas, he is passionate about inspiring others to live a life of adventure.
@eslabonarmadooficial (Los Angeles, CA) - Eslabon Armado is a Mexican music group from Los Angeles known for their global hits, "Ella Baila Sola," "Con Tus Beso" and more. The group is signed to independent label DEL Records and includes Pedro Tovar (lead singer/composer), Brian Tovar (bass), Ulises Gonzalez (2nd voice/guitar) and Damian Pacheco (lead guitar). They use their platform on TikTok to connect with fans, share new music and share their daily lives.
@glamzilla (Toronto, Canada) - Stephanie Valentine is a Filipino-Hispanic Canadian content creator who has turned her love for beauty into an online movement. Her mission is to promote fearlessness and confidence as a plus-size beauty creator, while showcasing her passion and expertise in raw, unedited and unfiltered content.
@myketowersmtyk (San Juan, Puerto Rico) - Four-time Latin GRAMMY® Award-nominated rapper and singer Myke Towers has grown into one of Puerto Rico's top lyricists, melding streetwise storytelling and massive pop hooks into a career filled with chart-topping anthems. His latest hit "LALA" became a global top-charting song on all platforms and the sound of the summer on TikTok.
@vrywvy (Dallas, TX) - DJ VRYWVY is a Dallas-based DJ and Event Producer from Mexico City whose mission is to inspire the next generation of DJs and creatives, bringing cultures together through the sounds of music. Blending Reggaeton, Hip-Hop, R&B and House, VRYWVY showcases her vast musical taste through her mixes. Her growing online presence has translated that into sold-out solo shows in the US as an independent artist and has led to partnerships with brands like Netflix, Genius, Billboard, Sony Music and more.
Small Owned Businesses (SMBs)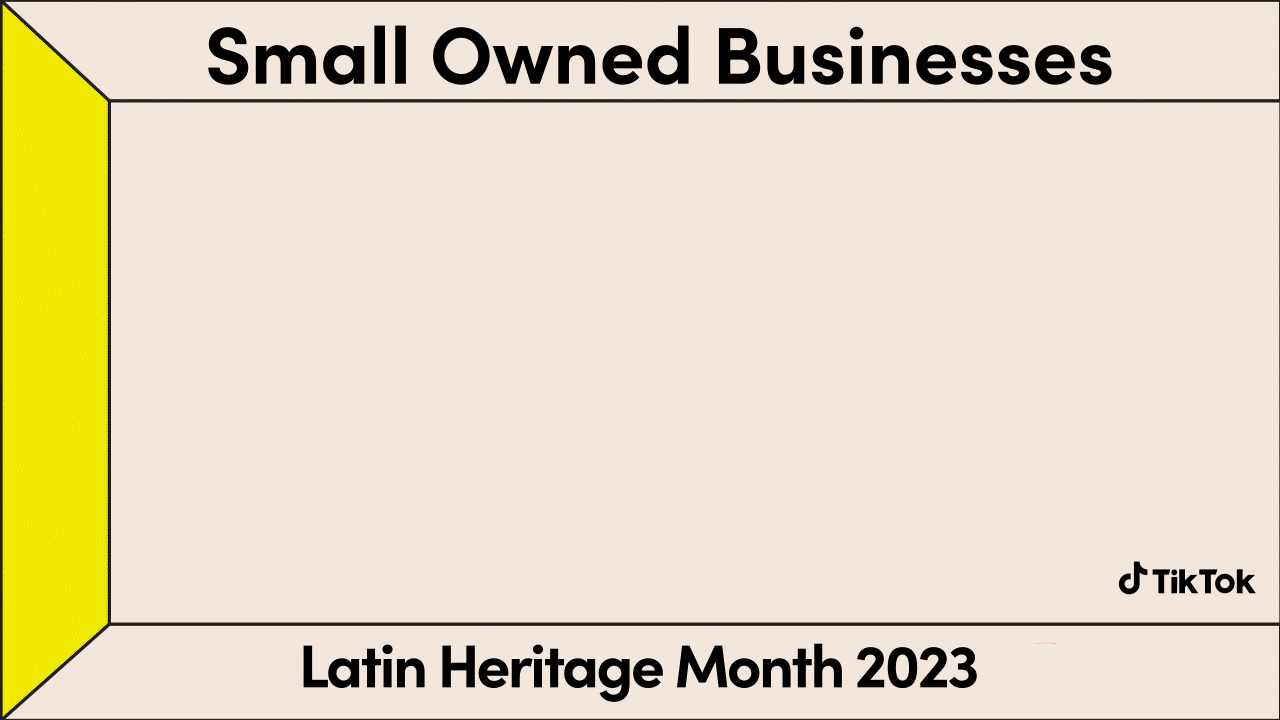 @aztaco.king (Phoenix , AZ) - Jazmin and Samuel Sears are creators from Phoenix, Arizona who showcase their growing business, AZ Taco King, on TikTok. They utilize their platform to highlight their famous dishes, often selling out of food at all four of their restaurant locations due to their videos.
@ilovesainthonore (Las Vegas, NV) - Alexandra Lourdes, Ph.D, is an entrepreneur and the co-founder of Refined Hospitality Group, which has opened over seven successful restaurants, including Saint Honoré Doughnuts & Beignets in Las Vegas. A mom of two daughters, Alexandra (known on TikTok as @alexandra_lourdes) has amassed a following by sharing her working mom life, behind-the-scenes of creating celebrity donuts, healthy recipes and more. Fans travel from all over the world to meet Alexandra at her restaurants, and she has received several accolades for her work, including a commendation from Las Vegas Mayor Carolyn Goodman and a spot on VEGAS INC's 40 Under 40 list.
@millennialloteria (Los Angeles, CA) - Mike Alfaro is a content creator, successful entrepreneur and proud Guatemalan immigrant who created the wildly popular game Millennial Lotería to represent a new generation of Latin American youth.
@pinoleblue (Wichita, KS) - Eddie Sandoval began the Pinole Blue journey in a dorm room while pursuing a business degree at Wichita State University. Inspired by his own family and the Tarahumara community — who consumed pinole with water and were renowned for their long-distance running in the mountains — he created Pinole Blue to reintroduce the ancient recipe of dry-roasted organic blue corn to the U.S. Market, while also giving back to the Tarahumara community in Chihuahua, Mexico.
@rizoscurlshair (Los Angeles, CA) - Born and raised in Los Angeles, Julissa Prado (@julissa_prado on TikTok) is a cultural changemaker and the Founder/CEO of Rizos Curls, a clean hair care line available in over 4,000 locations at ULTA Beauty, Target and Sally Beauty Mexico, that celebrates the beauty of curls, coils and waves through high-quality products. Julissa is paving the way in modern entrepreneurship, having been recently named "Entrepreneur of the Year" by Beauty Independent's Beacon Awards and one of the "New C-Suite Women of Color Who Are Changing Corporate Culture" by Cosmopolitan.
#MusicaLatina TikTok
Join TikTok in celebrating #MusicaLatina throughout our on-platform Sounds page — featuring trending tracks across Reggaetón, Regional Mexicano, Latin Love songs and more. There will also be special playlists curated by Latin music artists, including @karolg and @fuerzaregidaoficial, appearing throughout the celebration. Be sure to also check out our Spanish Sounds Page which highlights Latin music, culture, artists, creators and community, while giving artists on TikTok the ability to reach Spanish-speaking users in CA.
Join the Celebration!
We're putting the spotlight on our community of incredible Latin creators on TikTok this month and every month. Continue the celebration on TikTok by viewing content on our Latin Heritage Month hub, where you can experience all aspects of #CasaTikTok. Featuring Visionary Voices, community content, small businesses from across the country and carefully curated playlists featuring upcoming artists, the Latin Heritage Month Hub is your one-stop location to celebrate the community, with the community.
You can also stay up-to-date with our Latin Heritage Month programming and the #CasaTikTok community by following @casatiktok, @tiktokcreators and @tiktok. ¡Adelante!