Next up in the Creator Spotlight Series—an ongoing feature where we celebrate the amazing TikTok creator community—is @taalrumiq. Based in the Northwest Territories, @taalrumiq uses her platform to share Inuvialuit culture, including traditional clothes, art and fashion design, and give TikTok trends as "Inuvialuit spin." (Check out some here and here!) Read on to learn more about how @taalrumiq uses her platform, and meet other creators featured in the Creator Spotlight Series this month here: @resilientinuk, @auntyjocey and @boslen.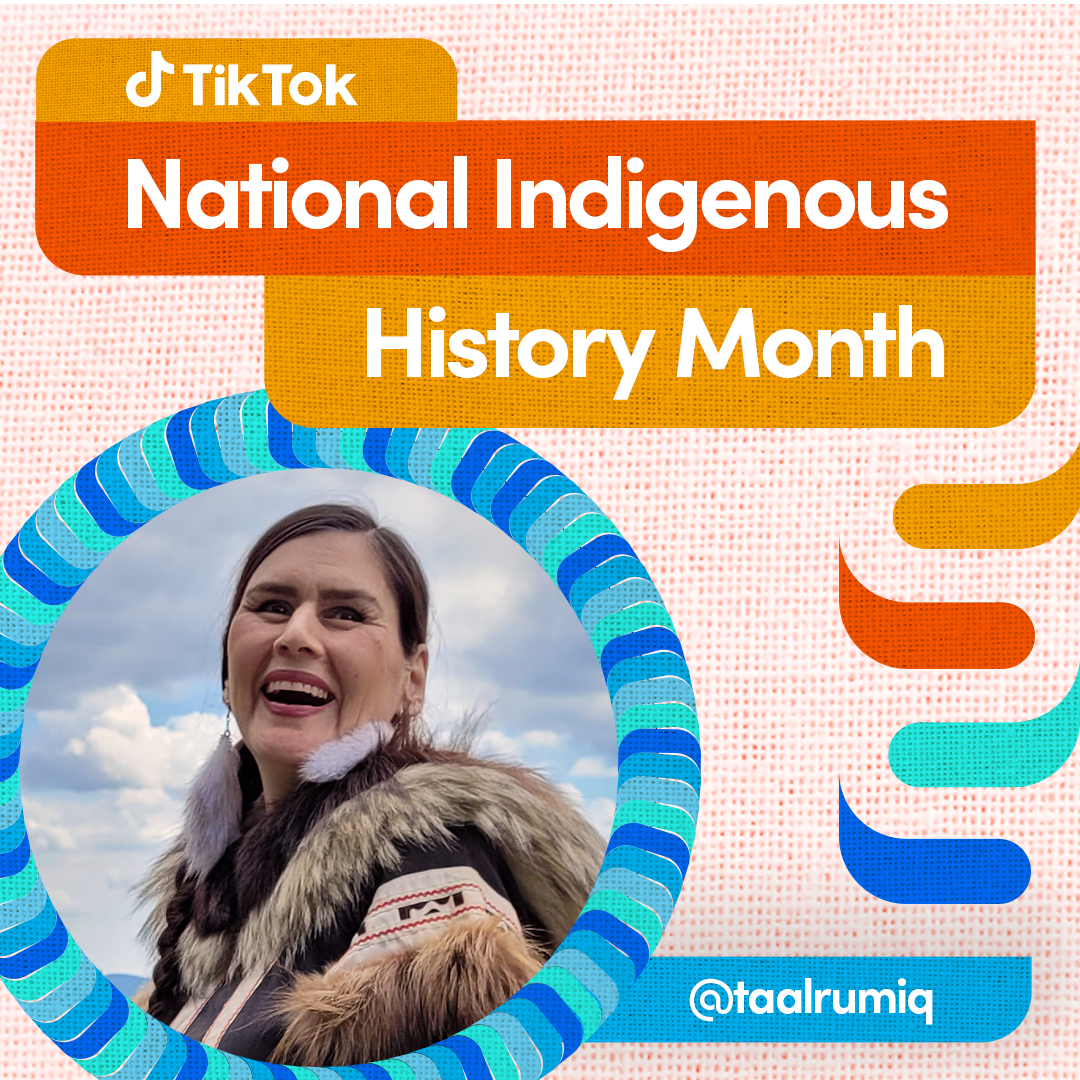 1. How would you describe your TikTok account and the content you make to someone who isn't on the platform?
I create Inuvialuit (Inuit) content! I share Inuvialuit culture, art, fashion, humour and everyday life through educational videos, original skits and Indigenizing trends with an Inuvialuit spin.
2. How has your culture influenced or shaped you?
Being raised with my Inuvialuit family and community, I don't know any other way of being. The effects of intergenerational trauma are real, but so are the effects of actively working toward healing, reclaiming our identities and taking our place here and now. Inuvialuit & Gwich'in have an intertwined culture and history that reminds me that I come from strong, intelligent, resourceful, brilliant people, and that I'm meant to be here—we all are!
3. How has the TikTok community inspired you?
I love seeing Indigenous People share their culture, traditions, food, clothing, dance and taking pride in who they are despite our history. I wasn't seeing any Inuvialuit representation. Thinking of my children and Inuvialuit youth, I thought "Well, I can share my traditional clothes, art and fashion design!" It quickly evolved into the content I create now.
4. What is your favourite TikTok video that you've created and why?
One of my favourites is my multi-generation family skit "When Inuvialuit hear 'Temperature' (by Sean Paul)". They begin drumming and traditional dancing and even our ancestors are proud! I think many Indigenous people can relate to that great beat!
5. What's on your For You page right now?
My FYP is filled with Native, Inuit and Indigenous Tiktok, mental health and well-being, art, fashion, sewing and even sheep shearing and horseshoeing! There are so many amazing TikTok creators, it's hard to pick favourites, but here are some that I appreciate: @bernicekootooclarke, @brettstoise, @hoodoo_manystrikes, @juliaulayok, @resilientinuk, @zombieeagle7, @deebeen0, @danceyourfire & @peejsicle.