Welcome to the world of Cattyhopcy: Where Fashion Meets Creativity
Opeyemi Olayinka Stothard, popularly known as Cattyhopcy from Nigeria, is a fashion designer and content creator specializing in Lifestyle, Fashion, and Beauty. She is a passionate and creative individual who harnesses the power of fashion and styling to express her craft on the platform.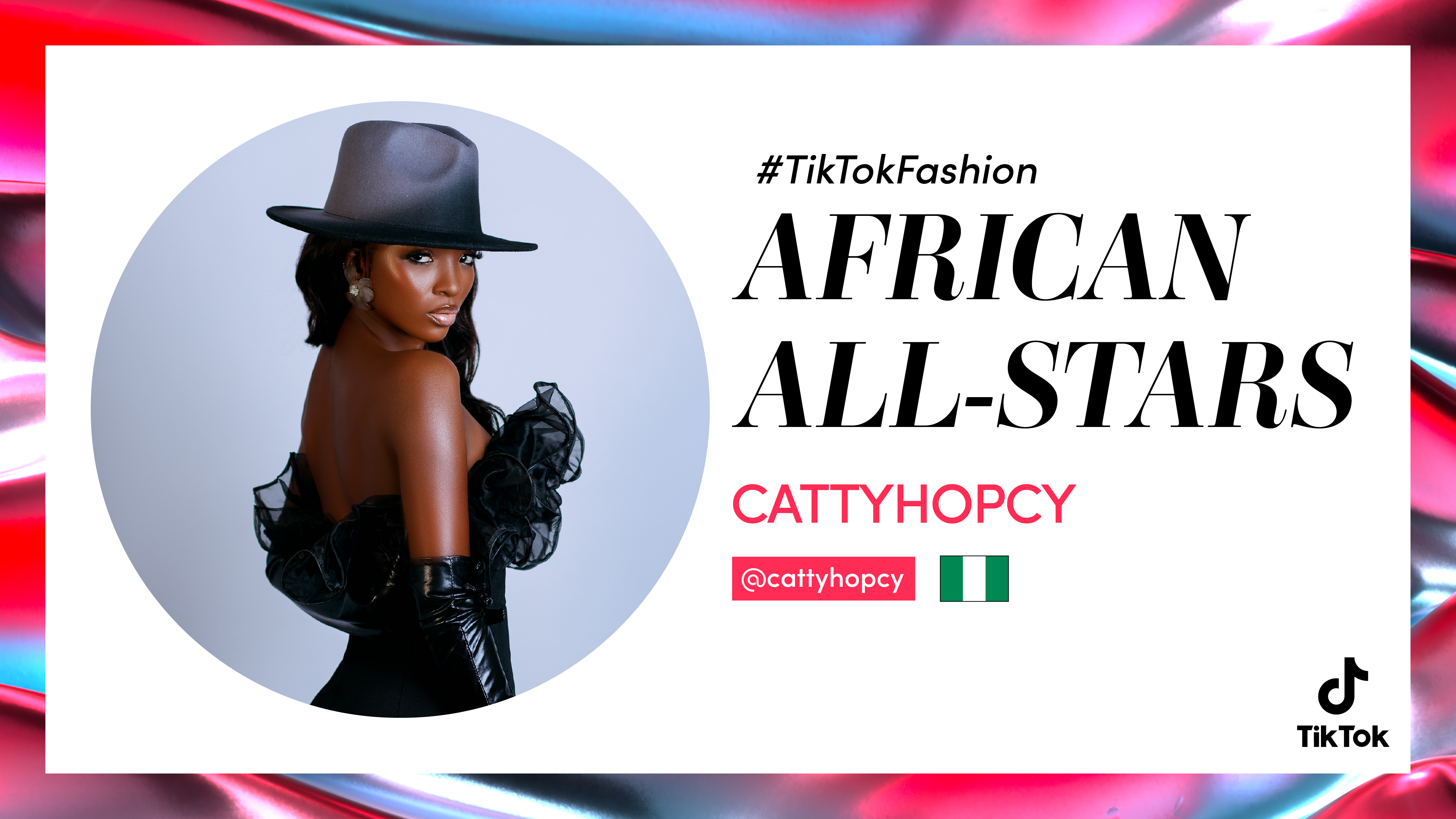 What are the content tips you would offer to other creators?
Cherish your craft, cultivate a distinctive style, dare to be bold, and avoid overspending in the pursuit of content. Prioritise quality as your guiding principle and strive to carve out a niche that is uniquely yours. Finally, recognise the importance of collaboration as an essential ingredient for success.
What is your favourite TikTok you've made to date and why?
That is an intriguing question, and choosing just one favourite amongst my TikToks is hard. Three videos hold a special place in my heart:
My First Viral Video (2021): This was the first video I posted on TikTok for fun in 2021. Little did I know that it would go viral! The response was beyond my wildest expectations and a moment of sheer amazement.
The "POV" Video (2022): In 2022, I created a "POV" video that leveraged a trending and viral sound at the time. The caption was both captivating and soul-lifting, particularly for slim girls. This video's overwhelming response truly astonished me, with over 700k views.
Fashion "Vibe and Style" Content (March 2023): One of my absolute favourites is a fashion-centric "Vibe and Style" video I posted in March 2023. I adore everything about this video – the sound, the outfits, the subtle makeup, and the laid-back hairstyle. It perfectly encapsulates my personal style.
Each of these TikToks holds a unique significance in my journey as a content creator, whether it is the surprise success of the first one, the impact of the second in empowering a specific audience, or the sheer joy and satisfaction I derive from the third video's fashion-forward expression. These content videos remind me of the diverse and ever-evolving nature of TikTok content and the beautiful experiences it has brought into my life.
What inspires your unique sense of style, and how do you incorporate it into your content?
I draw inspiration from the smallest things, whether something I have seen at the mall, in the market, or even on social media. What comes to mind is how to weave these inspirations together and shape them into my craft.
I am also inspired by a few fashion creators, each for their own reasons. Tenickab captivates with her sense of fashion and love for vibrant colours. Styleydamie's creativity, unique style, and serene demeanour are a constant source of motivation. As for Ms_yudee, her unwavering work ethic, creativity, and inspirational content are truly impressive.
I love vibrant colours and have a particular fondness for colour blocking; hence, I ensure that each content piece incorporates at least one bold and vivid hue, allowing my passion for lively aesthetics to shine through.
What advice would you offer aspiring fashion creators just starting on TikTok?
I advise staying consistent and remembering that 'slow and steady wins the race.' Do not rush to amass a large following; instead, aim to inspire others. Be open and prepared for growth, establish a niche, and embrace the vastness of the fashion industry. Nevertheless, always remember there's room for everyone to explore their craft.
How has being a part of TikTok's community helped you grow and evolve as a fashion creator, and what unique opportunity has it brought to your journey in fashion?
TikTok has had a tremendous impact on my creativity and personal growth. Creating content on the platform has molded me into a better version of myself. I joined TikTok for fun in 2020, never imagining it could lead to much more. TikTok taught me that consistency is not only vital but also a learning journey in itself. While I may not have achieved anything groundbreaking, it's essential to acknowledge and celebrate my small victories.
Thanks to TikTok, I had the opportunity to collaborate with the mobile brand Infinix on the Let's Chat app and work alongside many of Nigeria's top musicians for song promotions. Additionally, I participated in last year's Africa Month campaign, where I created content dedicated to promoting the rich African narrative.