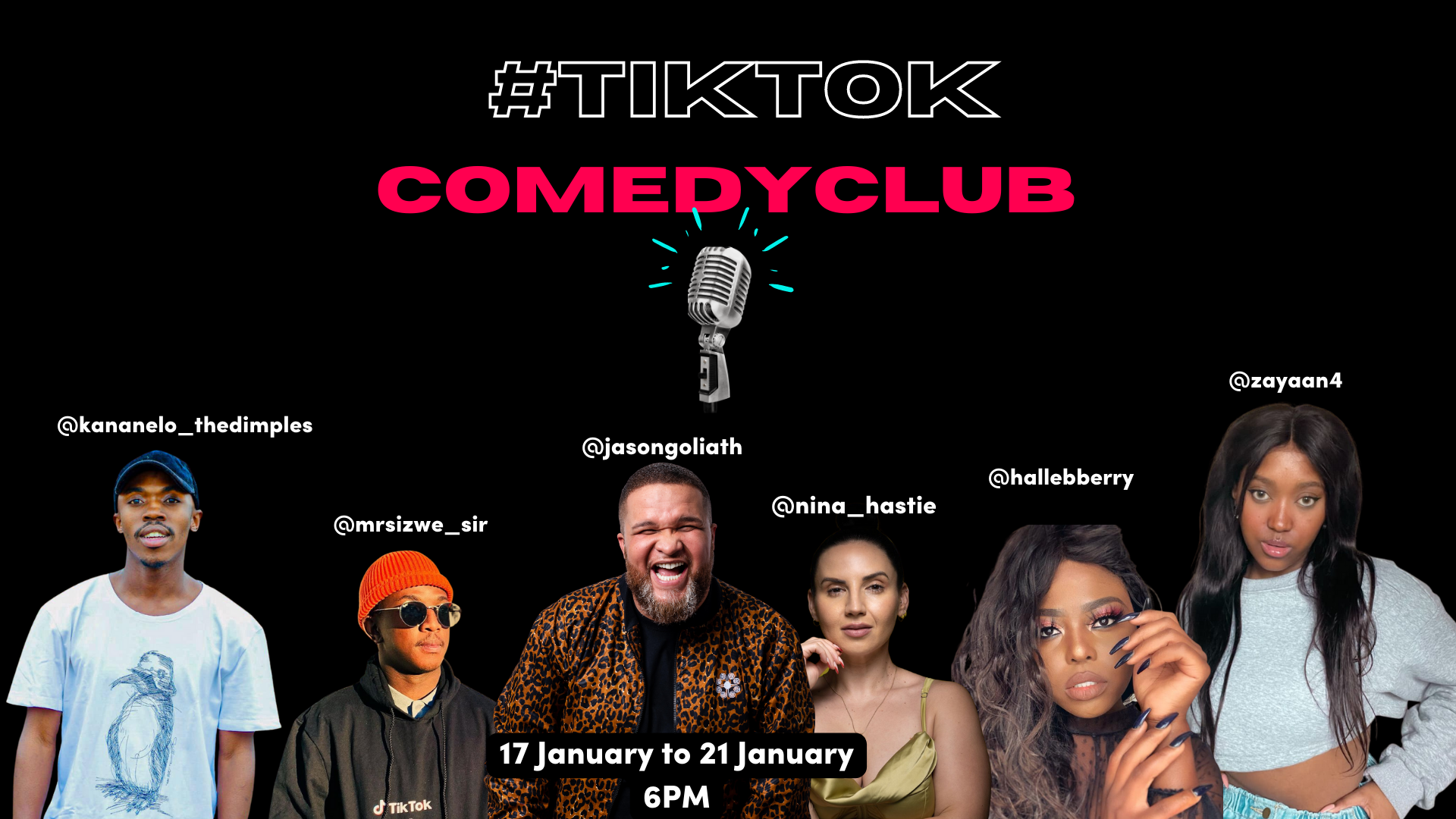 Entertainment on TikTok has become synonymous with humour – a trend that culminated in the official launch of a TikTok Comedy Club, which took place towards the end of 2021. The Comedy Club saw several of Mzansi's biggest comedy creators coming together to showcase their talents and help the platform's community laugh their way through the tough times while competing for a prize.
The launch of the #TikTokComedyClub has been pivotal in encouraging more local users to create and present captivating comedy content while supporting TikTok's emerging generation of rising comedic talent. Since its launch, the hashtag has garnered just over 451 million video views, proving that 'local is indeed lekker.'
To conclude the Club's three-month online festival, celebrity comedian Jason Goliath performed LIVE on the TikTok South Africa page alongside the local creators who were voted South Africa's best TikTok comedians, delivering more insatiable laughter as we surge forward into 2022.
"During the pandemic, we saw South Africans everywhere, uniting through humour and laughter and using the platform to express their creativity. For this reason, we realised that the timing was perfect for launching a campaign that allows creators to be discovered as they showcase their talents to a global audience while with our unique, local South African flair and the relevance that sets our communities apart", Saul Moross, Creator Operations Lead for Sub-Saharan Africa.
What makes TikTok comedy different anyway?
The platform has shifted the narrative of what comedy is about. Original comedy, as defined by TikTok, contains an original script that makes use of original sounds and is locally relevant. It also makes use of sounds, effects and costumes to add drama. Popular creators under this genre of comedy include Tsoanieskits, Brajobe3, Kgomotso_37 and TikTok Comedy Club Winner, MrSizwe_Sir.
Memes also form a big part of this comedic mix. These usually come in video format on the platform, featuring text that is typically humorous in nature and provides social commentary on a popular culture. It usually features sounds from other users as well as viral sounds and effects. Users such as Zayaan4 and Witney8 are popular local meme creators.
Be sure to catch the following faves as they show you what TikTok comedy is all about:
Mr_SizweSir - a comedian from the Vaal who is best known for his Vaal Mom series of content. He garnered the most votes and won the first month of Comedy Club.
Kananelo The Dimples - a Tswana creator also from the Vaal. The aspiring actor is best known for his parodies of township life.
Hallebberry - best known for her Mama Halle character: a parody of overbearing African mothers. In under two years, her brand of relatable comedy has garnered 2.3 million fans
Keen on a great laugh on TikTok? Getting involved couldn't be easier, simply download TikTok for free via the Apple App Store, Google Play or Amazon.