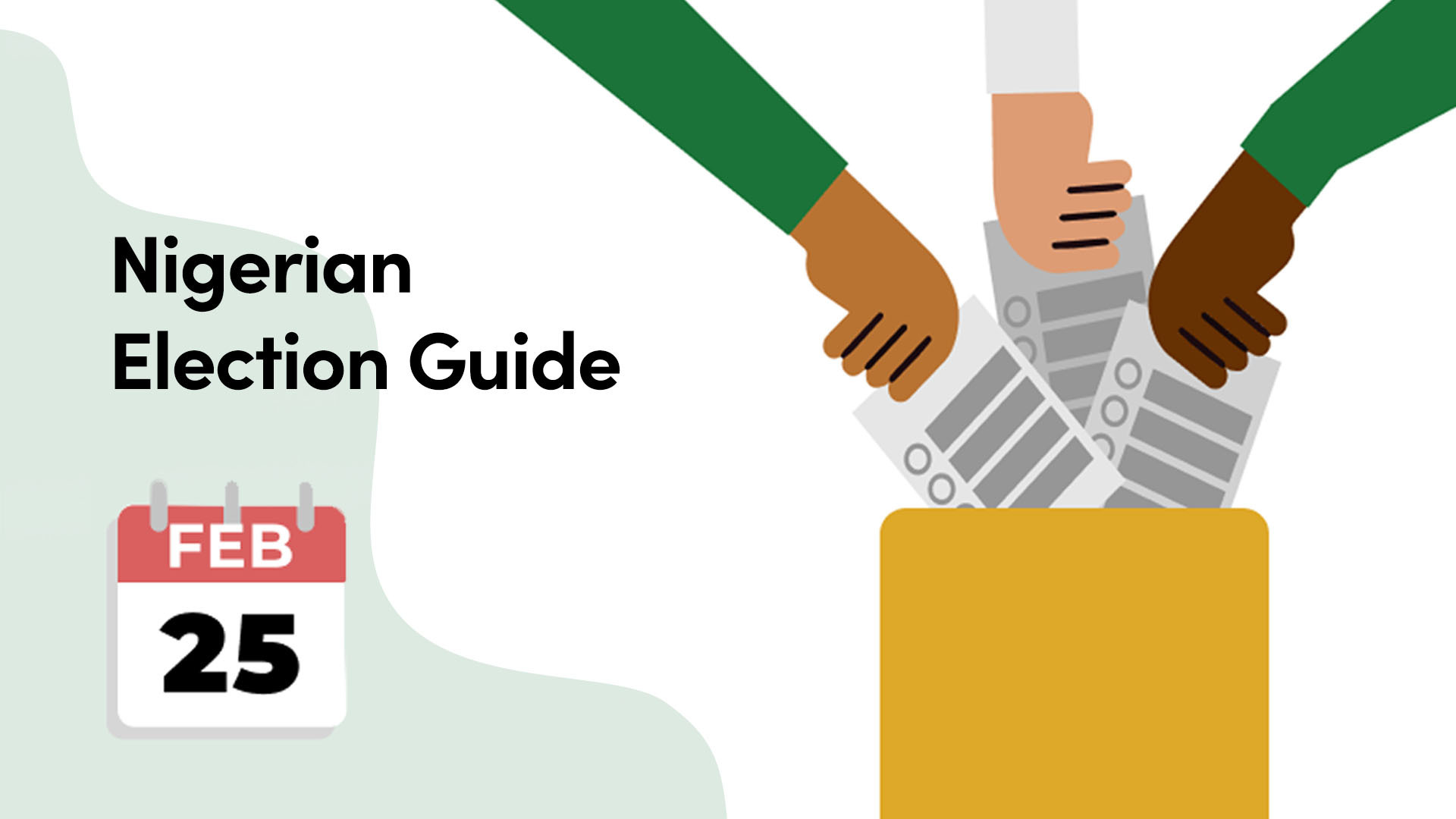 Today, we are announcing an in-app guide for the Nigerian General Election to provide access to authoritative information as we continue our work to guard against misinformation.
As part of the #SaferTogether initiative, the hub will help our community keep up to date with important information about the elections in partnership with the Independent National Electoral Commission and the National Orientation Agency. The election hub will offer information about election candidates, election countdown, voting requirements, as well as media literacy education powered by AfricaCheck.org.
For us, collaboration helps strengthen our efforts to protect against harm and misuse on our platform, which is why we work with an array of experts and organisations to help promote peace and safety on TikTok.
Throughout 2022, TikTok engaged closely with NGOs, government, media, corporate organisations, civil societies, educational institutions and other role-players that form part of the TikTok community in Nigeria.
"We are continuously engaging with diverse stakeholders in Nigeria to discuss opportunities to mitigate the misuse of online platforms such as TikTok in a fast-paced digital world. Our resolve is to spread positivity in markets where we operate as we promote safety online," said Fortune Mgwili-Sibanda, Director Public Policy and Government Relations, TikTok Sub-Saharan Africa.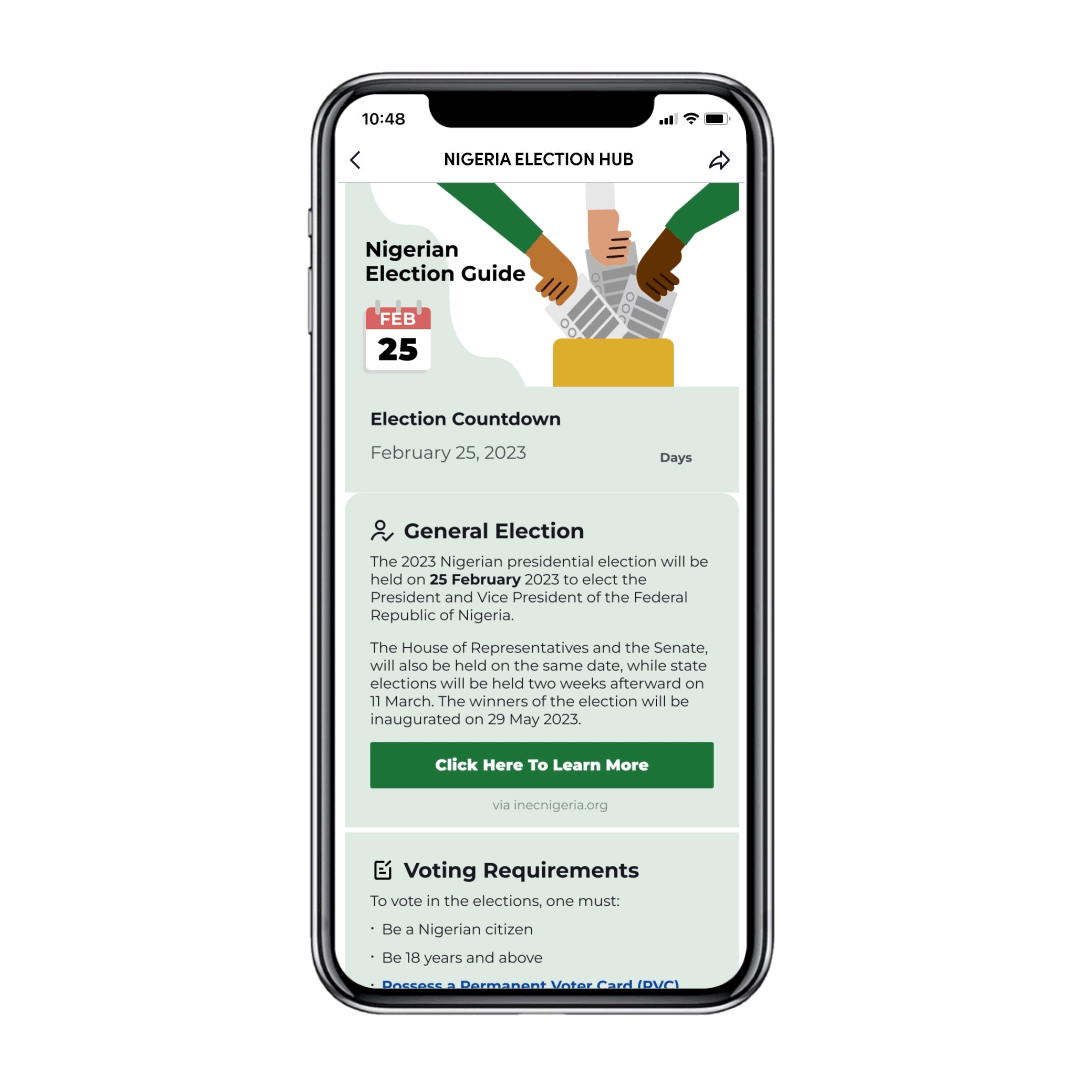 TikTok stands for Peace
Spreading the message of peace in Nigeria during this period, as part of the initiative, TikTok has launched a TikTok LIVE series titled #TikTok4Peace in partnership with TikTok creators and The National Orientation Agency. Moderated by Victor Mathias, a multimedia bilingual tech journalist, is a series of TikTok LIVE sessions featuring key opinion leaders, civil society and academia, focusing on tolerance, building bridges and active citizenship. #TikTok4Peace LIVE streams will take place on the following dates:
6 February 2023 - featuring a member of the National Orientation Agency and funny man, Mr Macaroni
Topic: "How can stakeholders work together to drive safe and fair elections?"
8 February 2023 - featuring Africa Check and @__Iremide
Topic: "Platform curated comedy – how can content creators promote peace & harmony on the internet?"
"TikTok plays a significant role in shaping discourse around important topics. Using the platform as a medium through which to engender an atmosphere of mutual co-existence during and after the election period is part of our resolve to provide a platform that promotes peace and provides a safe space for positive digital expression," said Mgwili-Sibanda.
As an entertainment platform, we continuously update our community with innovative features and functions to enhance its experience and support these developments with robust tools and controls that help users to manage the content they consume on the platform:
Labelling content across our app
To ensure that our Elections Hub is visible and accessible, we have added labels to content identified as being related to the 2023 general elections. These labels allow viewers to click through to the hub and get information about the elections. We will also provide access to popular election hashtags, #NigeriaDecides2023, so that anyone searching for that content will be able to easily access the relevant content. At any time, viewers can use our customisation tools to automatically filter out videos with words or hashtags they don't want to see in their For You feed.
Prompts before sharing information
Sometimes fact checks are inconclusive or content is not able to be confirmed, especially during unfolding events such as the elections. In these cases, a video may become ineligible for recommendation into anyone's For You feed to limit the spread of potentially misleading information. We have taken that a step further to inform viewers when we identify a video with unsubstantiated content in an effort to reduce sharing.
Here's how it works: First, a viewer will see a banner on a video if the content has been reviewed but cannot be conclusively validated.
Of course, TikTok isn't the go-to app for breaking news or politics, and we don't accept paid political ads on our app. Still, we know TikTok is a home where our community expresses themselves creatively – and with that in mind, we're focused on supporting our users with education and authoritative information on important public issues. Our goal is to keep TikTok a place where authentic content can thrive, and our elections guide reflects our ongoing efforts to protect the integrity of our platform and the Nigerian elections.
This is what our partners had to say:
"Part of INEC's commitment in the Electoral process is to engage young people who constitute a larger part of the voting population. This collaboration with TikTok to create an election Hub where Nigerians can access credible information will help mitigate some of the greatest threats to credible elections. We strongly believe that this initiative will assist to counter misinformation, disinformation and fake news" - Ayodele Aluko, Director of Voter Education and Publicity at INEC
"The exponential growth of the use of online platforms has led to tremendous business opportunities for influencers, brands and organisations. However, this growth has also led to challenges like fake news, hate speech, misinformation and disinformation etc. If these challenges are left unchecked, it poses a threat to the credibility of the elections and our national security and development. It is, therefore, imperative that all safety measures are put in place to protect users at this crucial time in our Nation's history, which is why The National Orientation Agency is partnering with TikTok to promote a safe and factual space for each and every Nigerian on TikTok". - Dr Garba Abari, Director General National Orientation Agency
"Africa Check is excited to partner with TikTok on the launch of the Nigerian election hub. By including our fact-checking reports on their platform, we are able to reach a wider audience and help ensure that Nigerian voters have access to accurate and reliable information during the election process". - David Ajikobi, Editor at Africa Check Nigeria