Manila, Philippines, 12 October 2022 – TikTok announced that it is reinforcing its commitment to fostering a safer space for mental health conversations with its latest in-app campaign "Mental Well-Being Comes First" and new updates to the Digital Wellness Hub. The "Mental Well-Being Comes First" is a global campaign aiming to raise awareness and open conversations among the TikTok community about mental well-being using themed hashtags, tools, and resources.
The campaign was shaped in consultation with experts and in accordance with results from a joint survey entitled Global Consumer Attitudes on Mental Well-being with market research firm YouGov, which underscored the need for greater mental wellness support ecosystems amongst adults above 18.
The survey, which was geared towards further understanding global and cross-generational attitudes towards mental well-being, uncovered people's comfort levels in talking about their own mental health and what can help them to feel more supported. The findings spotlighted several key challenges that have hindered mental health conversations within the community, including:
42% of global respondents expressed fear that their loved ones would judge them or would not be able to help if they talked to them about this topic.
48% of global respondents are afraid that being open about their mental well-being will negatively affect their future prospects at work.
The TikTok-YouGov survey also cited that a significant number of respondents globally felt comfortable about sharing their mental health struggles if they had close loved ones who were open with theirs (47%) or if they had been encouraged to do so from an early age (31%).
"Although significant strides have been made in the support of mental health concerns, more can be done to truly normalize talking about it and addressing the issue. TikTok is seen as a vital vehicle towards this goal," said Toff Rada, TikTok Head of Policy, Philippines. "We all have our unique stories to tell relative to our mental health journeys. TikTok has successfully strived to be a space that continues to cultivate networks and resources of care and concern that give way to crucial discussions about well-being to help comfort and inspire everyone."
Under the "Mental Well-Being Comes First" campaign, support helplines to local non-profit organizations and resources – like TikTok's well-being guide, comment filters, and screen time management features – will be made available to empower users to shape positive digital experiences for themselves.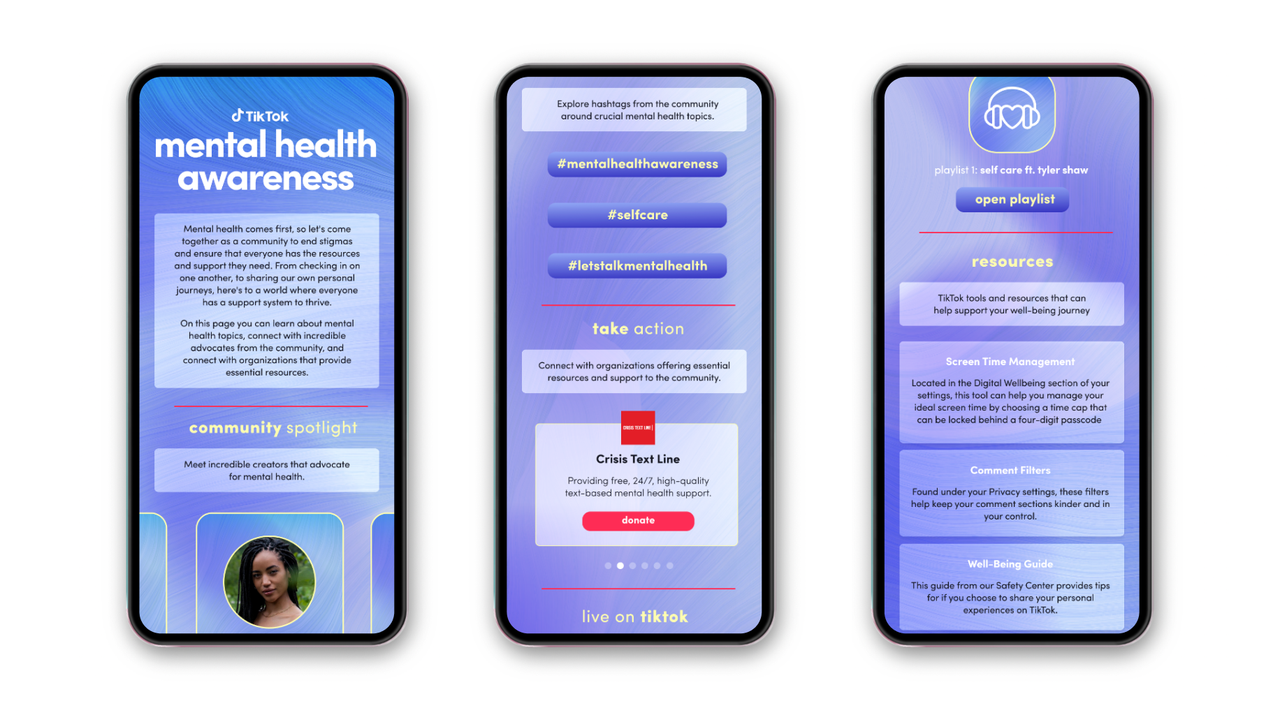 Taking this into account, TikTok will be rolling out a new 'Creator Spotlight' series, featuring local psychologists and mental health advocates like Cassie Uyoco, Riyan Portuguez, and Miss D who make informative videos around mental well-being, to inspire and empower others in the community to share their stories as well.
In addition to these resources, TikTok will also be providing an update to its Digital Wellness Hub – an existing one-stop portal that anchors all of its educational initiatives around mental well-being and cyber wellness – to further bolster its offerings to the local community. These include greater access to local support helplines and new videos that provide useful tips promoting mental well-being.
The hub is anchored on the hashtag #thinkb4youdo, which promotes safe online behavior and encourages everyone to think twice before doing anything on the Internet or before taking on dangerous challenges. The hub also hosts digital literacy tips that can help users make smart choices. The tips come in the form of videos, quizzes, and scenario-based learning content that users can easily relate to.
These initiatives will boost TikTok's existing safeguards tailored to support users' mental health, including in-app well-being guides that have been developed in consultation w