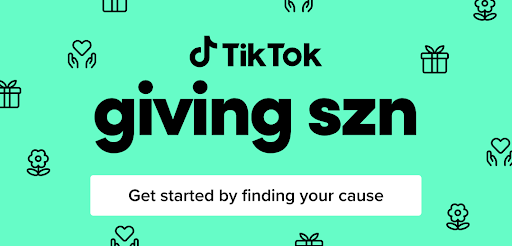 Manila, Philippines - November 24, 2021 - From campaigns like #CreateKindess to #ForYouPride, TikTok is home to a global community of 1 billion people who inspire us with their ability to make a positive impact and meaningful change through creativity.
Celebrating the creativity and generosity of our community
The TikTok community is not just committed to doing good, but also giving back, as creators, non-profit organizations, and changemakers have turned to TikTok to raise funds and awareness around the causes they care about the most.
In 2021, almost 75,000 donations were made on TikTok in support of various organizations and causes globally such as fighting hunger, supporting humanitarian relief efforts as well as promoting health and wellbeing. TikTok creators such as @aynbernos,@catriona_gray, @inkamagnaye have also been at the forefront of raising awareness around some of the world's most important issues.
Sharing the spirit of #GivingSzn globally
On GivingTuesday (November 30), known as the world's biggest day of generosity, we're delighted to join hands with our global TikTok community and introduce #GivingSzn, a celebration of generosity and goodwill featuring LIVE programming from creators and non-profit organizations, including fundraisers and community-rallying moments around the world.
Through #GivingSzn, TikTok will be donating $7M to various mission-driven organizations around the world to support the causes our community cares about the most. Part of the donation will be made in the name of TikTok creators globally to non-profits of their choice. We'll also be donating $1M in ad credits to support global non-profit organizations in their end-of-year fundraising efforts.
World Vision Philippines.
For the Philipines, the chosen non-profit organization partner is World Vision. As part of the global humanitarian organization, World Vision Philippines helps around 1.5 million children annually through the support of various sponsors and organizations. In line with TikTok's commitment to raise awareness and always promote kindness, the partnership with World Vision aims to provide a wider platform to help spread their call to action to a highly engaged audience in Tiktok. Creating new avenues for TikTok users to become advocates and sponsors to World Vision's programs that are directed towards the improvement of lives of Filipino children, their families, and their communities.
Whether you're donating your time or support, TikTok offers many ways to give back and spread joy. You may use our suite of donation tools to support causes and charities you care about, make a difference in your community, or just use this opportunity to spread goodwill and do good. 'Tis the #GivingSzn, after all.
New to TikTok? Getting involved and giving back couldn't be any easier. Simply download the app for free via the Apple App Store, Google Play or Amazon.