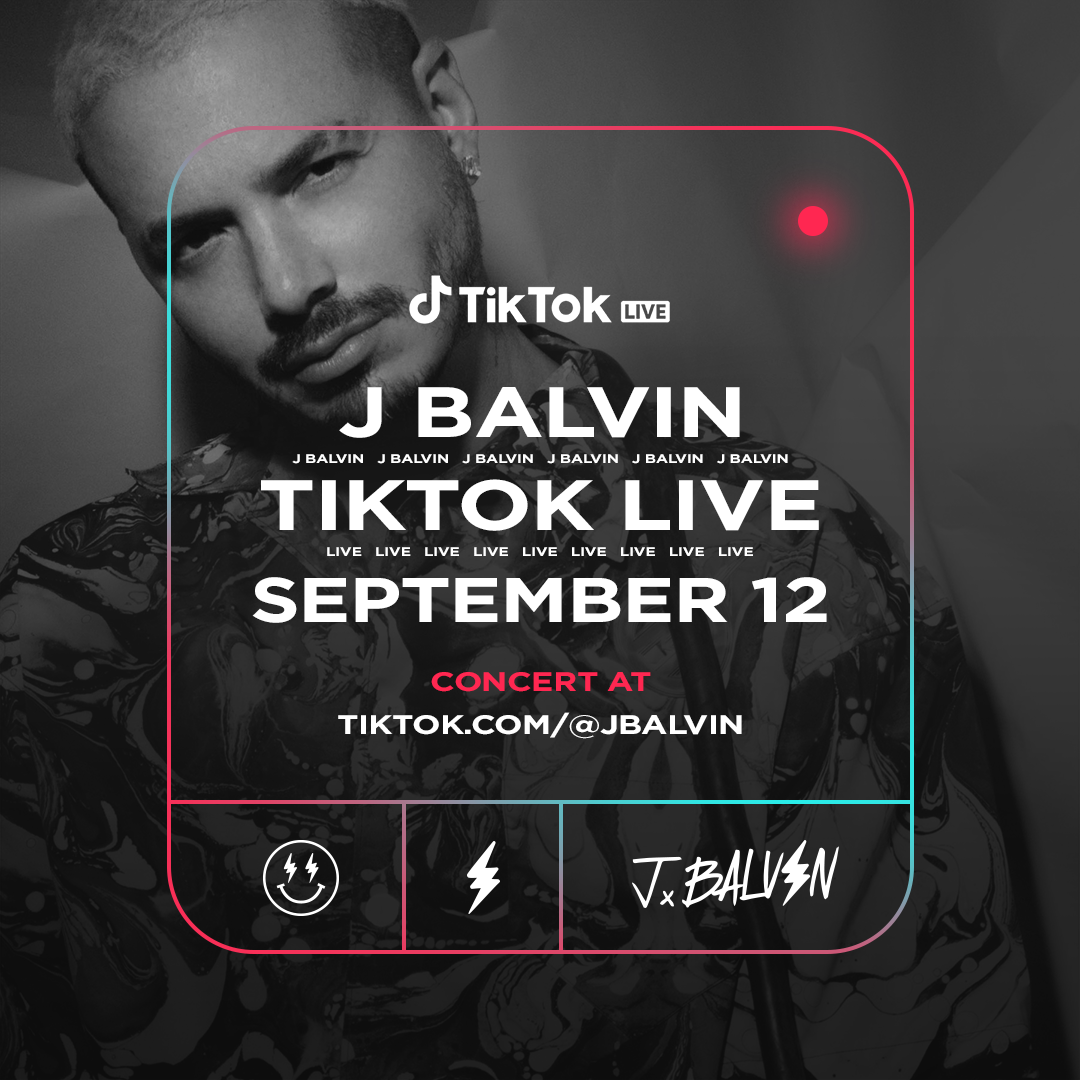 Uniting the listening public with his sweeping vision of Reggaeton as global pop, J Balvin is one of the most crucial figures in today's music. Today, we're thrilled to announce that the Colombian-born superstar will perform JOSE X TikTok, a special concert LIVE on TikTok, airing at 3 PM PT/ 6 PM ET on September 12th.
Marked by the visual inventiveness and high production value characteristic of his performances, the upcoming hour-long set will include classics and tracks from the highly anticipated album JOSE. The follow-up to his 4x Platinum Colores (over 4.5 billion streams), JOSE finds the chameleonic artist experimenting with genre, collaborating with fellow stars like Skrillex and Khalid. The album is home to recent singles like "UN DÍA," which has over 400 million streams to date, "Qué Más Pues?," a collaboration with Argentinian singer Maria Becerra that trended on TikTok to the tune of 1.1 million video creations, and the new single "Que Locura." Beyond its experimentation with genre and new sounds, JOSE is Balvin's most personal project to date.
Counting over 17 million followers, J Balvin is the most-followed Latin artist on TikTok. He's fully embraced the platform, using it to promote his music and to show off his charming personality. Recently, he's been dueting fans who've used his new song "IN DA GETTO" in their videos, helping drive the single to over 620k video creations on the app. The Skrillex-produced "IN DA GETTO" is the latest in a long line of TikTok successes for Balvin, following "Qué Más Pues?" and last year's "Blanco" (1.2 million creations).
"I love TikTok and seeing all of the amazing things that my fans are doing with my music as a soundtrack," says J Balvin. "It feels spontaneous and interactive in a way I haven't felt with fans in a long time. I get inspired when I open up TikTok to see what they're doing, and it encourages me to find new ways to present my music and keep things fresh!"
Balvin will also be the premier speaker at "TikTok Latinx Creatives," a new incubator program that will invest in and support emerging Latinx creators and music artists on TikTok. Kicking off next month, the 10-week program will focus on nurturing and developing 150 talented Latinx creators and music artists, aiming to further grow and develop an already thriving Latinx creative community on TikTok.
Tune in on September 12th to join one of music's most colorful characters as he delivers a one-of-a-kind performance of his most ambitious music to date. JOSE x TikTok airs on Balvin's TikTok account @jbalvin at 3 PM PT/ 6 PM ET on September 12th, and don't forget to stream JOSE, releasing on September 10th via Universal Music Latino.
Lego ⚡️⚡️!
#JOSExTikTok