Latinx creators on TikTok continue to play a large role in inspiring and entertaining our global community of 1 billion monthly active users. Today, we're excited to announce that Emmy-nominated director, producer, actress, activist and entrepreneur Eva Longoria and her production company, UnbeliEVAble Entertainment, have joined us and MACRO in celebrating the 150 Latinx creators and emerging music artists in our inaugural TikTok Latinx Creatives creator incubator.
To further encourage the growth of Latinx creators in entertainment, we are honored to have a company like UnbeliEVAble Entertainment as our new program partner. The company actively chooses purposeful projects that accurately represent the stories of Latinx and other underrepresented communities, something that aligns perfectly with the goal of the program to bring more Latinx stories to life and provide more opportunities to creators. As part of this partnership, Longoria and the UnbeliEVAble Entertainment team will work alongside TikTok and MACRO to advise on all content programming and guest speakers.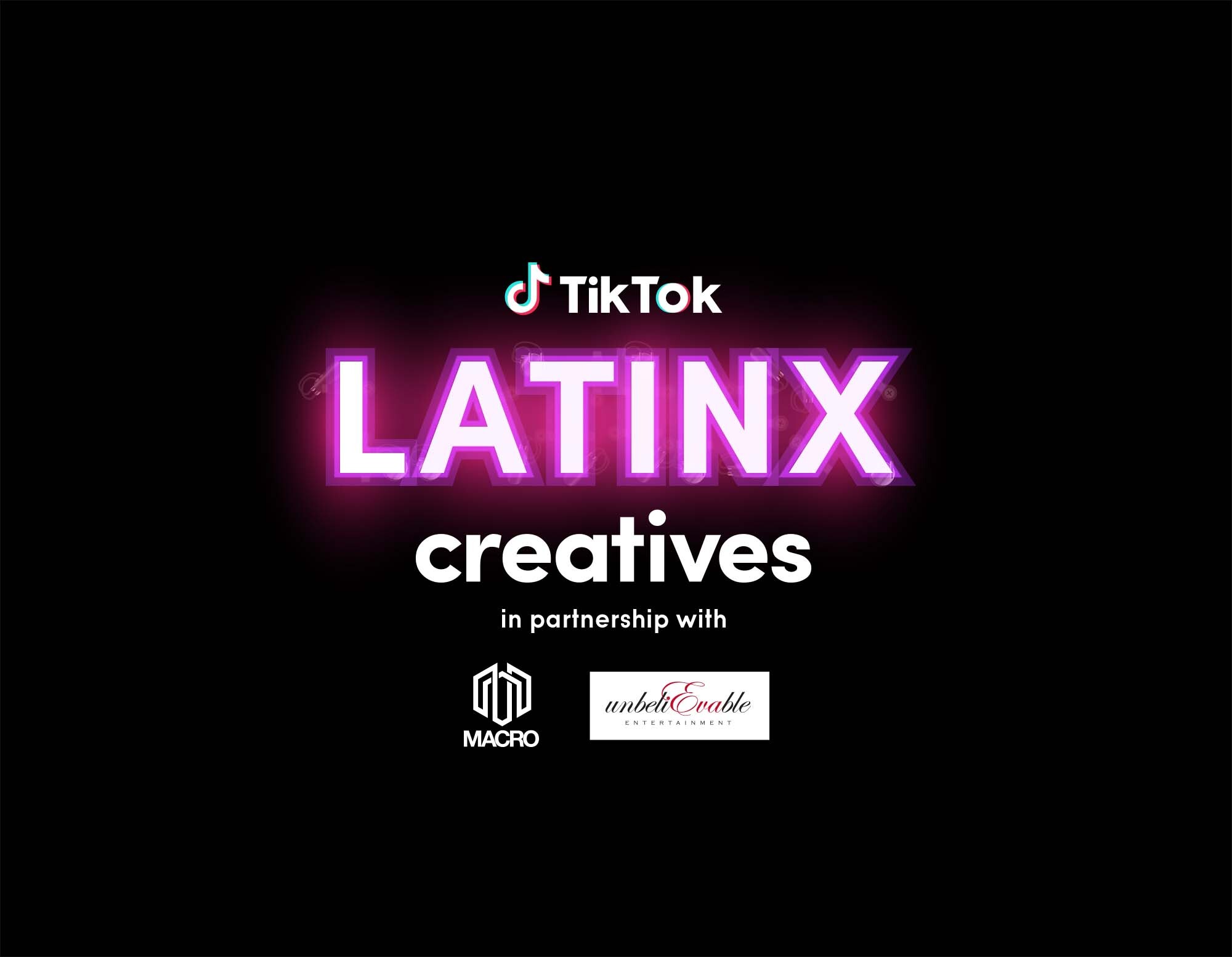 "The landscape in which we discover storytellers is continually shifting and evolving. I am so proud to partner with TikTok and MACRO in this program to nurture and grow the next generation of our industry and provide these creators with the tools they need and access to leaders so they can continue to grow in their careers." - Eva Longoria, entrepreneur, activist, actress, and CEO of UnbeliEVAble Entertainment
"Identifying, uplifting and championing new, authentic creators - these have been guiding principles and integral elements of our work at MACRO. It is a thrill to partner with UnbeliEVAble on the development and growth of the next generation of Latin talent." - Stacey Walker King, Chief Brand Officer, MACRO
The program kicks off on October 12 with a full day of educational programming, including a keynote presentation from globally-recognized, most-followed Latin artist on TikTok, and Colombian-born superstar, J Balvin. In the session, "Manifestation | Envisioning Success," Balvin will discuss the importance of envisioning success and share his own ever-evolving creative journey. This session is meant to inspire and emphasize how intentional manifestation in Balvin's early days has elevated his creative success to the next level.
Throughout the 10-week program, participants will join the TikTok team — along with some of the most successful Latinx leaders across entertainment, music, business, and more — at motivational town halls, community-building forums and educational workshops.
At "Seat at the Table | Representation in Media," Longoria and MACRO's Charles and Stacey King will speak with creators about the importance of taking up space and using your voice to authentically represent your community as a Latinx Creative. We'll hear tips from the expert panel on how they've navigated the entertainment industry and carved out their own lane for diverse stories, when they weren't seeing themselves reflected. This panel is a masterclass in taking pride in one's identity and the value of specializing in multi-cultural content. Latinx Creatives will walk away feeling confident in leveraging TikTok to carve out their unique "Seat at the Table" in the digital media space.
We were humbled to see more than 12K creators and artists across the country express interest in joining the program, including musicians like @thesammyarriaga, beauty gurus like @curlsbydaviana, innovative teachers like @username_af, and comedians like @christianjmaldonado. While the competition was fierce, we are so proud of our first-ever Latinx Creatives cohort. These creators and music artists have a unique way of entertaining and connecting with their audience, and their drive and passion to become a part of the future of Latinx entertainment is energizing.
We are excited to kick off TikTok Latinx Creatives and look forward to sharing the journey of our 150 creator cohort with the TikTok community.