In December, the TikTok community harnessed their creativity for good and joined us in our first ever charity program, #CreateForAaCause, helping us donate over $2 million to three special charities: DoSomething.org, Best Friends Animal Society and Oceana.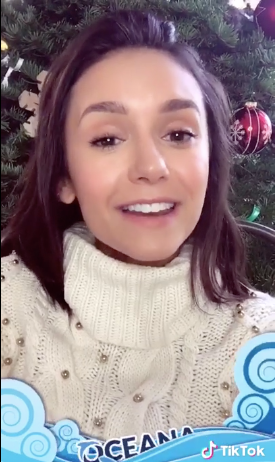 The community's commitment to positive change was on full display during the season of giving. We asked creators to embrace #CreateForACause and use unique holiday filters in order to raise funds for each of these amazing charities. We asked for the community's help, and you answered in a big way. Over 2.5 million videos were created in the U.S. alone, with everything from fun holiday-themed videos, to unique art, family festivities and more. Even celebrities like Khloe Kardashian, Nick Jonas, Nina Dobrev and others took part to further raise awareness.
Thanks to the commitment of our community, TikTok is donating on your behalf to support several fantastic programs:
Oceana will use campaign donations to rebuild abundant and biodiverse oceans by winning science-based policy campaigns that stop overfishing, habitat destruction, pollution and killing of threatened species like turtles, sharks and whales. A select group of TikTok creators who participated in #CreateforAaCause will also join Oceana on a field excursion off the coast of California in support of Oceana's campaign work. Oceana is the largest international advocacy group dedicated solely to ocean conservation.
DoSomething.org will use donations to support its "Supplies, Sealed and Deliver" campaign, while provides everyday essentials to homeless shelters across the country. On January 27, DoSomething.org partnered with Logan Browning from Dear White People at the LA Mission in support of "Supplies, Sealed and Deliver." DoSomething.org is the largest tech company exclusively for young people and social change. The organization's digital platform has activated 6 million young people, and counting, creating offline impact across the U.S. and in 131 countries.
Best Friends Animal Society will use campaign donations to support lifesaving programs with more than 2,500 Network Partner groups across the country and for it's life saving centers in NY, LA, Salt Lake City and Atlanta. Best Friends Animal Society is a leading national animal welfare organization dedicated to helping the country go No Kill by 2025.
We're excited to continue working with these charities to capture the spirit of our community, and we can't wait to share what charitable programs we have planned for the future. Stay tuned for more information on how you can continue to be involved with the causes you care about, and how you can harness your creativity while also doing good for our world.
Thank you for your support, and check out the amazing #CreateForACause content that helped us reach our donation goal here.