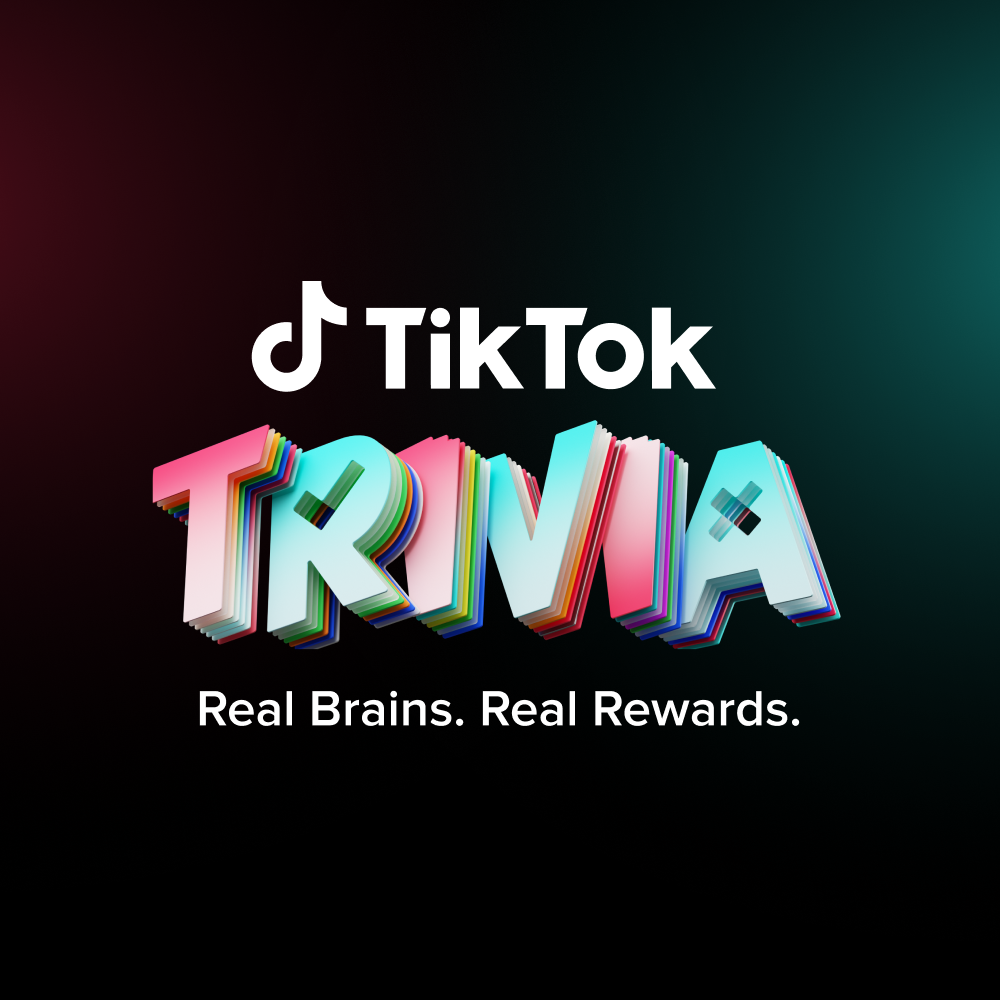 Whether you're watching your favorite ASMR creator or tuning in to a chatty GRWM, TikTok LIVE allows you to discover endless entertainment. As we continue to build community-centered experiences that also provide opportunities for collective learning, we're exploring new ways to foster more interaction through entertainment and meaningful connections.
Today, we're bringing a whole new experience to the TikTok community, with 5-days of interactive TikTok Trivia presented by Lionsgate and John Wick Chapter 4. Starting February 22, you can tune into the official @TikTok account to participate in trivia challenges and interact with host, actor, and TikTok creator James Henry, known for his creative skits and quirky videos.
"Game shows and trivia have been a part of popular culture for years, and I'm thrilled to work with TikTok to bring this engaging entertainment format to TikTok LIVE. TikTok Trivia has the power to bring people together, creating an electrifying atmosphere filled with excitement and a shared sense of community," said James Henry.
"TikTok is a fantastic partner! We have crafted fan-first campaigns with their team since they launched. This time around, we worked closely with them on this first-to-market program that engages and immerses fans and their love of the John Wick franchise and specifically John Wick Chapter 4 – and it became a strategic throughline for our campaign." said Dani Otero, SVP Global Paid Media & Analytics at Lionsgate.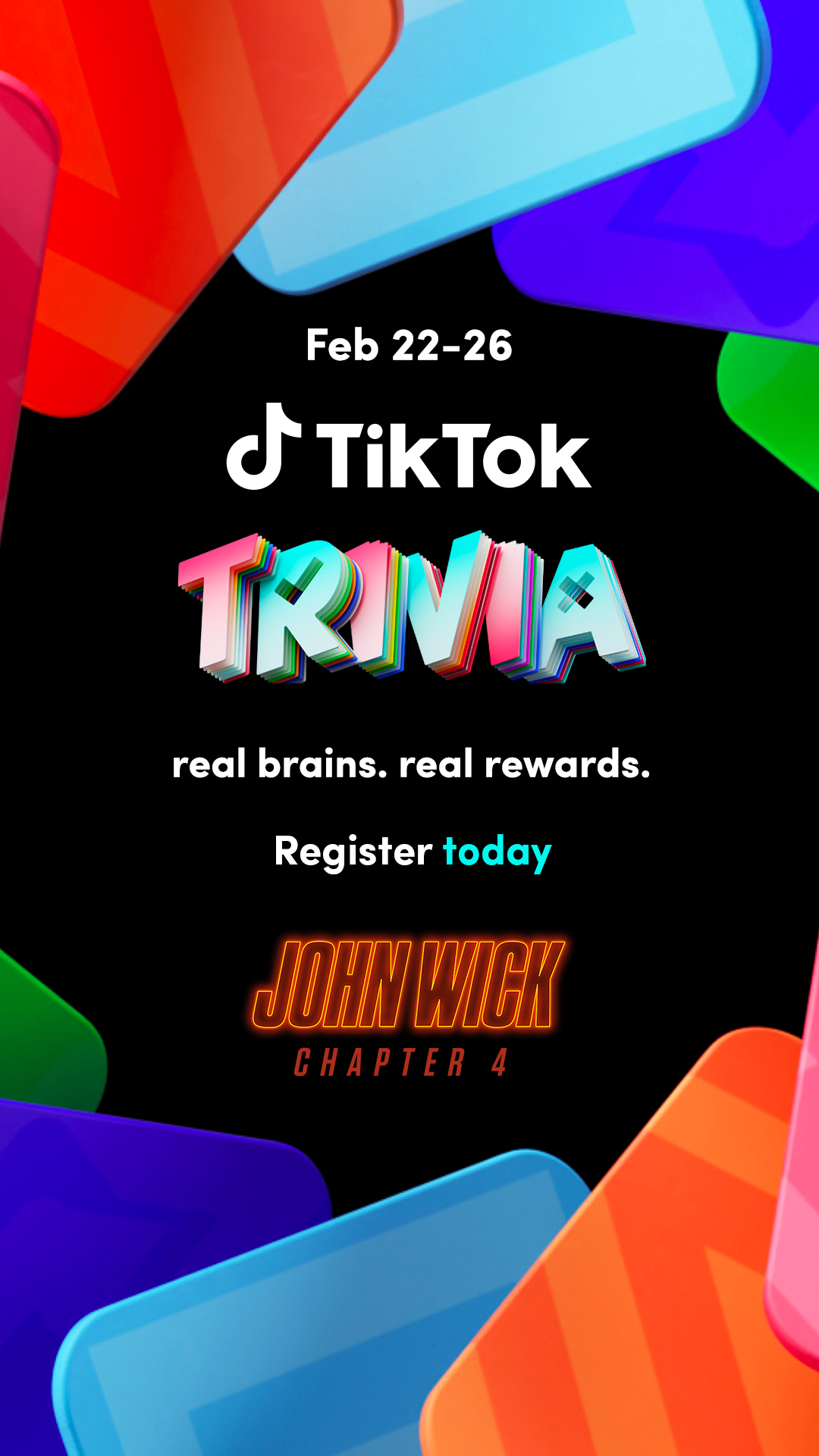 Join TikTok Trivia, a new LIVE entertainment experience
Starting today, anyone 18 years or older in the US can register for TikTok Trivia by clicking on a trivia widget on the For You feed, searching for #TikTokTrivia, or by going to the @TikTok account to participate in real-time interactive trivia. Each day will feature opportunities to win cash, and during the activation, you'll see fun surprises and integrations from Lionsgate and John Wick Chapter 4. Make sure to join the trivia session on time, so you don't miss out on some fun John Wick questions and teasers, a chance to win a share of the $500k prize pool, and stay tuned after each trivia session for recommendations of entertaining and interactive LIVE creators to check out.
The first three days of trivia will include two sessions per day at 5-6 pm PT/8-9 ET and 6-7 pm PT/9-10 pm ET. Each session will have several rounds of trivia questions where you can select answers from multiple-choice options. There will be diverse quiz categories, including everything from lifestyle and sports to music and beauty (and yes...John Wick). For a chance to win a share of the prize money, you need to answer all questions correctly. And keep an eye out for special Survival Rounds, where there is no limit to the number of questions, and the difficulty of the questions will keep increasing with the last group standing splitting a $100K prize pool.
We're also partnering with creators from diverse communities who will go LIVE following the TikTok Trivia sessions. LIVE is a great way to engage with your favorite creators in a dynamic, immersive environment. Whatever you're interested in, whether it's movies, music, or fashion, you can find your own community and build authentic connections on TikTok LIVE. Maybe you'll even dive into the #WickTok community. Don't forget to join TikTok Trivia daily through February 26th, 2023, for an opportunity to win a share of the $500k prize pool. You can find more information and join the event by tapping on the TikTok Trivia widget in the For You feed.
At TikTok, we're committed to being your go-to destination for entertainment while creating opportunities that invite deeper engagement, provide value and excite our community. We are in the early days of developing TikTok Trivia as we continue to introduce more ways to connect and engage on TikTok LIVE, and we're eager to listen to feedback from the community to continue to enhance the experience.
See John Wick Chapter 4, only in theaters March 24.
Discover TikTok and join our community by simply downloading the app for free via the Apple App Store, Google Play or Amazon.