In April of this year, we launched 'Small Gestures' as a way for our user community to stay connected with friends and family at the height of social distancing with over 350,000 gifts being redeemed and sent to loved ones.
Since then, we've seen an outpouring of support from the community, and in an effort to continue the positivity, we've expanded the 'Small Gestures' program to focus on our users and the joy they bring to our platform every day.
Through Sept 19, users can treat themselves with a 'Small Gesture' from a variety of the community's most-loved brands. We partnered with these generous brands to offer 'Small Gestures' free to all TikTok users to redeem their favorite offer.
TikTok 'Small Gestures' are provided by our industry-leading partners in fashion, skincare, on-demand streaming, fitness, education, health and wellness, food and hospitality, and more! Whether it's a 3-month membership to Adobe Premiere Rush to shoot and edit beautiful videos or $10 off your $40 purchase at Hollister to stock up on all the season's latest trends, these offerings are sure to spark joy in our user community.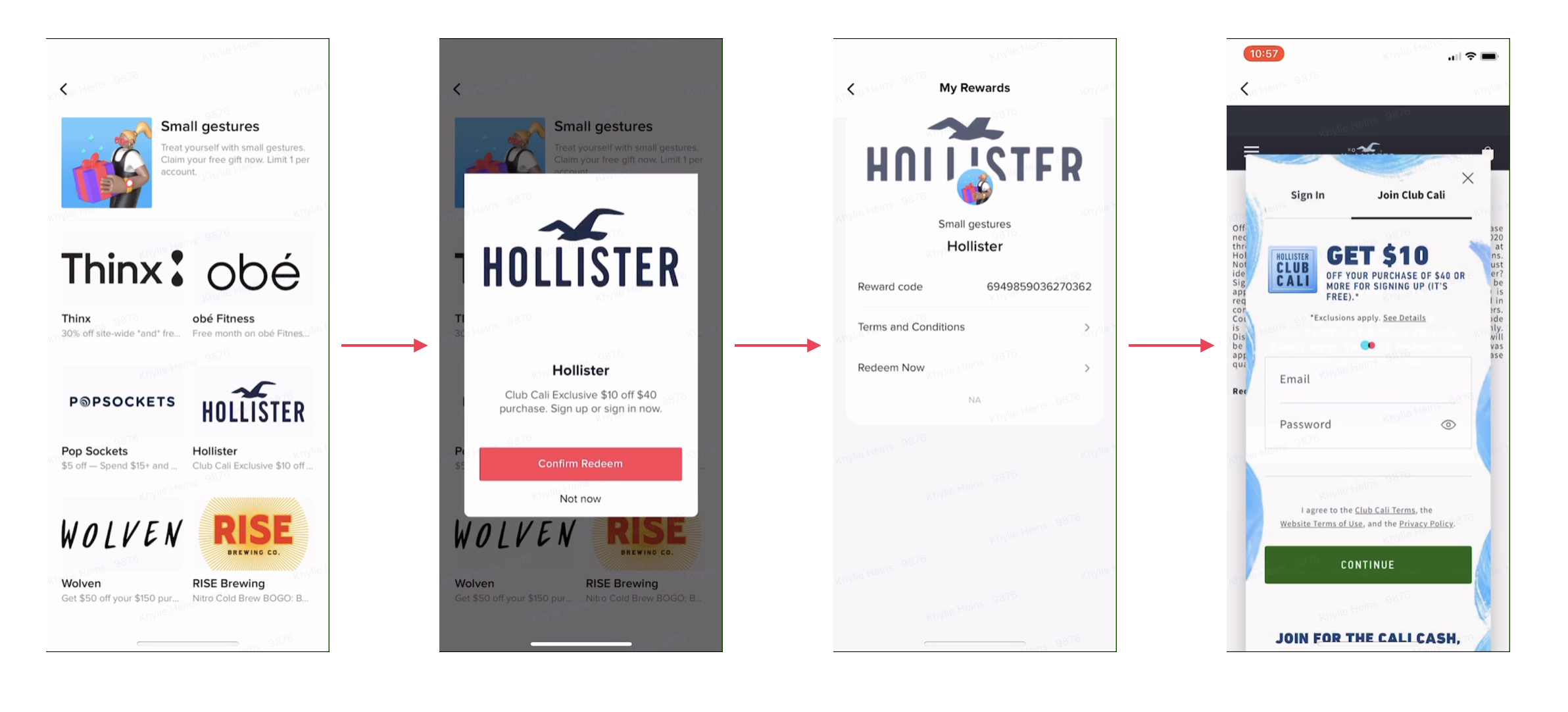 To Access 'Small Gestures'
1) Search 'Small Gestures' on the Discover Page
2) Click on the 'Small Gestures' banner at the top of the page
3) Browse through several partner offerings
4) Choose the perfect gift and treat yourself!
Tap into TikTok and show yourself some love with these small gestures:
Adobe Premiere Rush is an easy-to-use, all-in-one video editing app built for online video creators. Want to level up your TikTok game? Treat yourself to a gift of creativity with a free 90-day subscription to Premiere Rush!
ASOS, the online fashion retailer, is giving users 15% off their purchase to stock up on the season's hottest trends.
Bliss, the clean, cruelty-free, spa-powered skincare brand, is offering 30% off their bright idea serum that delivers intense hydration for soft, supple skin with a dewy glow.
GT's Synergy, the #1 Kombucha in the world, cares about your health and the purity of the foods you put into your body. For Small Gestures, GT's is offering a free bottle of its organic & raw Kombucha to support you on your health & wellness journey.
Hollister, the global retail brand, is offering a 'Club Cali Exclusive' $10 off $40 purchase so you can live like it's summer well into fall.
obé Fitness has reimagined at-home workouts and are inviting users to join in on the craze by offering a 1-month free trial. With 12 varieties of fitness content, themed classes and discussions with industry leaders, the entertainment platform has something for everyone!
PopSockets, maker of expandable phone grips and lifestyle accessories, is giving you $5 off your purchase of $15 or more at popsockets.com. Nice!
Rise Brewing is a New York-based nitro cold brew coffee company. For those looking to up their caffeine-game, they're offering a free case of Oat Milk with the purchase of any Rise Brewing case. Because who can resist nitro cold brew or Oat Milk?
Shake Shack, the beloved burger joint known for its roots in fine dining, is giving you $5 off any $20+ purchase... It's up to you whether or not you want to share those crinkle-cuts.
Sun Basket is a subscription meal delivery service that ships members fresh organic and sustainable ingredients and recipes every month. Whether you've mastered the latest viral food trend on TikTok or just enjoy the art of cooking Sun Basket $35 off + free shipping on your first order.
Thinx, the only period-proof underwear, is giving users 30% off + free shipping, because every person with a period deserves peace of mind.
Udemy is an online learning and teaching marketplace with over 150,000 courses and 24 million students. They're offering $5 off any online class for users looking to skill up to success.
Wolven is a community-based sustainable apparel brand focused on creating multifunctional activewear and swimwear. If you're looking to add more sustainable pieces to your wardrobe, Wolven is giving users $50 off a purchase of $150.