Music is at the heart of the TikTok experience. It's a place where fans can discover new music, artists can connect with fans, and music lovers can build a community. 🎵🎤
Introducing #NewMusic on TikTok
Today, we are announcing the launch of our #NewMusic Search Hub, a dedicated space for artists around the world to showcase their new songs and for fans to discover their next favorite track. The #NewMusic hub will act as a destination for new music, highlighting new releases and making it easier for fans to discover the latest tracks from both new and established artists. The #NewMusic hub allows fans to discover the best new music, often before it's heard elsewhere, while providing a platform for emerging and established artists to grow their fanbases and connect with their audience. Search "New Music" on TikTok and give it a try yourself!
To celebrate the launch of #NewMusic, we're excited to partner with Jonas Brothers and Miguel.
Jonas Brothers have been making waves on TikTok lately, building anticipation for their brand new album (called The Album, out now via Republic Records) and their forthcoming tour. Their earworm single "Waffle House" has been dominating For You Pages across the world, amassing an incredible 1.1 billion views and counting. Jonas Brothers have fully embraced the platform, sharing exclusive behind-the-scenes glimpses of the music video, collaborating with comedian Billy Eichner to uncover the public's favorite brother, and featuring their favorite videos from the community. Earlier this week, Jonas Brothers went LIVE on TikTok to answer questions from fans and preview some music from The Album.
RnB superstar Miguel, popularly known for his hit singles 'Adorn' and 'All I Want Is You', has been buzzing on TikTok all year long with the revival of his 2011 hit 'Sure Thing'. The track re-surfaced in a sped-up version on TikTok earlier this year, causing a TikTok frenzy with over 4 million video creations. The success of 'Sure Thing (sped up)' ushered the song back onto the Billboard Hot 100 and to #10 in the UK charts over a decade since its release. Miguel has been incredibly tapped in with the TikTok community, sharing acoustic versions of his music, previewing 'Give It To Me' and telling the story behind 'Sure Thing.' To celebrate the New Music Hub, Miguel has created a TikTok trailing his new track 'Give It To Me'.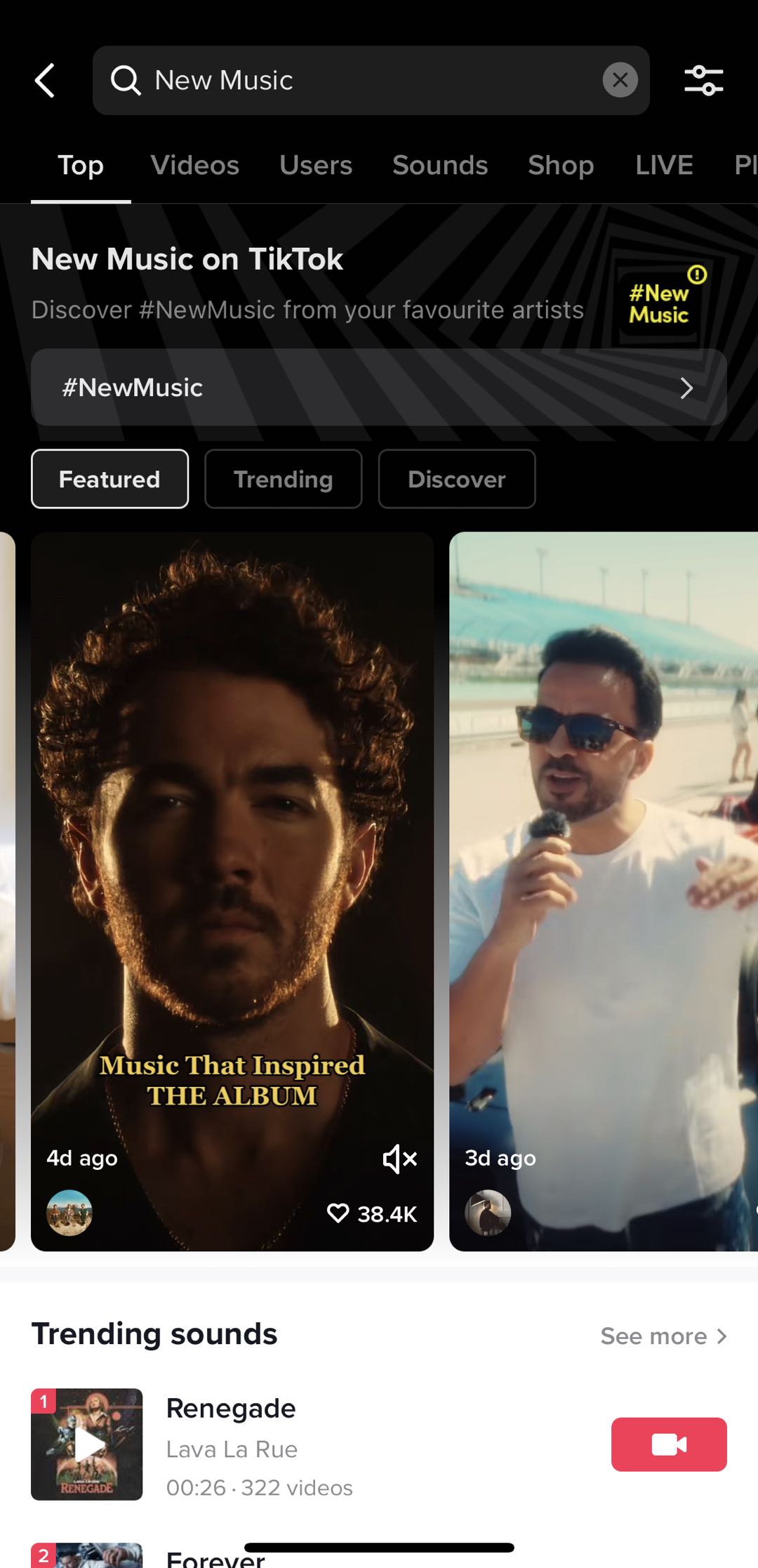 TikTok is a home for music discovery
Music discovery is what makes TikTok tick. #NewMusic has already amassed over 18 billion views on the platform. In recent years, the hashtag has become a go-to for new releases and "fresh from the studio" previews from artists all around the world who choose to share their latest singles first on TikTok. The first place fans ever could hear hits like Sam Smith & Kim Petras's #1 Billboard smash "Unholy," Charlie Puth's spontaneous "Light Switch," and Ed Sheeran's "Eyes Closed," which generated over 1 million video creations before its official release, the #NewMusic tag is the ultimate treasure trove for discovering new songs.
Our global community also love to use a range of genre hashtags to discover new music and connect with their favorite artists across different genres. TikTok launched an evergreen hashtag genre series to celebrate and spotlight this diverse music, including #Rap (149.6bn views), #ElectronicMusic (5.9bn views), #LatinMusic (1.2bn views), and #AltMusic (667.8m views). These hashtags have been a springboard for several emerging artists rising up in the music industry, such as GAYLE, d4vd, Noah Kahan, Katherine Li.
Speaking on the launch of #NewMusic, Jonas Brothers said: "It has been so cool to see people around the world making content with our music. TikTok is allowing us to connect with our fans and reach new ones in an exciting way."
Paul Hourican, Global Head of Music Operations at TikTok, added: "We are thrilled to launch the #NewMusic Hub, a global discovery platform that celebrates and champions artists of all genres, from up-and-coming talent to international superstars. TikTok is already a destination for artists who want to preview their newest works, and for music fans looking to discover new music, and this new feature will give artists a new way to connect with our global community. It presents an exciting opportunity to inspire artist creativity, spark connections, and foster a diverse musical landscape that embraces the unique talents and passions of artists and fans worldwide."
New to TikTok and want to explore #NewMusic? Getting involved couldn't be easier, simply download the app for free via the Apple App Store, Google Play or Amazon.