Every May, the U.S. celebrates Asian American and Pacific Islander (AAPI) Heritage Month to recognize the rich cultural history and impact the AAPI community has made. As AAPI Heritage Month reaches its 30th anniversary, it's important we not only honor the legacies of those who have shaped the past but also elevate those who are breaking barriers in the present. At TikTok, we've been celebrating our AAPI creators, including by highlighting creators under the #AAPIFamily hashtag. We're now hosting a week-long virtual event to honor our incredible, diverse group of creators, which kicks off today!
The AAPI community has brought so much life and creativity to TikTok. From creators like @colewalliser, who entertains followers through his ability to find beauty and magic in everything, to @alanchikinchow, whose unique ability to convey drama and humor in mere seconds reveals his immense talent, to @inmyseams, whose seemingly never-ending trove of tips and hacks make her a necessary follow, to @aureareadykids, whose design inspirations make getting dressed feel like a grand occasion. We're grateful that they feel empowered to bring their imagination to life and are able to tell their stories on TikTok.
Our AAPI creators are parents, beauty experts, culinary titans, comedians – and we hear from them how much they value being able to engage in dialogue and learn from each other. That's why we are inviting 100 creators to a special webinar to discuss creator journeys, content creation, and the importance of community involvement. Invited creators will get the chance to listen and learn from celebrities and creators including Michelle Phan, Patrick Starrr, Chriselle Lim, Tim Chantarangsu, Nabela, Zahra Hashimee, and more!
We hope you'll join our AAPI family as we debut a week of LIVE programming, at 5pm PT / 8pm ET each night, that highlights the diversity of experiences and interests this community embodies.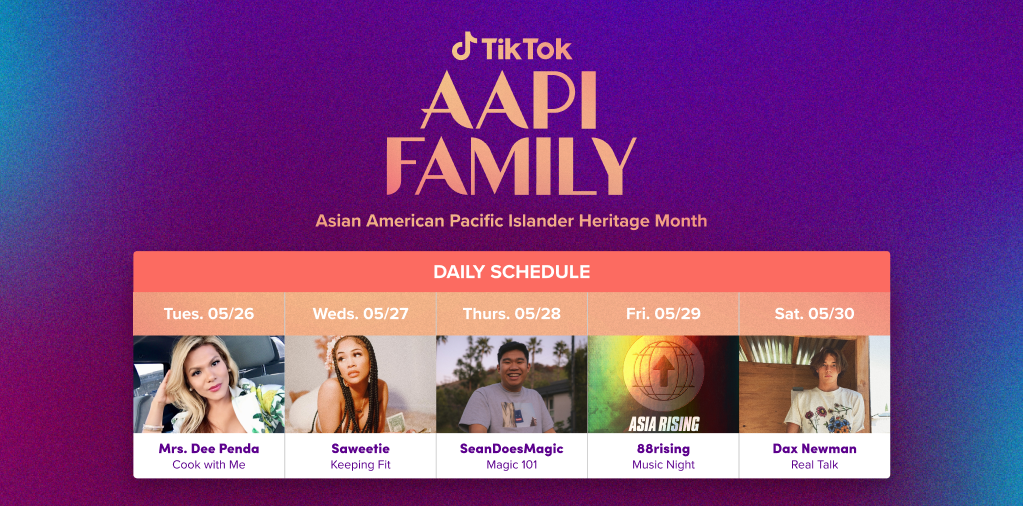 At TikTok, our mission is to inspire creativity and bring joy. To help bring this to life, we are focused on giving diverse communities a space to share their unique perspectives. We're committed to helping foster an inclusive environment where our users are able to explore and create content that is meaningful to them, ultimately giving them more control over how they are seen and represented.
We are overwhelmed by how many supporters came together to make this month so incredible. We would like to express our thanks to partners @summerfridays, @rastaclat, @milkbar, and @vitalproteins_official, who generously provided gifts for our creators. And of course, a special thank you to our Asian American and Pacific Islander American community whose presence and passion enrich TikTok every day.