VidCon is where the world's leading digital creators and platform innovators converge in one place to form a magical meeting of talented creators and their fans. We couldn't be more excited that this convention is finally happening in person again! Throughout four fun-filled days of IRL programming, we'll be joined by some of our most beloved creators from the TikTok community whose stories bring to life what it means to be a community-driven entertainment platform that invites authentic expression, provides value to people and brands, and excites and piques curiosity from a global community.
Here's a preview of some of the can't-miss TikTok moments happening at VidCon this week!
VidCon 2022 Industry Keynote: Bringing the TikTok Experience to the Stage
TikTok creator James Henry (@jameshenry) will host the keynote event on the Industry Main Stage that will shine a spotlight on how TikTok inspires over a billion people globally to discover new content, find new hobbies, and learn more about the world around them. Bringing the creativity, joy, and authenticity of the TikTok experience to the stage, the keynote will be an immersive storytelling event full of sound, light, creator stories, leader voices, video, music and dance.
Welcomed to the stage by TikTok COO Vanessa Pappas, guest creators will share their TikTok origin stories, including Joanne Molinaro (@thekoreanvegan), Leo González (@leogonzall), Zachariah Porter (@zzzachariah), Soy (@foodwithsoy), Keara 'Queen Keke' Wilson (@keke.janajah), and Tony Weaver, Jr. (@tonyweaverjr) — plus a special virtual appearance by Kirby (@singkirbysing). Each of these creators will share how they were able to authentically express themselves through TikTok, while building communities and creating real-world opportunities that helped them turn their passions into careers.
And, as the grand finale, artist Tai Verdes (@taiverdes) will take to the stage for a special performance. The keynote takes place on Thursday, June 23rd at 3:30 p.m. PT.
Explore More Creator Stories During TikTok's Takeover of VidCon Panels & Sessions
TikTok is where culture starts — it's where new trends originate and where people find their community and follow their passions. Creators are the heart of all of it, which is why they'll be front and center at many VidCon panels and sessions this week, just as they are on TikTok.
Through TikTok's VidCon programming, TikTok team members will join forces with some of the most beloved creators across the Creator, Community and Industry Tracks, where they'll talk about everything from originating trends and creating truly authentic content, to the platform's impact on music and entertainment and what parents need to know when their teens find success on TikTok.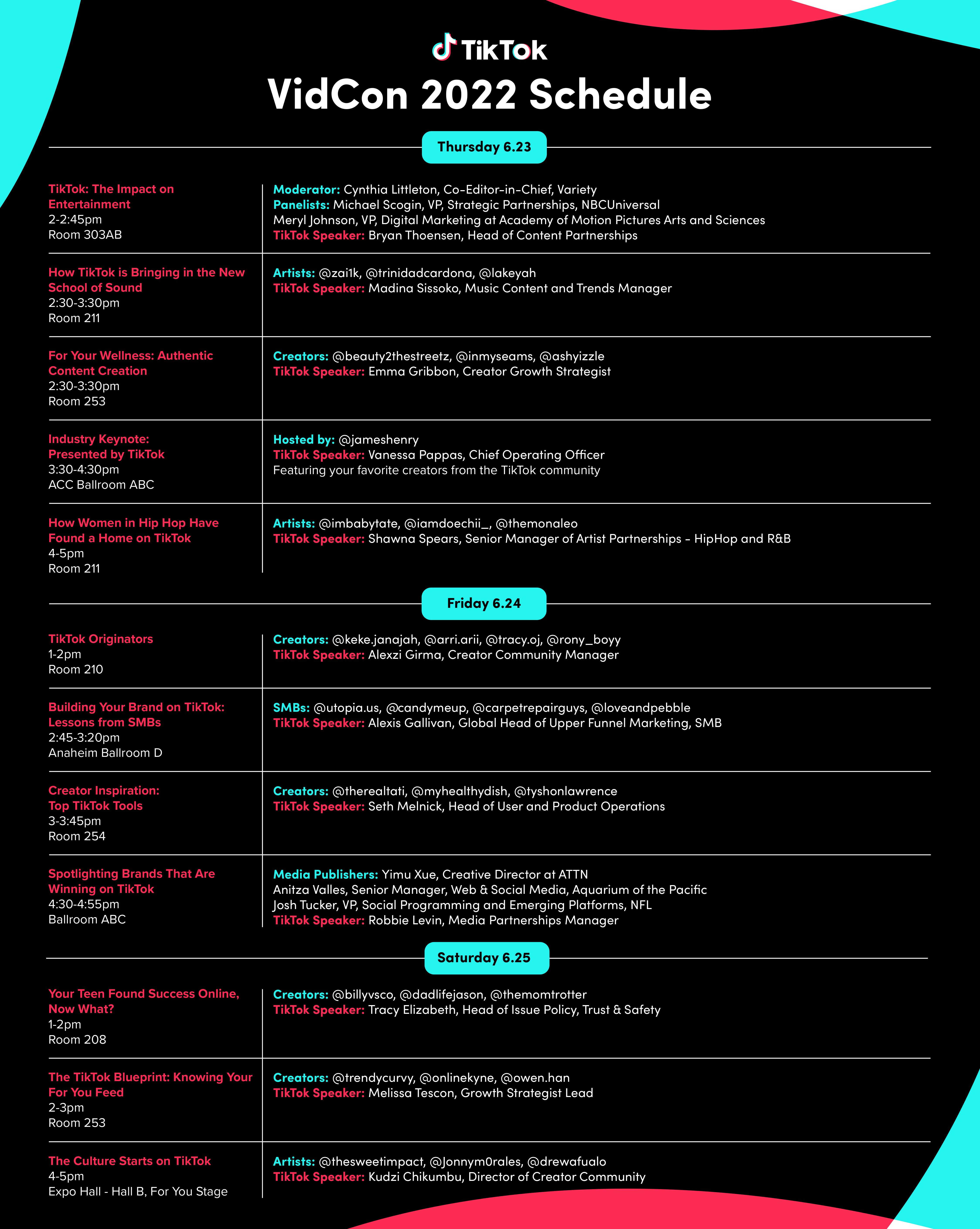 If you aren't going to VidCon this year, don't worry — you can still be a part of the action by tuning in to VidCon's YouTube channel where select sessions will be livestreamed. Make sure to catch TikTok's Industry Keynote on Thursday, June 23 at 3:30 p.m. PT and The Culture Starts on TikTok panel on Saturday, June 25 at 4:00 p.m. PT.
TikTok is a unique and welcoming place where creators are free to express themselves authentically, build an audience that supports their passions, and discover real-world opportunities to grow their careers. We're honored to be the title sponsor of VidCon 2022, but we're even more thrilled to spend time with our creators in-person at VidCon where we'll be celebrating everything our remarkable community has achieved. We hope you can join us in Anaheim or check out our livestreamed session via the VidCon YouTube channel.