The TikTok community has sparked many creative and mouthwatering food trends. Now, in collaboration with Postmates, we're bringing to life the creativity of the food community with TikTok Treats, the first creator-led menu featuring some of the most popular food trends that started on TikTok. TikTok Treats is available exclusively on Postmates in Los Angeles now through Sunday, November 22.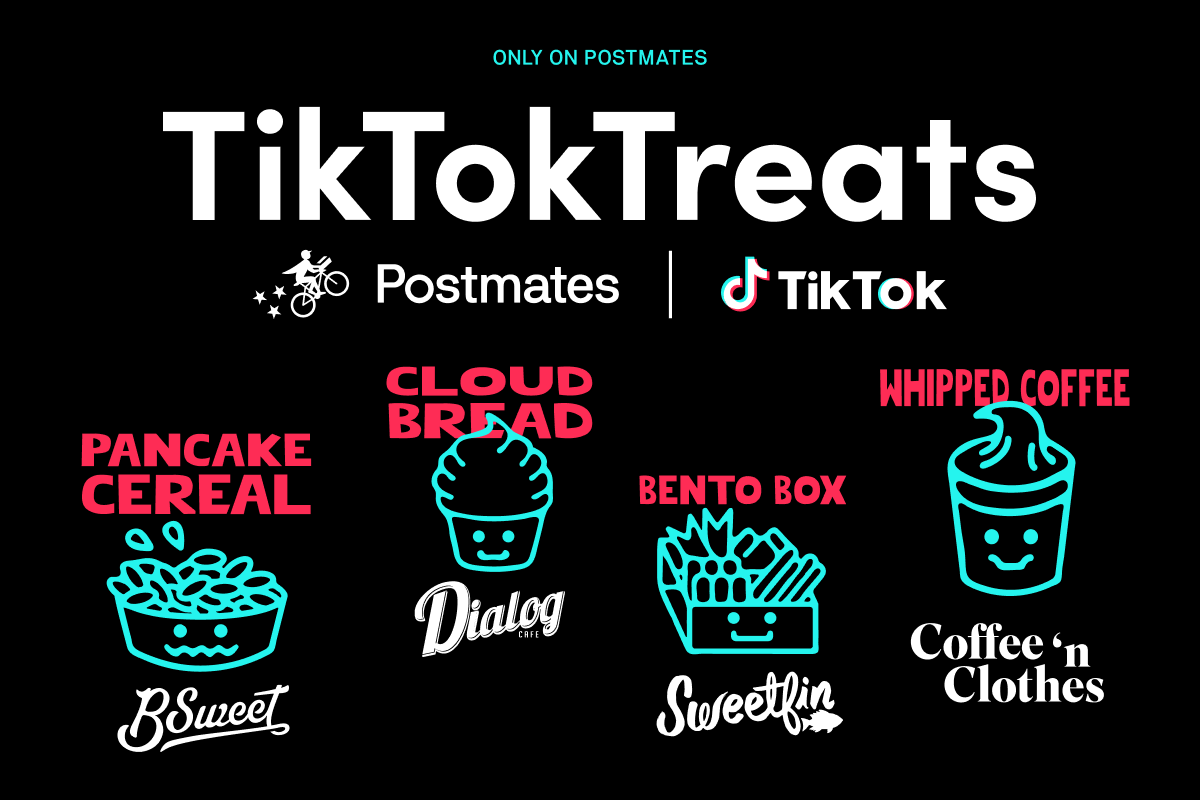 Foodie communities have grown exponentially on our platform in the past year, providing a space for creators to share their fun food ideas with others around the world. We love seeing the community's level of creativity, and are happy to see wildly popular food creations permeate beyond the platform.
Added Nick Tran, head of global marketing at TikTok, "From music to fashion to food, the TikTok community has built a reputation of starting movements that influence today's zeitgeist, As we continue to celebrate how culture starts on TikTok, we are thrilled to be partnering with leading on-demand delivery platform Postmates and beloved local LA restaurants to bring TikTok treats to fans across the city."
"TikTok and Postmates are both brands that intersect culture in creative ways. Food trends have a massive reach on TikTok so we joined forces to bring these TikTok creator favorites right to your door. Through the power of creativity in the TikTok community and a few of our exclusive merchants in LA, we are excited to launch this first-ever menu collection." - Eric Edge, SVP of Marketing and Communications, Postmates
Inspired by creators like @sulleejessica with her trendy bento boxes and @sydneymelhoff with her inventive take on breakfast classics, we can't wait to bring these viral food trends to life.
Want to see what's on the menu? Check out the videos that started it all below.
If you've got your head in the clouds, cloud bread from Dialog Cafe is the perfect snack, a trend with over 3B video views started by @linqanaaa.
Monday's got you down? Perk up with the quarantine classic #whippedcoffee provided by Coffee N' Clothes, a trend with over 2.2B video views started by @imhannahcho.
Breakfast for lunch anyone? Customers can also order #pancakecereal from B Sweet, a trend started by @sydneymelhoff with over 1.6B video views.
Sweetfin is also offering a #bentobox fit for any time of day, like the ones @theleetles make for their daughter.
All four of these food trends will be available to try through the Postmates app, brought right to your doorstep. From now until November 22, limited quantities of each menu item will be available in LA, while supplies last, with free delivery. To order contactless delivery from TikTok Treats, visit Postmates.com or download Postmates on iOS or Android.