Both on and off our platform, we're always looking for new ways to enable self-expression, creativity, and connection among the TikTok community. When we launched our TikTok for Developers program, we set out to create innovative tools for third-party apps to integrate with TikTok and provide users more features to create and share amazing content. Today, we're excited to introduce the new Sound and Login Kits for TikTok, which will help third-party apps create more frictionless sharing and authentication experiences for their users. The Software Development Kits (SDKs) are now available for mobile, web, and console applications globally.
"As TikTok becomes increasingly engrained in culture, more third-party apps across a variety of categories and use cases are looking to tap into our community on their own platforms. Through the Sound Kit and Login Kit for TikTok, we're providing seamless integration solutions that help developers expand their reach, increase exposure for creators, and empower our community to showcase their content on other platforms." - Isaac Bess, Global Head of Distribution Partnerships, TikTok
We're excited to make it even easier for the community to express themselves and share their creativity with others. Here's more about the new kits and our partners from around the world that have integrated them into their platforms:
Sound Kit
The Sound Kit allows creators and artists to seamlessly bring original sounds and music from third-party apps into the TikTok ecosystem. Audio is integral to the TikTok experience and offers endless possibilities for collaboration and inspiration among the community. Through the Sound Kit, we're excited to help creators reach new fans on TikTok and make their original sounds even more shareable.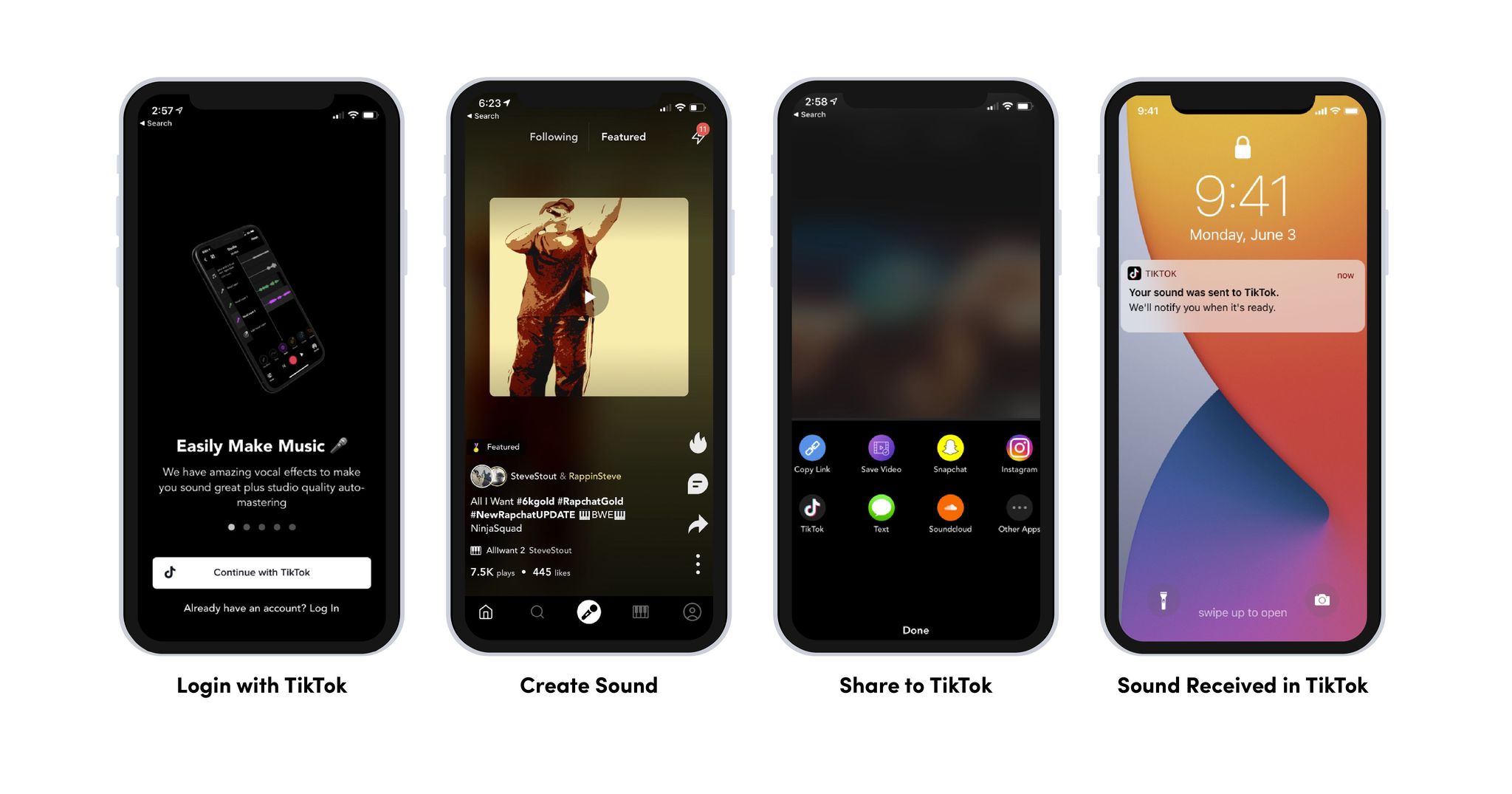 Check out the amazing third-party apps that will be integrating with the Sound Kit and helping their users share their original audio creations with the TikTok community:
"TikTok has built a global platform for creators to share their work and get inspired, and LANDR's mission is to empower musicians to create, collaborate and be heard. To give our community the ability to seamlessly share their work on TikTok is such a perfect fit. That's why we're so excited to be an early partner in this program." - Pascal Pilon, CEO & Founder, LANDR
Login Kit
Through the Login Kit, users can sign into third-party apps quickly and securely through their TikTok login credentials. Users can also add their TikTok videos, giving them additional avenues to showcase their creativity and bringing a new and engaging ecosystem of content to these platforms.
From dating, to dining, to gaming and more, an exciting and diverse group of third-party apps have already integrated the Login Kit for TikTok into their platforms, including:
"This integration not only allows for a more seamless experience between IRL and TikTok users, but will also connect more users, provide more creative capabilities, and encourage even greater engagement within the social sphere. Our goal at IRL has always been to bring people together and make it easier for our users to enjoy experiences with the ones they love, and this partnership further fuels our mission to continue creating and providing people with a unique event discovery experience." - Abraham Shafi, CEO and Co-Founder of IRL
We're excited to offer developers a growing suite of tools to integrate with TikTok and connect with our community. If you're a developer who's interested in building with TikTok, you can learn more about the Sound and Login Kits here: https://developers.tiktok.com/doc.