TikTok is celebrating prom from home and not just the seniors are invited! Over the past few months, social gatherings have been canceled and everyday routines have changed, so that means we have to find new ways to celebrate life's special moments. TikTok cordially invites everyone to attend prom this year, with a special DJ performance by Diplo joined by Dillon Francis and surprise guests!
Prom night on TikTok is all about creating a chance to come together from a distance to have a night of living room disco inferno, fine outfits, and DIY balloon arches for people to enjoy watching or jumping into the virtual dance circle. The night will also help to raise money for artists, songwriters, and those in the music industry and users will be encouraged to donate to MusiCares.
Starting April 21st, each TikTok user will receive their invitation when they open the app. #TikTokProm will invite everyone to dress up, get down on the dance floor, and make some epic memories through a combination of featured hashtags, seasonal creative effects, and must-watch daily livestreams.
And leading up prom night, April 25th, TikTok has programming to help inspire how to get ready for the big night with some of TikTok's talented makeup creators, have a photo shoot with tips from elite photographers, and enjoy an unforgettable evening.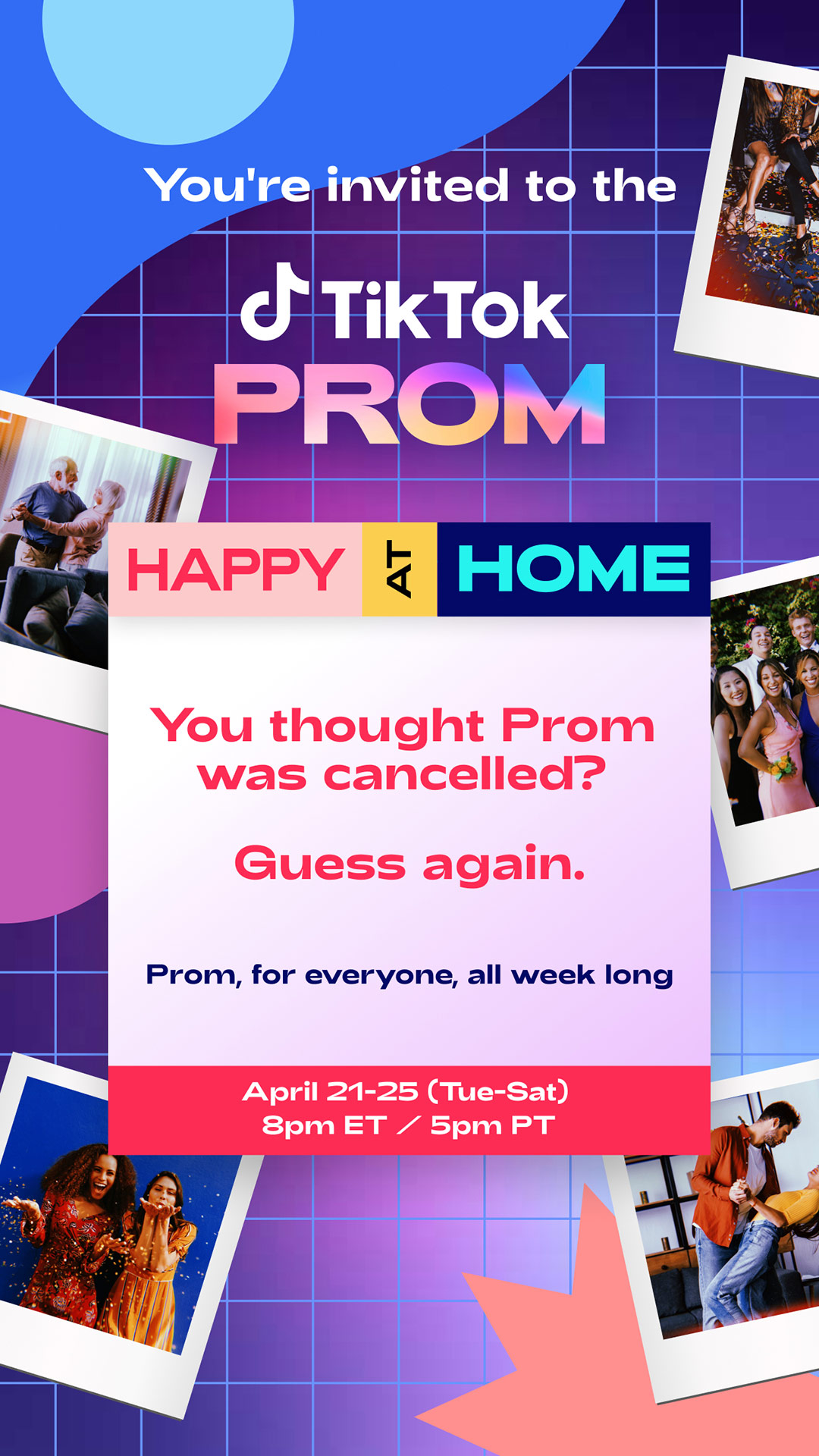 Here's a snapshot of TikTok's first ever Prom week:
In addition to entertaining livestreams, users will also have access to all new Creative Effects designed to bring prom night to life. We've partnered with John Krasinski's SomeGoodNews to launch the #PromPortrait effect, giving users a retro backdrop to pose in front of while they make memories. In addition to portraits, the #VirtualProm effect will transport users to a classic prom setting complete with a high school gym venue and decorations. Now users don't need to leave their homes for prom, since we are bringing prom to their living rooms.
TikTok Prom night is a time for people to create some new memories, be nostalgic for proms of past, and have a night of much-deserved entertainment.