By Eric Han, Head of US Safety
At TikTok, we take our responsibility to protect the integrity of our platform - particularly around elections - with the utmost seriousness. We're proud to be a place that brings people together over creative and entertaining content, and we work hard to keep harmful misinformation and other violations of our policies off our platform. As the US midterm elections continue, we're sharing more on the work we're doing to protect our community during this time.

Connecting our community to authoritative information
Providing access to authoritative information is an important part of our overall strategy to counter election misinformation. That's why we're rolling out an Elections Center to connect people who engage with election content to authoritative information and sources in more than 45 languages, including English and Spanish. For instance, people can learn how and where to vote through information provided by the National Association of Secretaries of State (NASS) and who and what is on their ballot from Ballotpedia. We're also collaborating with Center for Democracy in Deaf America to provide information on voting as a deaf person; as a student, with help from Campus Vote Project; and as a person with past convictions, with help from Restore Your Vote. For more information on voting as an overseas citizen or service member, you can visit the Federal Voting Assistance Program. As election results are reported, the latest results will be available in our app from the AP.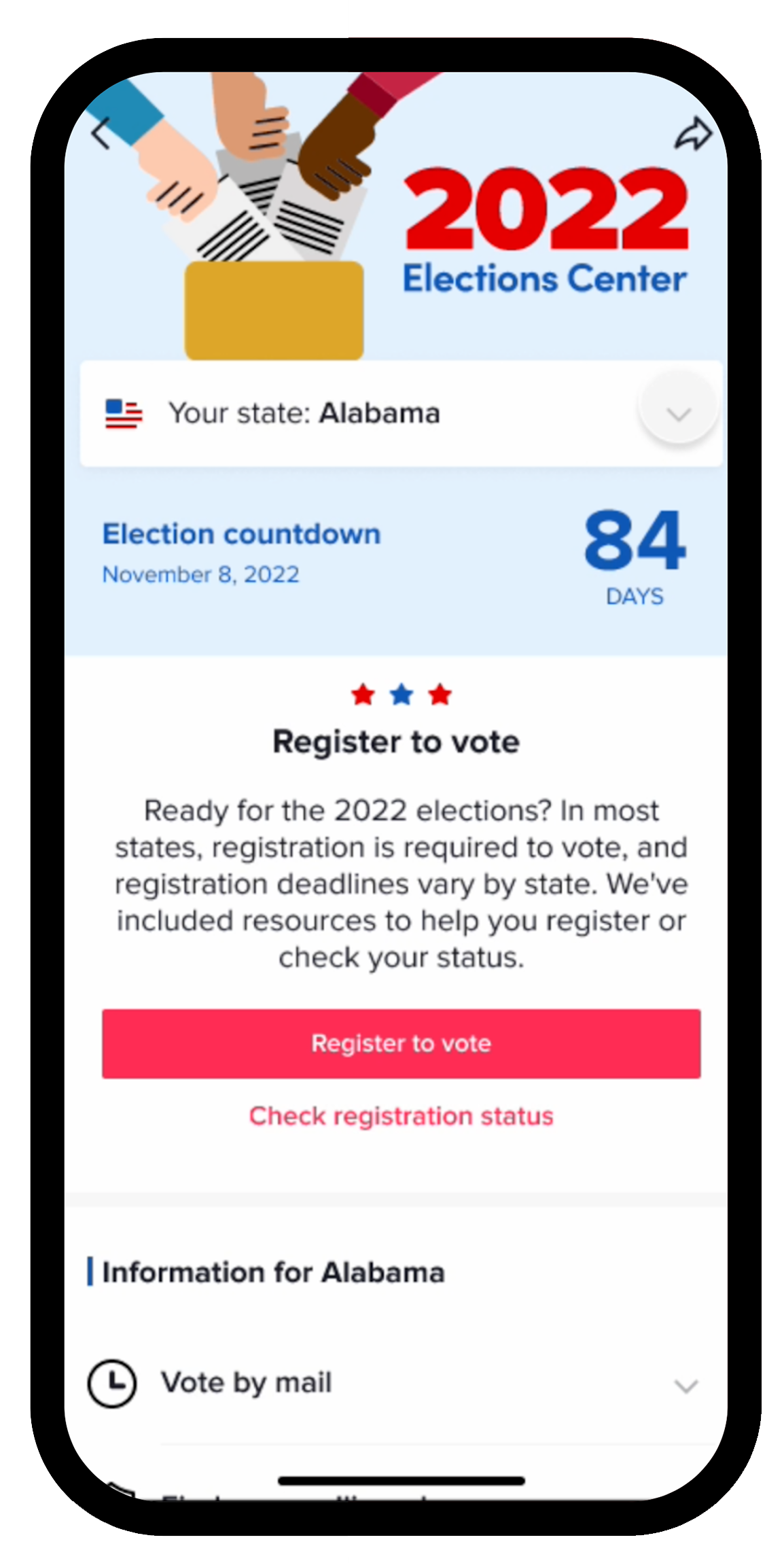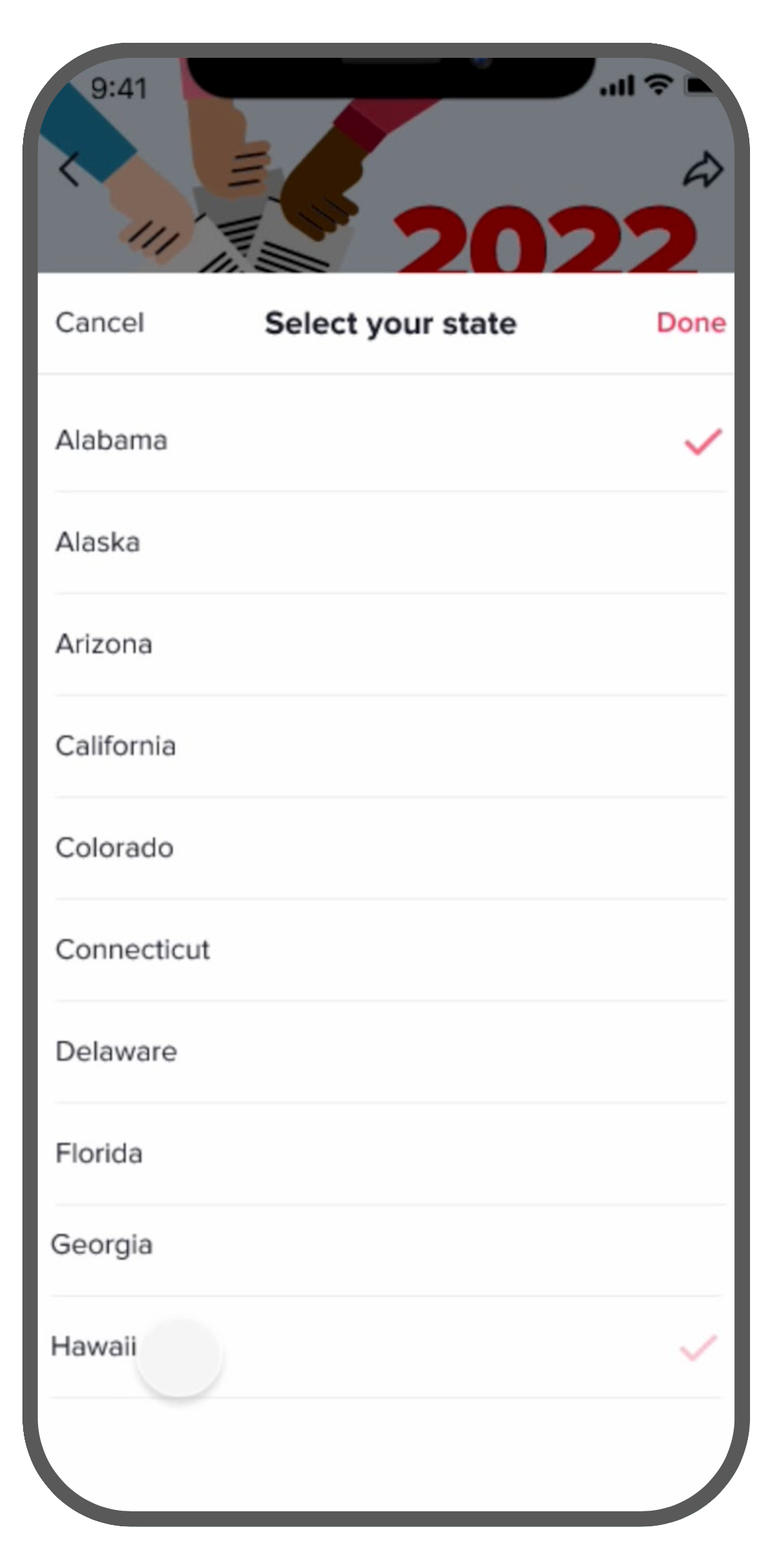 We are committed to promoting digital literacy skills and education, and our in-app center will feature videos that encourage our community to think critically about content they see online, as well as information about voting in the election.
For any action that requires a user to share information, such as registering to vote, users will be directed away from TikTok onto the website for the state or relevant non-profit in order to carry out that process. TikTok will not have access to any of that off-platform data or activity.
Labeling content across our app
To ensure that our Elections Center is visible and accessible, we'll be adding labels to content identified as being related to the 2022 midterm elections as well as content from accounts belonging to governments, politicians, and political parties in the US. These labels will allow viewers to click through to our center and get information about the elections in their state. We'll also provide access on popular elections hashtags, like #elections2022 and #midtermelections, so that anyone searching for that content will be able to easily access the center. At any time, viewers can use our tools to automatically filter out videos with words or hashtags they don't want to see in their For You or Following feeds.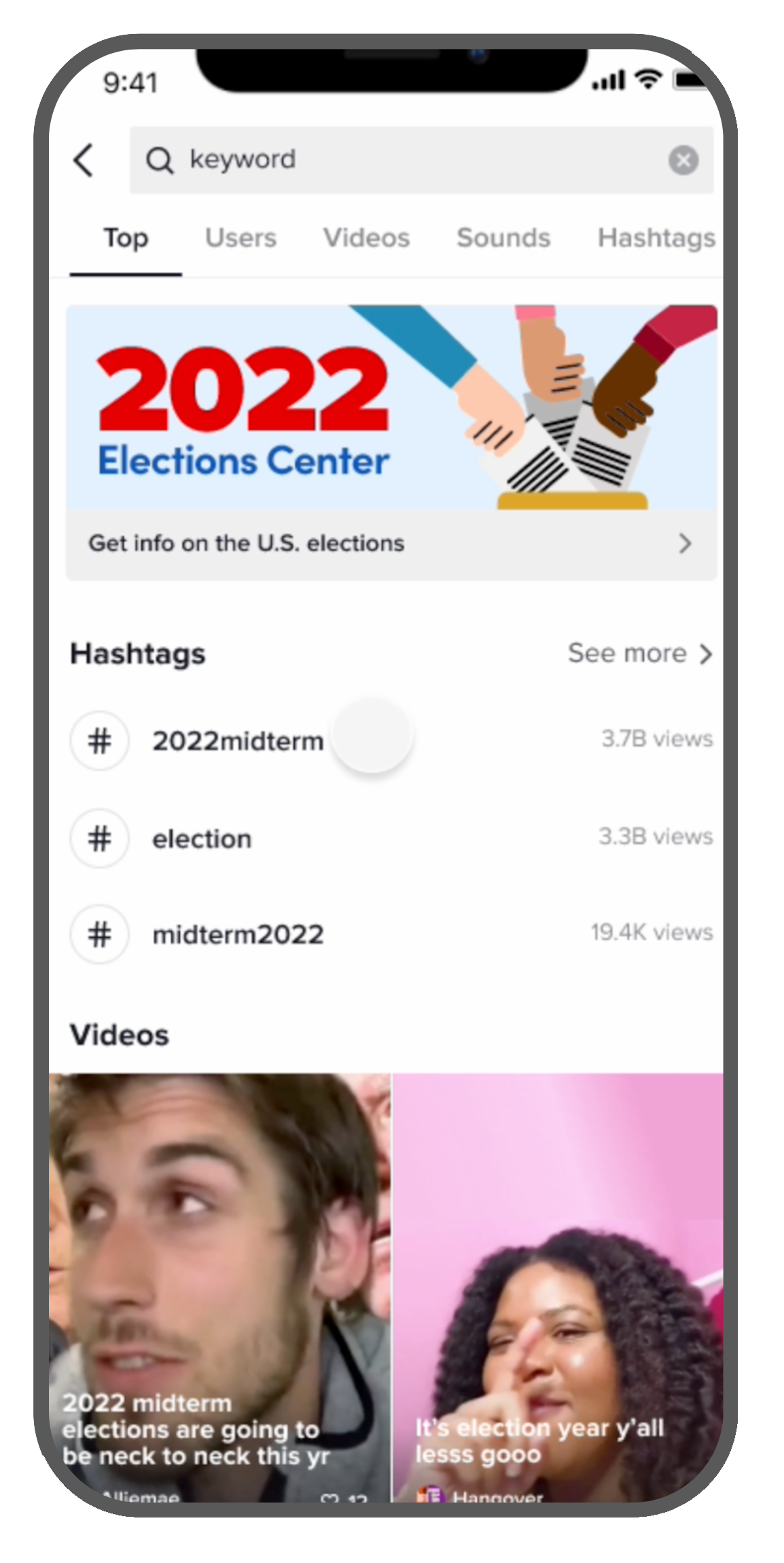 Enforcing our policies
TikTok has a longstanding policy to not allow paid political advertising, and our Community Guidelines prohibit content including election misinformation, harassment - including that directed towards election workers - hateful behavior, and violent extremism. To enforce our policies, we use a combination of people and technology. We also review content and accounts reported by community members. To bolster our response to emerging threats, TikTok partners with independent intelligence firms and regularly engages with others across the industry, civil society organizations, and other experts.

In addition, TikTok partners with accredited fact-checking organizations who help assess the accuracy of content in more than 30 languages, and while they do not moderate content on our platform, their assessments provide valuable input which helps us take the appropriate action in line with our policies. Out of an abundance of caution, while content is being fact checked or when content can't be substantiated through fact-checking, it becomes ineligible for recommendation into For You feeds. We also inform viewers of unsubstantiated content and prompt them to reconsider before sharing potential misleading information.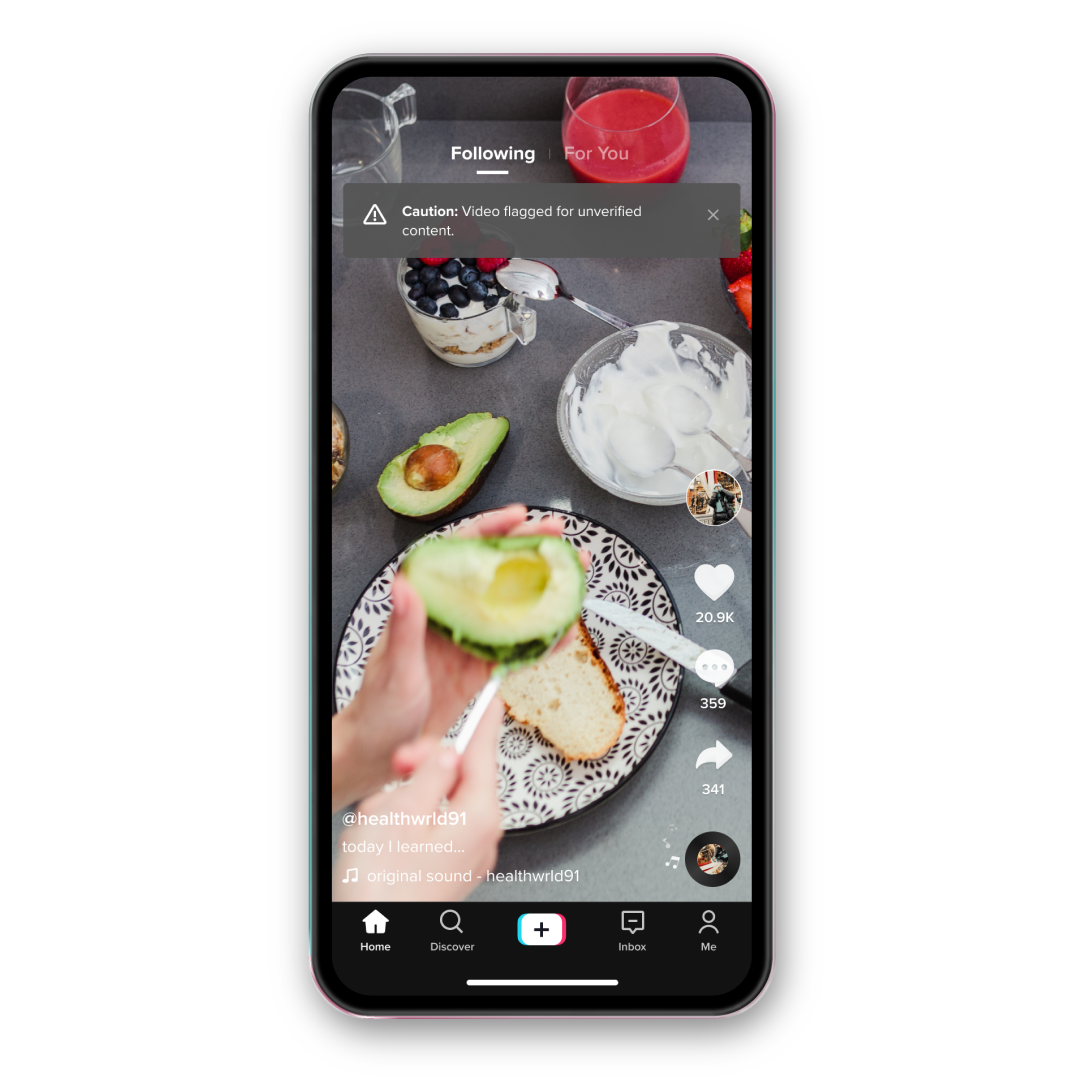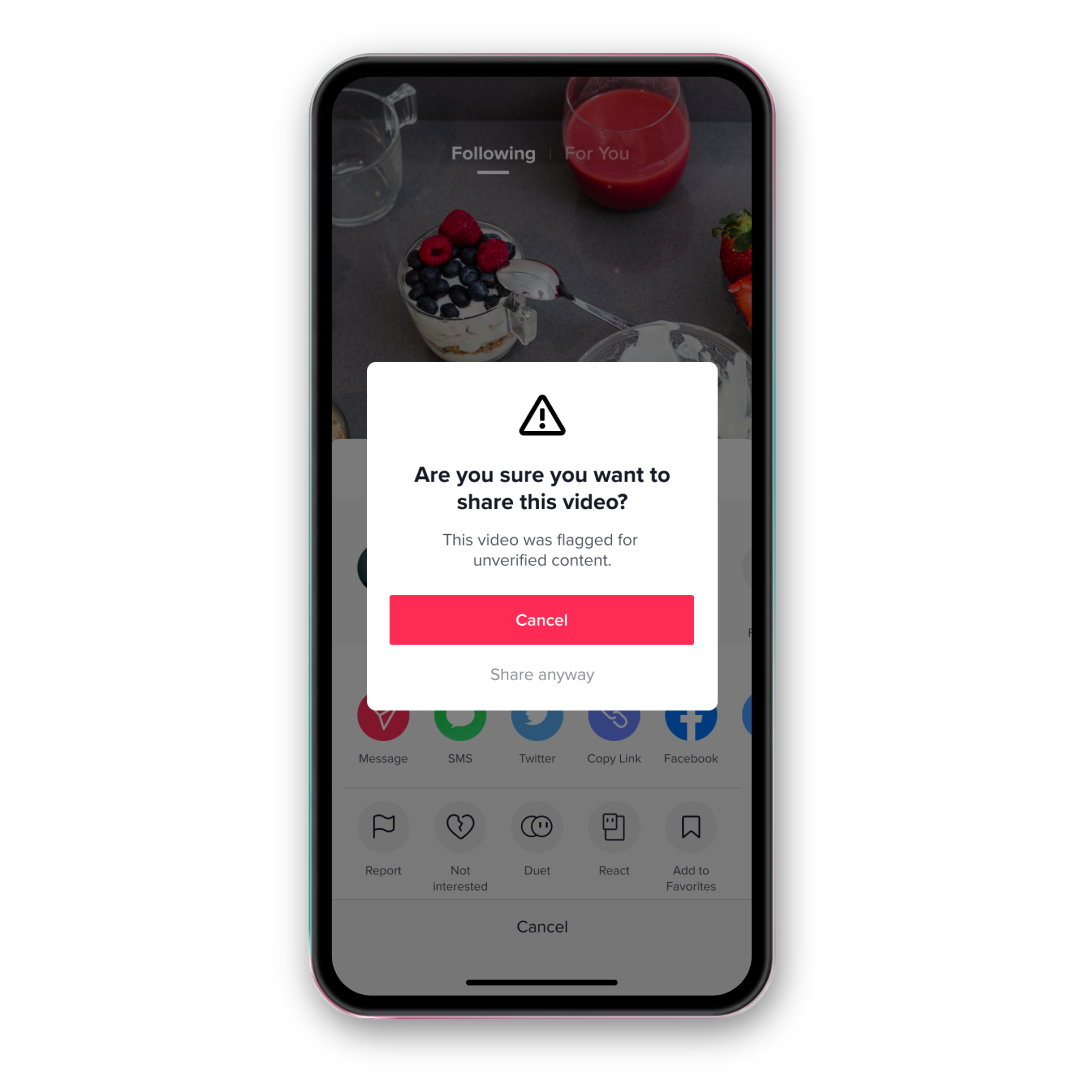 Building on lessons learned
We regularly look to learn lessons from our experiences in elections globally so that we can continually strengthen our approach. After the 2020 election, we set out some lessons learned from our approach that we wanted to improve on in future elections. We're already meeting one of them by launching our in-app center 6 weeks earlier than in 2020 to capture more of the midterms conversation over the summer months.

Another challenge we identified in 2020 was educating our community about the rules around paid influencer content. TikTok does not allow paid political ads, and that includes content influencers are paid to create. We work to educate creators about the responsibilities they have to abide by our Community Guidelines and Advertising policies as well as FTC guidelines. For sponsored content that is allowed, we've introduced a tool that makes it easy for creators to disclose paid relationships with brands and organizations.

Over the next few weeks we'll publish a series of educational content on our Creator Portal and TikTok, and host briefings with creators and agencies so the rules of the road are abundantly clear when it comes to paid content around elections. If we discover political content was paid for and not properly disclosed, it is promptly removed from the platform.

We are constantly looking at how we can improve our practices and processes to protect the safety and integrity of our platform during elections. We'll have more to share in the coming weeks, including some further steps we're taking regarding political accounts on TikTok as we work to foster an authentic environment for our community.
From our partners
"We believe the world will be a better place if every citizen has access to accurate, unbiased and non-partisan election information -- who is on the ballot and what they stand for -- so they can make informed decisions about their vote. We are pleased to work with TikTok to help their community not only understand the candidates and their positions but also to empower them to feel confident when they cast their ballot." - Leslie Graves, Ballotpedia Founder and CEO
"The Center for Democracy in Deaf America is committed to fostering political conversations and civic education through American Sign Language. We are proud to partner with TikTok in working toward a more perfect union in which civic information is accessible and deliberation possible -- not just for some but for everyone." - Brendan Stern, Executive Director, Center for Democracy in Deaf America at Gallaudet University
"We saw historic youth and student voter turnout in the 2018 and 2020 elections. We have also seen the astounding growth of TikTok over that same time. Fair Elections Center's Campus Vote Project is excited to work with TikTok again this year to provide young people and students the information they need to navigate registering and voting, perhaps for the first time. Particularly on a platform they are already using to connect about the things that are important to them and their peers." - Mike Burns, National Director of Fair Elections Center's Campus Vote Project
"Democracy works best when everyone has the opportunity to vote without barriers. Restore Your Vote, a project of Campaign Legal Center, is glad to partner with TikTok to help empower people with felony convictions by giving them the tools they need to make their voice heard." — Blair Bowie, Restore Your Vote Manager, Campaign Legal Center