Across the US, over 150 million people turn to TikTok to be entertained and inspired by content they find from their favorite creators -- including the latest trends, fashion and beauty tips, recipes, and more. Today, we're excited to announce a new way for people to now find and shop for their favorite products with the full launch of TikTok Shop in the US.
With community-driven trends like #TikTokMadeMeBuyIt inspiring people to discover and share the products they love, TikTok is creating a new shopping culture and sending products like Lion Latches and Love and Pebble beauty pops flying off shelves. TikTok Shop will now bring shoppable videos and LIVE streams directly to For You feeds across the country – and give brands, merchants, and creators the tools to sell directly through shoppable content on the TikTok app.
TikTok Shop empowers brands and creators to connect with highly-engaged customers based on their interests, and it combines the power of community, creativity, and commerce to deliver a seamless shopping experience.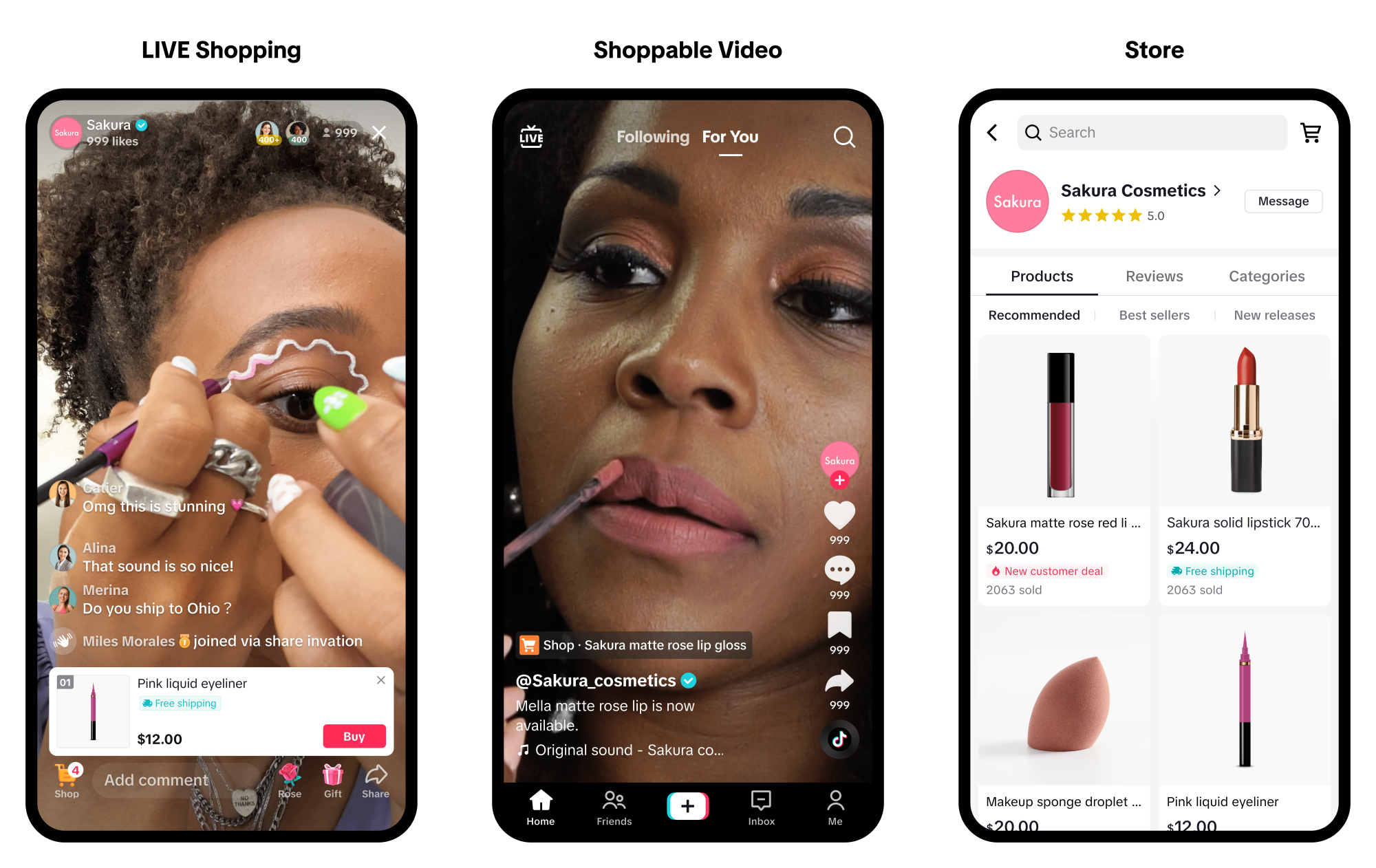 More Ways to Get Products Discovered on TikTok Shop
With TikTok Shop, we're giving people a place to experience the joy of discovering and purchasing new products without leaving the app. We've built simple tools to help businesses make this a reality.
What TikTok Shop Offers:
In-Feed Video and LIVE Shopping: Shop tagged products directly from videos and LIVEs in the For You feed.
Product Showcase: Browse product tiles, read reviews, and purchase directly from a favorite brand's profile. Businesses can curate custom product collections directly on their profile page.
Shop Tab: Businesses display their products on a new product marketplace and customers can easily search and discover promotions. Product recommendations are showcased via product listings and shoppable content, and customers can manage orders, all within a single tab.
Affiliate Program: Creators can connect with sellers through new commission-based product marketing opportunities. Creators have a new way to monetize their creativity by sharing products in short videos and livestreams, and sellers can choose the Affiliate plan that's the right fit for their brand.
Shop Ads: New TikTok Shop Ads bring more opportunities for sellers to promote their TikTok Shops, so customers can discover and complete purchases all within TikTok.
Fulfilled by TikTok: A new logistics solution that lets merchants focus on their products while TikTok Shop stores, picks, packs, and then ships sellers' products to customers.
Secure Checkout: TikTok works with trusted third party payment platforms to facilitate transactions on TikTok Shop, to ensure a quick, smooth, and secure checkout process. All TikTok protected US user data is stored in the US and managed by USDS.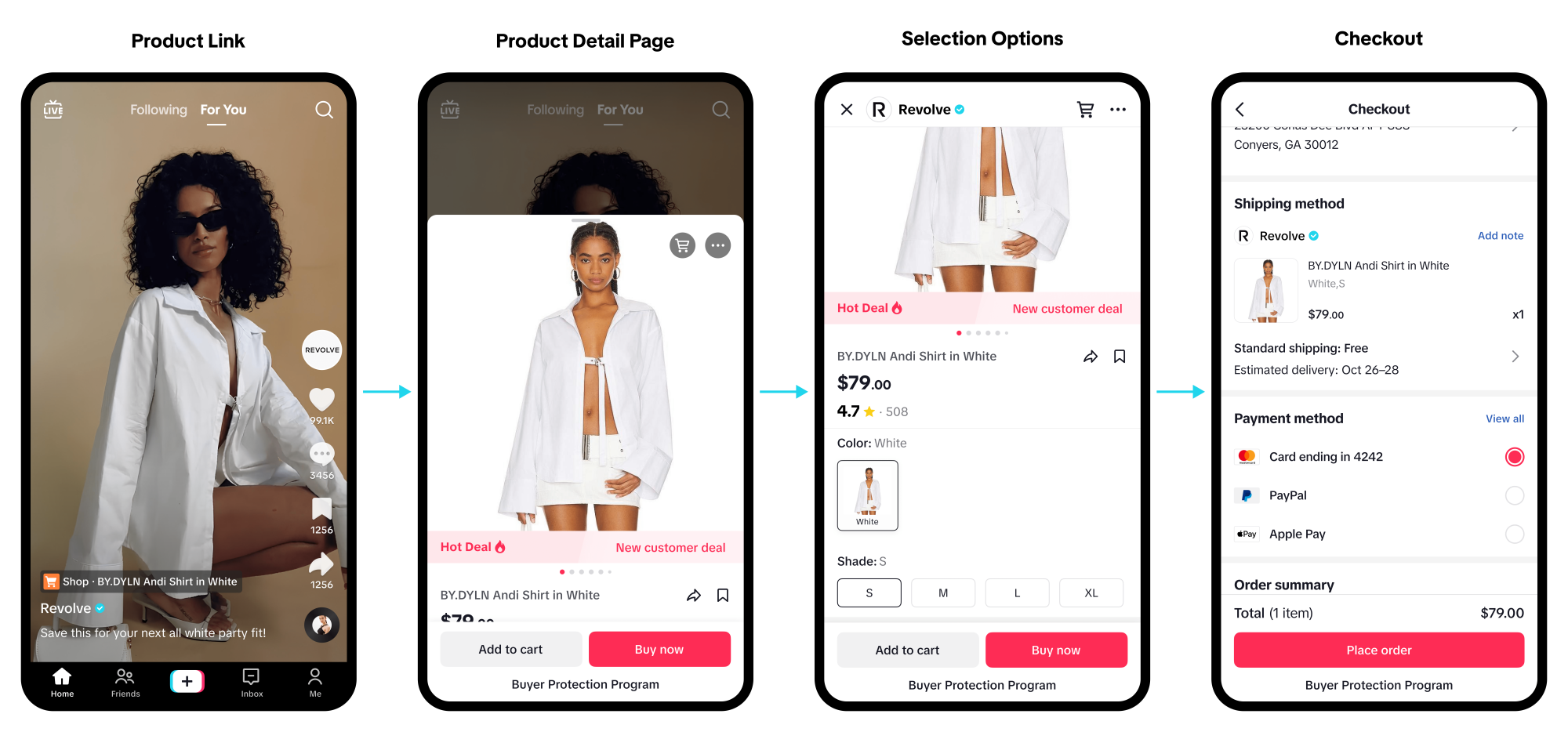 More Services with Partner Integrations
To support our growing ecosystem of businesses on the platform, we're introducing our new TikTok Shop App & Service Store, which extends the services and support offer in order to ease operations for businesses.
Commerce Platform Partners: TikTok offers merchants the tools to connect directly from their favorite commerce platforms. Shopify merchants can manage their TikTok Shop directly from Shopify through the TikTok for Shopify App. TikTok also offers direct integrations and connectors with WooCommerce, Salesforce Commerce Cloud, BigCommerce, Magento and other leading commerce platforms. Merchants may also integrate TikTok Shop with these leading commerce platforms through a variety of connector apps such as AfterShip, Silk, SKUIQ, CEDCommerce and ShoppeDance.
Multi-Channel Partners: For merchants running omni-channel businesses, TikTok is partnering with leading multi-channel platforms including Channel Advisor, Feedonomics, Productsup, Pipe17, GoDataFeed, SellerCloud, Linnworks, ChannelEngine, ShoppingFeed, and Cymbio.
Additional Apps & Services: Creators and sellers can choose from a variety of apps to drive seamless e-commerce operations, including Zendesk, Gorgias, and 1440 for customer service, Printful, Printify, NovaTomato for print-on-demand merchandise, Yotpo for reviews, and shipping service with WeeBee, Flowspace, and Easyship.
Building a Safe and Secure Shopping Experience
From discovery to purchase, TikTok is committed to providing a safe and secure environment that allows our community to shop with confidence. We empower people to seamlessly shop with a range of features, including product reviews, reporting tools, and easy returns and refunds. TikTok protected US user data is stored in the US and managed by USDS (and, as we have said previously, as part of Project Texas, we are in the process of deleting historical protected data). US users' payment information is managed by USDS and we work with third party payment platforms to facilitate transactions on TikTok Shop.
In addition, all product listings must adhere to TikTok Shop policies and Community Guidelines. We use a combination of technology and manual moderation to enforce our policies and will remove merchants and products we find break our rules. There's no finish line when it comes to protecting our community, and we'll continually strengthen our policies, processes, and features.
Sign up as a TikTok Shop seller today via the TikTok Shop Seller Center. We look forward to bringing more exciting TikTok Shop experiences to our community in the coming weeks.