From starting trends to celebrating cultural moments and inspiring others, our #APIFamily brings creativity, authenticity and pride to TikTok's vibrant community. This Asian and Pacific Islander (API) Heritage Month and year-round, we're committed to highlighting the stories of our API community by amplifying the voices who continue to break barriers and use their platform to share the diverse spectrum of API history and heritage.
To celebrate API Heritage Month, we're honoring our #APIFamily with the debut of our first Asian and Pacific Islander TikTok Visionary Voices List, alongside an in-app #APIFamily programming hub that will showcase #AsianMusic playlists, an exciting LIVE line-up starring musicians, dancers and artists, along with a spotlight series featuring trailblazing API creators, SMBs and community voices.
Meet Our 2023 Asian and Pacific Islander Visionary Voices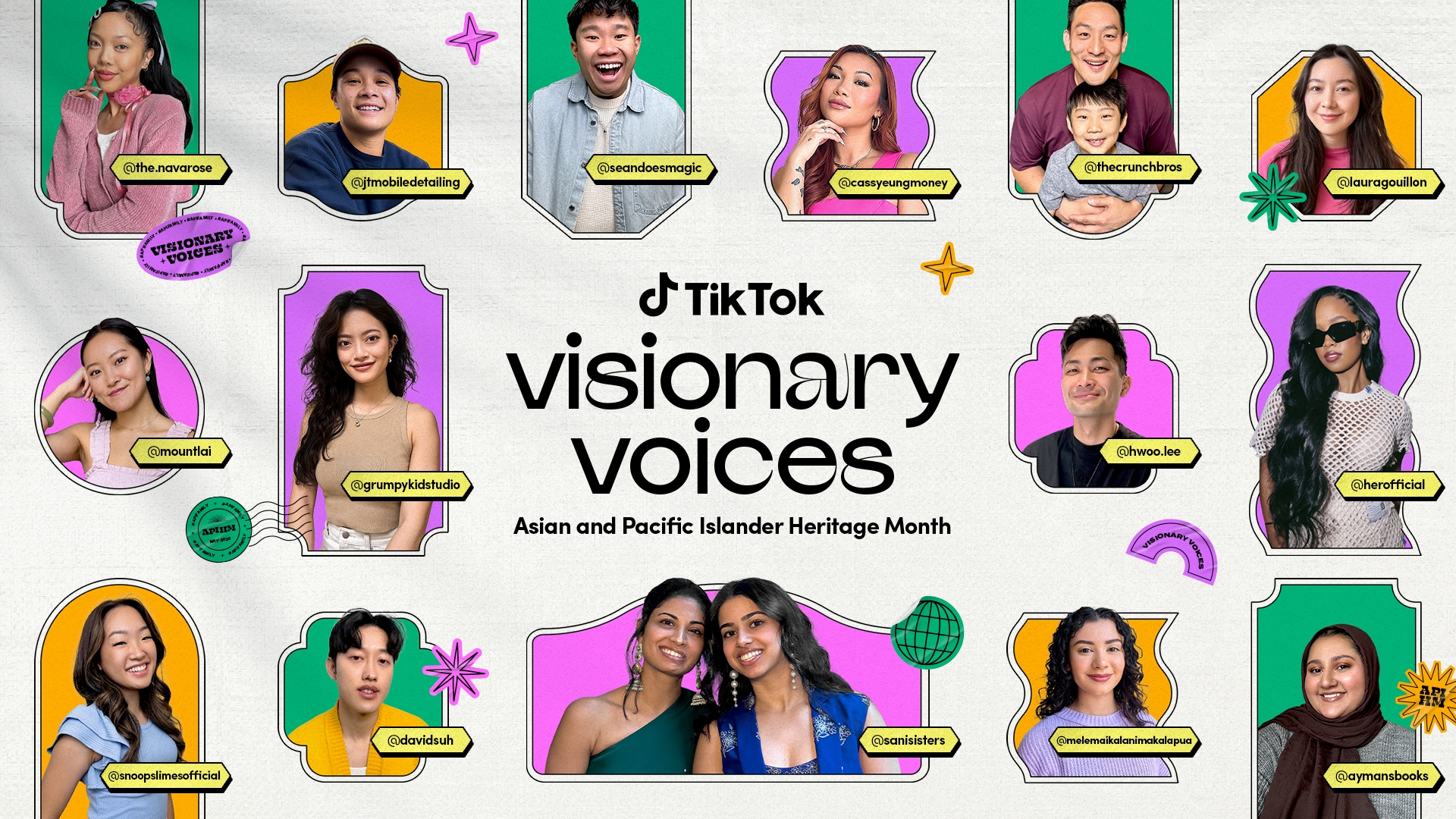 Photo credit: TikTok/Angella Choe
Our 2023 TikTok API Visionary Voices list honors 15 visionary API creatives, business owners and culture changemakers who are making a positive impact on TikTok and beyond. These innovative creators use their platforms to celebrate, honor and continue shaping the legacy of API heritage. This year's honorees are recognized across three categories: Creators, Industry Disruptors and Small Business Owners. Read more about our API visionaries below:
Creators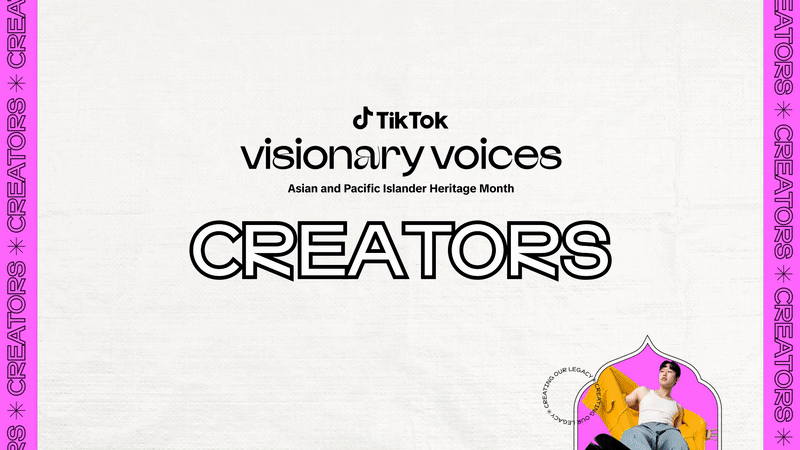 @aymansbooks (Chicago, IL) - Ayman shares her love for reading through humorous videos on TikTok. She's loved reading all her life and uses her platform to share diverse book recommendations, make comedic #BookTok videos and inspire people to read.
@cassyeungmoney (Philadelphia, PA) - Cassie Yeung uses her platform to inspire people to recreate delicious meals at home. Her step-by-step tutorials are presented in a simple and easy-to-understand manner, showcasing her love for a diverse range of cuisines.
@davidsuh (Los Angeles, CA) - David Suh, also known as "TikTok's Posing King," is a photographer and creative force who uses his platform to inspire people to be seen and heard through their own beauty. He regularly teaches clients and his online audience how to pose for and take dynamic photographs through online education and workshops.
@hwoo.lee (Los Angeles, CA) - H Woo is a self-taught cook who has amassed a following by showcasing his culinary journey through high-intensity, quick clip cooking videos. After teaching himself how to cook in 2017, he eventually started his supper club, Maru Los Angeles, in early 2019. In 2020, he started creating cooking videos on TikTok to showcase everything from his culinary skills to dinner party content.
@melemaikalanimakalapua (Vacaville, CA) - Melemaikalani Makalapua is a Hawai'ian creator who shares her love for her culture on TikTok. Based in California, her goal is to utilize her platform to continue educating people about Hawai'i and to shed light on Hawai'i's culture and people.
Industry Disruptors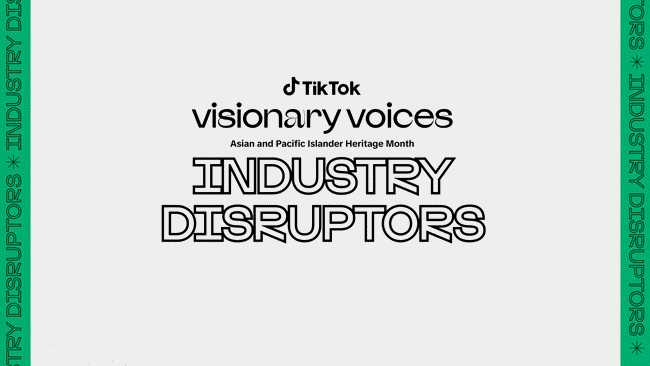 @herofficial (California) - H.E.R. is an award-winning singer/songwriter/multi-instrumentalist from the Bay Area who embraces all of her passions collectively on TikTok. Giving fans full access to her fun side, TikTok also provides her a platform to stay connected to her roots, with the hope of inspiring others to do the same.
@lauragouillon (Montreal, Canada) - Creative director, filmmaker and AR creator Laura Gouillon, known as the "Filter Queen" on TikTok, has tapped into her background in immersive filmmaking and computer science to curate more than 100 fun and interactive filters on the platform, including trending effects like the "My Love Life Tarot" effect. Her effects have garnered over 11.4B views worldwide, and she's thrilled to be part of a budding AR industry where she can share her creations and shape the future of storytelling.
@seandoesmagic (Los Angeles, CA) - Sean Sotaridona is a Filipino magician who creates wholesome magic videos on TikTok. From teaching magic on the street, to having his Mom react to his magic, he enjoys sharing fun content on TikTok and sharing his joy with his fanbase of over 21 million followers on the platform.
@the.navarose (Los Angeles, CA) - Nava Rose combines her passion for fashion with her love for the environment. After starting her journey as a thrift flipper, she discovered an adoration for repurposing unconventional materials into stunning, one-of-a-kind pieces. With her collection of outfits and upcycling DIY projects, she hopes to inspire others to embrace sustainable fashion practices, and to find confidence in their unique sense of style.
@thecrunchbros (Orange County, CA) - Jeff and Jordan Kim are a father-son duo taking the foodie world by storm. Inspired by their Korean and Japanese backgrounds, they share their love for cooking and food on TikTok, highlighting their culture while sharing easy-to-make dishes and fun-to-eat foods.
Small-Owned Businesses (SMBs)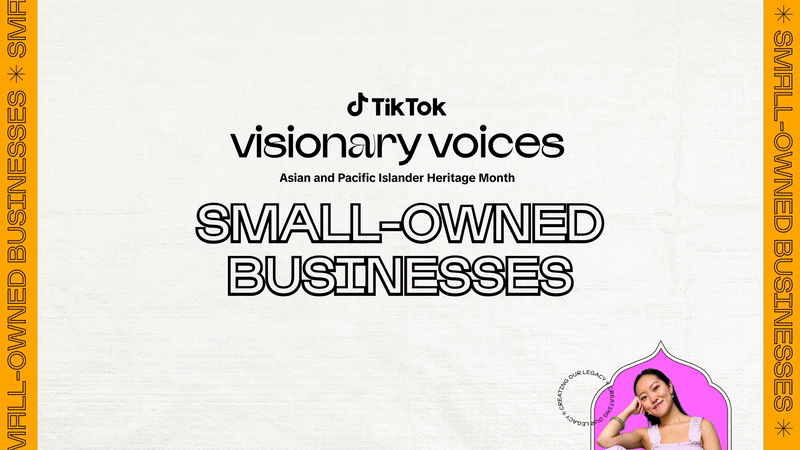 @grumpykidstudio (Montreal, Canada) - Garbo Zhu is a self-taught potter and content creator who specializes in grumpy ceramics. A creative at heart, she was trained as an architect but developed a newfound passion at the end of 2020 for hand-built pottery. She now runs her own pottery studio and shares her ceramics talent with the online world through her platform, telling the stories behind her work with the goal of bringing a smile to people's grumpy day.
@jtmobiledetailing (Huntington Beach, CA) - Jessica Tran is a car detailer and creator based out of Huntington Beach, CA. She successfully used TikTok to help scale her small business, "JT Mobile Detailing" to levels she never dreamed of, and continues to share informative, digestible and fun car detailing content with a global audience to inspire others to DIY their own details.
@mountlai (New York, NY) - Stephanie Zheng is a holistic esthetician and the founder of Mount Lai, a beauty brand rooted in Traditional Chinese wisdom. Stephanie grew up watching her grandmother incorporate jade rolling and gua sha into her skincare and wellness routine, which inspired her to create this business. She uses her platform to share educational videos with others and share the behind-the-scenes of running a small business.
@sanisisters (Raleigh, NC) - Sisters Niki and Ritika Shamdasani are the entrepreneurial designer duo behind Sani, an apparel brand inspired by South Asian culture. The sisters built their brand from the ground up, starting with evening wear for Indian weddings, and eventually launched South Asian fashion for the very first time on Rent the Runway and recently at Nordstrom. Their rapid growth has come from their content creation on TikTok, as well as their expansion to casual wear — Sani has now been worn by several public figures, including Karlie Kloss and Ashley Park.
@snoopslimesofficial (Austin, TX) - At the age of 13, Jungmin Kang founded Snoopslimes, a high-quality slime e-commerce business to provide a creative outlet and therapeutic sensory slime. She has created a positive and inspiring community on TikTok that showcases her colorful slime content while shining a light on Korean culture. As the youngest Forbes 30 Under 30 e-commerce lister (2022) and Austin Inno Under 25 recipient, she empowers other teenagers to chase their dreams of becoming an entrepreneur.
#APIFamily TikTok LIVE Programming and In-App Hub
Tune in to our @tiktoklive_us channel on Friday, May 19 to see an incredible lineup of API artists, dancers, musicians, and more. Our #APIFamily live series will celebrate the rich cultural heritage and incredible impact of the API community. Check out @tiktok and @tiktoklive_us for more information on our LIVE programming schedule!
Throughout the month of May, we will also spotlight a diverse collective of API-owned SMBs who are using TikTok to celebrate API heritage and uniquely grow their businesses. Our in-app #APIFamily programming will highlight SMBs and organizations including: @shopsunnytails, @mangopeopleofficial, @emme.nyc, @labyrinthave, @pocketschocolate, @filipintabeauty, along with non-profit and advocacy groups @hateisavirus and @acttochange.
Celebrating the World Sounds of API Heritage and #AsianMusic
This month and beyond, we're spotlighting the world sounds of #AsianMusic and showcasing API music artists who continue to shift culture and impact the music industry. Our sounds page will feature special guest playlists from Keshi and mxmtoon, as well as genre playlists for Hip-Hop, K-Pop, Indie, #SouthAsian sounds and more! Follow @MusicOnTikTok to tune into our ongoing social programming, set to feature artists Tyler Shaw, Thuy and others!
Recognizing and honoring TikTok's internal #APIFamily
ARISE, our internal employee resource group (ERG), is committed to recognizing and honoring the impact of TikTok's very own API community year-round. As a part of our company-wide API Heritage Month celebration, our employee resource group ARISE will host a series of themed internal events and programming initiatives to celebrate the industry-shifting impact of our API employees and creators.
Celebrate TikTok's #APIFamily
Join us in celebrating the legacy and impact of our #APIFamily this Asian & Pacific Islander Heritage Month and beyond. Be sure to follow @TikTokCreators and @TikTok to stay up-to-date on our API Heritage Month programming and the #APITikTok community.