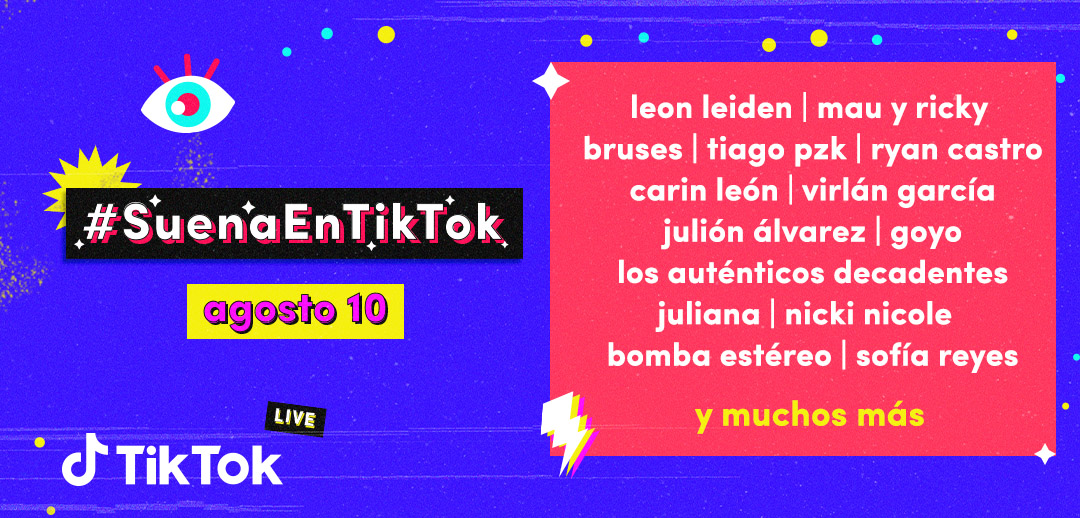 Driven by emerging music and trending songs, TikTok has become a catalyst for songs by artists of all levels to travel across borders, helping them to make an impact around the world. Latin music encompasses a vast tapestry of modern and traditional genres, and music fans on TikTok share a passion for all kinds of Latin music, from norteño to cumbia, tango to dembow, calypso to reggaeton, and everything in between.
This week TikTok celebrates the vibrant sounds of Latin music with the second edition of #SuenaEnTikTok, a digital music festival that takes place LIVE on @TikTok_español. Airing August 10th and starting at 11AM CDT, the festival brings together the top Latin artists of the moment, offering over 12 hours of music to make us dance and sing at the top of our lungs. #SuenaEnTikTok honors the vast constellation of Latin artists who have used the platform to make noise in Latin America, Mexico and beyond.
Featuring over 32 artists from all over Latin America and Mexico with more than 156 million combined followers on TikTok, #SuenaEnTikTok will showcase both established and emerging performers who represent the rhythms of the region, such as: María Becerra, Bomba Estéreo, Julión Álvarez, Sofía Reyes, Los Dos Carnales, Carín León, and Los auténticos Decadentes, as well as artists that have become favorites of the TikTok community, like Bruses, León Leiden, Rod Contreras, and more.
Don't miss the opportunity to celebrate Latin music with music fans around the world - mark your calendars for August 10 at 11 AM CDT to watch #SuenaEnTikTok LIVE on @TikTok_español.