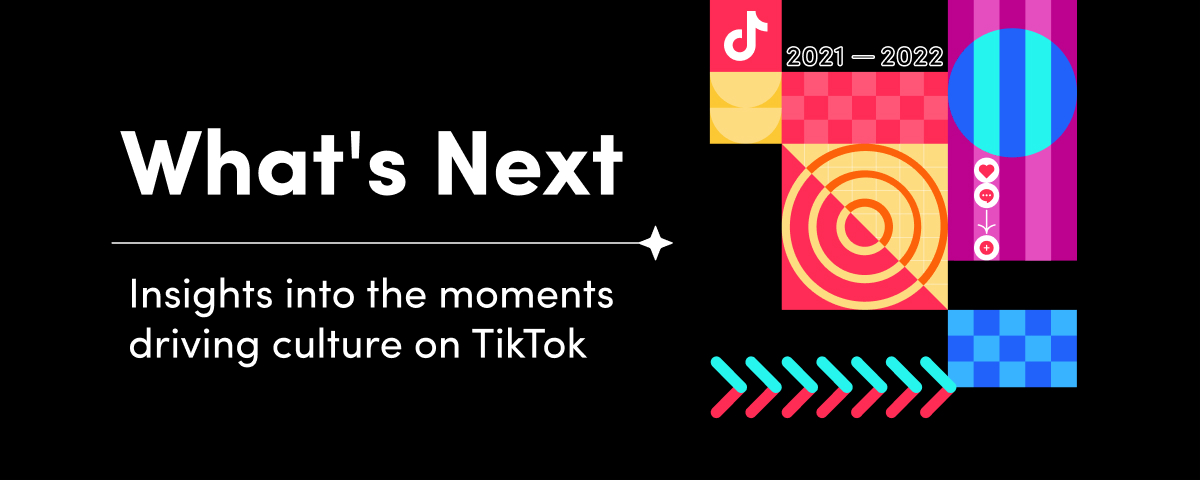 Over one billion people turned to TikTok in 2021 to be entertained, to find and share joy, learn new things and to create and celebrate the moments and movements of the year. 2021 taught us a lot about our community, culture and how brands can play a significant role in both. From incredible SMB founders taking us inside their community, workshop and daily lives, to automotive brands creating authentic, fun TikToks to launch new products, it was a monumental year for brands on TikTok.
To help understand and identify how TikTok will continue to break the boundaries of entertainment 2022, TikTok has launched the What's Next Report. With 20 different iterations across TikTok's leading markets throughout the world. The report takes a deep dive into the topics that caught our attention in 2021, to truly unpick the communities and trends that are growing on TikTok.
The What's Next Report is a deep dive into top-performing products and emerging trends. The report includes case studies to help identify the top tactics for unlocking success on TikTok, and tips for brands looking for further inspiration. From the rise of community commerce and the importance of music to authentic partnerships with creators and continued focus on brand safety, it's set to be an exciting year for brands on TikTok in 2022.
Sofia Hernandez, Global Head of Business Marketing for TikTok said: "2021 was a monumental year for TikTok. It was a year full of growth, learnings and accomplishments and 2022 will be no different.
From the evolution of sound on the platform, to the unstoppable power of #TikTokMadeMeBuyIt and creators, there are so many ways for businesses of all sizes to creatively engage with our community. Our What's Next report provides an insightful look at what was hot in 2021, and a deep dive into what's to come for 2022."
You can view the global and country What's Next reports here.
Community Commerce
Last year the worlds of entertainment and commerce became even more closely entwined. Community commerce blew up as TikTok became a launchpad for product discovery and brands.
It sparked new shopping trends and drove cultural conversations, for products both new and old. We're continuously learning about brand, creator and community engagement on our platform.
73% of people feel a deeper connection to brands they interact with on TikTok compared to others (2), with 67% saying that TikTok inspired them to shop (3) even when they weren't looking to do so.
In 2021, people on TikTok went crazy for Little Moons, an ice cream brand that last year saw its sales skyrocket after it started posting TikToks. Little Moons won the hearts of the TikTok community through a combination of thumb-stopping organic content and a super targeted ad strategy, which it launched following its early success.
2022 will be the first full year for TikTok Shopping, a suite of e-commerce tools that turn videos and LIVE into shoppable entertainment. These solutions will make it easier than ever for brands, merchants and creators to harness the power of community commerce, with tools helping them build native shopping experience, market their products, and run their e-commerce business directly on TikTok.
Community commerce will continue to evolve. LIVE experiences will embrace our appetite for entertainment and new ways to discover and shop. As long as brands bring joyful entertainment to the table, we'll continue providing solutions that help you convert interest into real-life actions.
Evolution of Sound
Sound is integral to the TikTok experience and is changing the way we tell stories. In 2021, trending songs on TikTok came from a mix of established, emerging, and breakthrough artists, spanning a range of genres as diverse as our community itself.
Take for example, the case of Nathan Evans. No one really set out to listen to a 19th Century sea shanty. But what started as a simple TikTok exploded into global recognition. The world's most famous musicians got involved, and just one TikTok single-handedly revived a centuries-old tradition and brought it to a new audience.
TikTok music tends to transcend the platform, with 88% of people on TikTok reporting that the sound on the platform is central to the overall app experience (4). This has led people to research, stream, and buy songs they hear whilst they have been browsing the app. This not only opens up new possibilities for both artists and brands alike, but it creates a new paradigm for sharing, creating and finding music. If brands want to push the music culture forward in 2022, it's important to put the artists at the forefront of what they do and think (and act) artist-first.
As well as making content on TikTok more relatable, music also generates longer watch times on average and makes people less likely to skip content. It also impacts mood, making people feel more positive. Research show that instrumental music generates the strongest brand recall, while R&B, pop and rap are most related with brand likeability. Brand tailor-made music generates the most intrigue and track clicks (5). In 2022 the brands that lean into immersive audio, standing at the forefront of adopting sonic branding to create a distinctive sound will win the hearts of the TikTok community.
The New Creative Dream Team
Say hello to your new creative dream team. Meet the TikTok creators: the bold personalities, cultural experts, trend-setters, and pioneers who will empower brands to overdeliver against campaign goals and get impactful and tangible results. It's time to trust in the creativity and influence of creators.
Partnering with creators on TikTok boosts view-through rates for TikTok specific ads by 193%, and branded content coming from creator collabs shows a 27% higher Ad Recall (6). Even TikTok users themselves agree - 62% say that creators are the best way for brands to connect with consumers (7).
Why are they so effective? Put simply, creators live and breathe TikTok, which means they have an innate understanding of their audience, cultural trends and the type of content that resonates with their unique communities. Their cultural expertise paired with a unique voice and style have likely led to an existing follower-base that's loyal, engaged, and trusting. They hold the creators' views in high regard, which makes for a powerful audience.
The TikTok Creator Marketplace is the go-to destination for creator collaborations, and is a streamlined way to discover creators based on industry, budget, and business goals. Brands can also search for videos mentioning their brand in order to identify creators who already know and love their products, leading to brand integrations that feel native and authentic . On the Marketplace, brands can now connect with over 100K creators across 24 markets.
We want to be there to help brands find their voice and build a meaningful community on TikTok. 2022 will see TikTok's continued investment in fresh ways for brands to embrace creativity and help them to connect and collaborate with our diverse ecosystem of creators.
We've already seen success with creators like @millypickles1. Amputee, runner, motivator, TikTok star, and much more besides: para-athlete Milly Pickles's story is one of genuine triumph over adversity. Four years ago she lost her lower leg after a life-threatening accident, but today she's training as a track sprinter – and hundreds of thousands of followers can't get enough of the candid, inspiring content she posts on the platform.
Authentic creator collaborations in 2021 has not only delivered effective results for brands, but has also inspired them to play an active role in conversations around causes such as racial equality and mental health.
We're truly humbled and excited to see so many creators thrive on the platform and access new ways of working and earning their livelihood by collaborating with brands.
Building for Brand Safety
Of course, while we talk about all of the trends we can expect on TikTok next year, our top priority as a company is to protect our community. The safety of brands on TikTok starts with keeping our community safe and secure. We believe that by prioritising the safety of our creators and community, we in turn create a positive environment for brands.
In 2021, we have worked to live up to our commitment to safety by introducing an array of policies, products and initiatives that reflect our ongoing dedication to the safety of the TikTok community, like age appropriate privacy and safety settings, tools to promote kindness, combat bullying and curb the spread of misinformation, as well as campaigns to promote awareness around bullying.
We have listened to our brand partners and throughout 2021 have expanded our offerings to advertisers that help ensure branded content shows up next to safe and suitable user videos. We offer four leading brand safety solutions for advertisers on TikTok - the TikTok Inventory Filter, pre-bid solutions from OpenSlate and IAS and a post-bid solution from Zefr.
2021 saw an expansion and deepening of partnerships for TikTok, like joining the Technology Coalition, participating in the inaugural GARM Aggregated Measurement Report, taking a seat on the board of the Brand Safety Institute and becoming TAG Brand Safety Certified globally by the Trustworthy Accountability Group. Partnerships help inform our own operations and ultimately to push the industry forward for the greater good of the digital ecosystem.
To keep our community informed about the steps we are taking to keep our community safe, we strive to be the most transparent and accountable company in the industry with deeper insights into our operations. In 2021 we launched our first two quarterly Community Guidelines Enforcement Reports and continued to host tours of our pioneering Transparency and Accountability Centers, as well as announced the establishment of a new physical center in Ireland to build on our two previously announced centers in Los Angeles and Washington D.C. We revamped our Transparency Center on the TikTok website to keep our community informed of our efforts in the space.
There is no finish line when is comes to the safety of our community. Looking ahead to 2022 we will continue to prioritize safety, solutions for brands, transparency, and partnerships to build an even safer platform for creative expression.
2022 promises to be a year like no other for brands on TikTok. From the rise of community commerce, to the proliferation of TikTok creators helping brands tell their stories in authentic ways, there has never been a better time to be a business on TikTok.
A note on What's Next Methodology
TikTok For Business compiled comprehensive insights based on platform performance on TikTok, from October 2020 to October 2021. We analyzed quantitative first-party data. Our analysis revealed the categories that saw significant growth, the ones that remained amongst the most popular, and the ones which we felt deserved a special spotlight. We looked into hashtags as a reliable indicator of performance. We assigned hashtags that had a strong correlation with each category accordingly and we ranked them by volume. From this data, we took our analysis a step further by diving deeper into hashtag activity based on volume and growth. The results were insightful findings that took over each category in the past year. Through the various categories included in the report we provide a retrospective on what happened on TikTok this year, and a sneak peek into the growth opportunities for 2022.
TikTok Marketing Science References
TikTok Marketing Science Audience Understanding Research conducted by Clear M&C Saatchi
TikTok Marketing Science Global Community and Self-Expression Study 2021, conducted by Flamingo
TikTok Marketing Science US, Holiday Shopping Behavior Custom Research, conducted by Walnut Unlimited
TikTok Marketing Science Power of Sound conducted by Kantar
TikTokMarketing Science European Music in Ads Research conducted by Hotspex
TikTok Marketing Science European proprietary creative analysis 2021
TikTok Marketing Science Native vs Creative Advertiser Content Research conducted by Mindlab