New in-app Singapore Wellness Hub brings users a one-stop shop for all things wellness and self-care, including support helplines from non-profit organisations
Singapore Wellness Hub offers users a safe space to share their personal lived experiences, find communities of support, and access mental health resources to prioritise their wellbeing
Interactive TikTok LIVE sessions held in honour of World Mental Health Month to guide users on coping strategies, grounding techniques, tips on breaking down intergenerational communication barriers, and more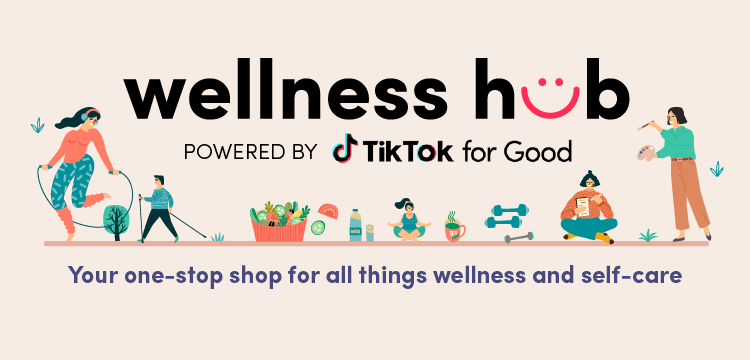 Singapore, 7 October 2021 - TikTok, the leading destination for short-form mobile video, has today announced a dedicated 'Singapore Wellness Hub' in conjunction with World Mental Health Month.
The Singapore Wellness Hub will serve as an evergreen repository of mental health resources and wellness content contributed by non-profit partners and TikTok creators, to support its users through a strong peer support community. Aligned with the national effort by the Interagency Taskforce on Mental Health and Wellbeing in Singapore, the Hub seeks to strengthen the ability of vulnerable users to cope with anxiety and uncertainty, promote help-seeking behaviour and drive greater awareness and education amongst our local community.
"TikTok has become a home for wellbeing conversations that have taught us mindfulness, raised awareness on mental health and created a much-needed sense of community over the past year," said Ms. Teresa Tan, Head of Public Policy at TikTok Southeast Asia and Singapore. "With the Singapore Wellness Hub, we have brought mental health support even closer and more accessible to our users. They now have a one-stop hub where they can seek support firsthand from peers who are on their own mental health recovery journeys or professionals who offer counselling services. We welcome anyone to this safe space to share their stories, fight the stigma, educate the community, and advocate for others right here on TikTok."
The new Hub, which will be launched on 15 October, provides connection to tips and resources on all things wellness and self-care.
Under 'Wellness Matters', users can learn and practice grounding techniques, from safe space visualisation, breathing exercises to body awareness technique, by following step-by-step short-form videos created by non-profit partners — CARE Singapore, INSIGHT Care Corner, Limitless and TOUCH Community Services.
Under 'Stories', users can draw strength from peers who have boldly shared their personal lived experiences and recovery journeys.
Under 'Support Helplines', users can reach out directly to various non-profit organisations who are also TikTok wellness content creators — be it crisis and suicide prevention hotline by Samaritans of Singapore, free online counselling or peer support programmes.
The Hub is the latest in TikTok for Good's broader efforts to create an online safe space where users can express their vulnerabilities freely, find communities of support and destigmatise mental health conversations.
Access the Singapore Wellness Hub in-app on TikTok or visit https://bit.ly/tiktokwellnesshub.
Be Kind To Your Mind - TikTok LIVE programming and events
In celebration of World Mental Health Month, TikTok has also launched the Be Kind To Your Mind LIVE series from 4 to 15 October.
4 to 8 October: TikTok creators are going LIVE to share their experiences with coping methods that work, from journalling; stamp art; music to tea and food.
11 to 15 October: For the first time, TikTok creators will be bringing their parents, grandparents, siblings, best friends and students together on LIVE to spark intergenerational conversations on mental health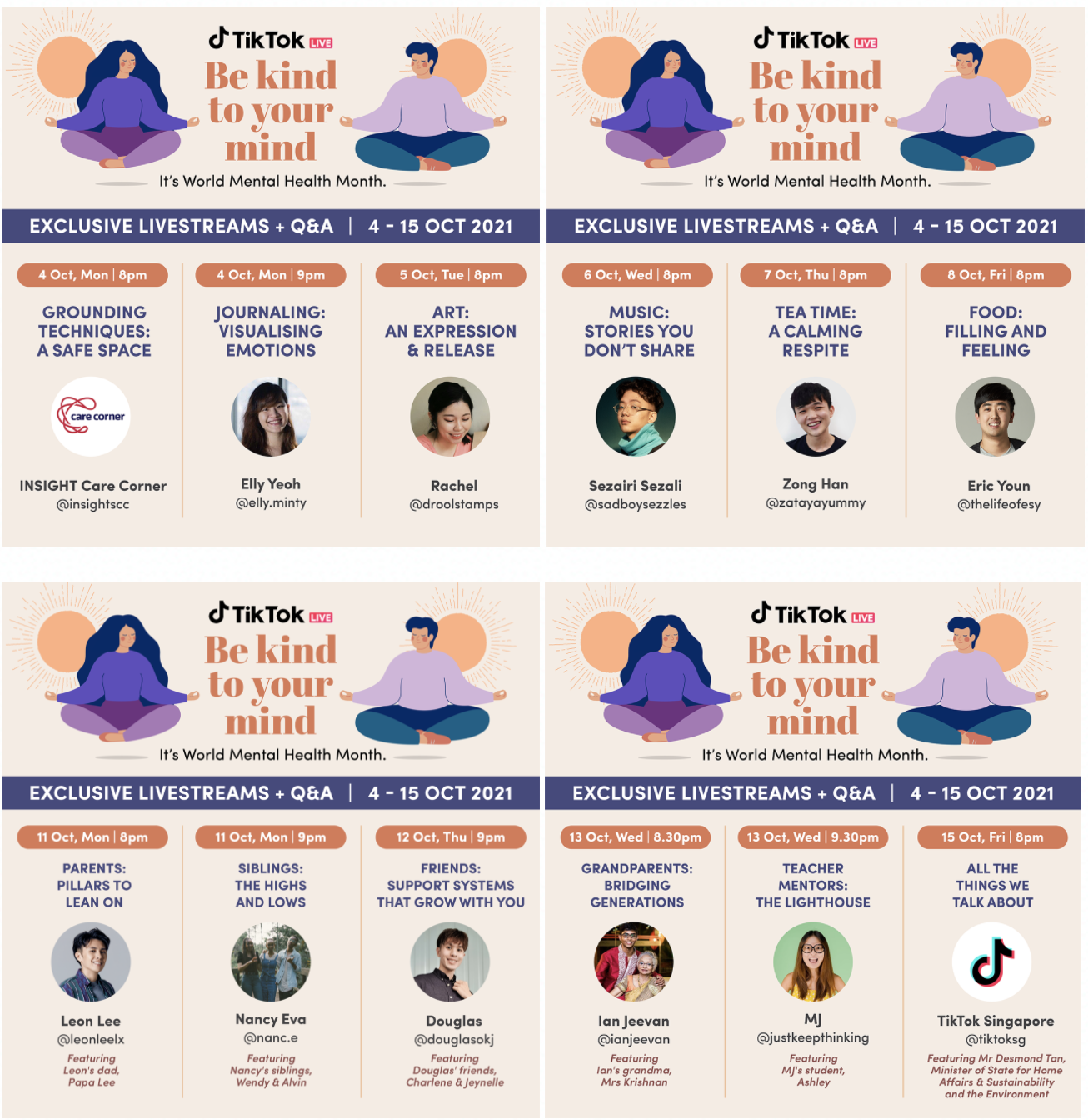 To join TikTok LIVE: tap the 'Be Kind To Your Mind' banner in TikTok's Discover page. Be Kind To Your Mind LIVE series begins at 8:00 PM SGT on 4-8 October, 11-15 October on TikTok.
Tune into the finale on 15 October, "All The Things We Talk About"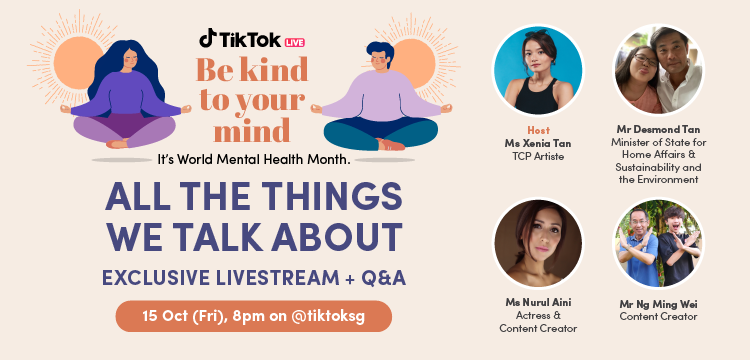 Kicking off with musical performances by wellness duo Deniece and Jade (@amillennial.mess), the finale panel will unpack how to talk about mental health as a family, address the issue of trust between parent and child and discuss how to overcome stigma of seeking support from a trusted adult. Hosted by TikTok creator and artiste Xenia Tan (@hotcheekylace), the panel will feature Mr. Desmond Tan, Minister of State for Home Affairs & Sustainability and the Environment and his daughter, Kyra Tan; Nurul Aini (@aanurul23), local actress and her daughter Shaista Eman; TikTok creator Ng Ming Wei (@mingweirocks) and his father Cedric Ng (@daddyming).
To tune in to the finale, visit @tiktoksg on 15 October at 8:00 PM SGT.
Help is also available on TikTok. If you are having a difficult time, or if you are concerned about the well-being of a friend or family member, please consider reaching out to a trusted adult, contacting a local support group, or seeking professional help.
Together, Singapore can kick-start a bigger conversation about mental health in our community. Join TikTok this World Mental Health Month to Be Kind To Your Mind!
-END-
About TikTok
TikTok is the leading destination for short-form mobile video. Our mission is to inspire creativity and bring joy. TikTok has global offices including Los Angeles, Mountain View, New York, London, Paris, Berlin, Dubai, Mumbai, Singapore, Jakarta, Seoul, and Tokyo. www.tiktok.com.
Media Inquiries:
Simone Phople
Allison+Partners on behalf of TikTok
M: +65 9725 1115
E: simone.phople@allisonpr.com