This fast-growing opportunity across APAC responds to changing consumer attitudes driven by increasing technology adoption
Shoppertainment is set to open up new revenue streams for brands as they re-connect and engage with customers through content-driven commerce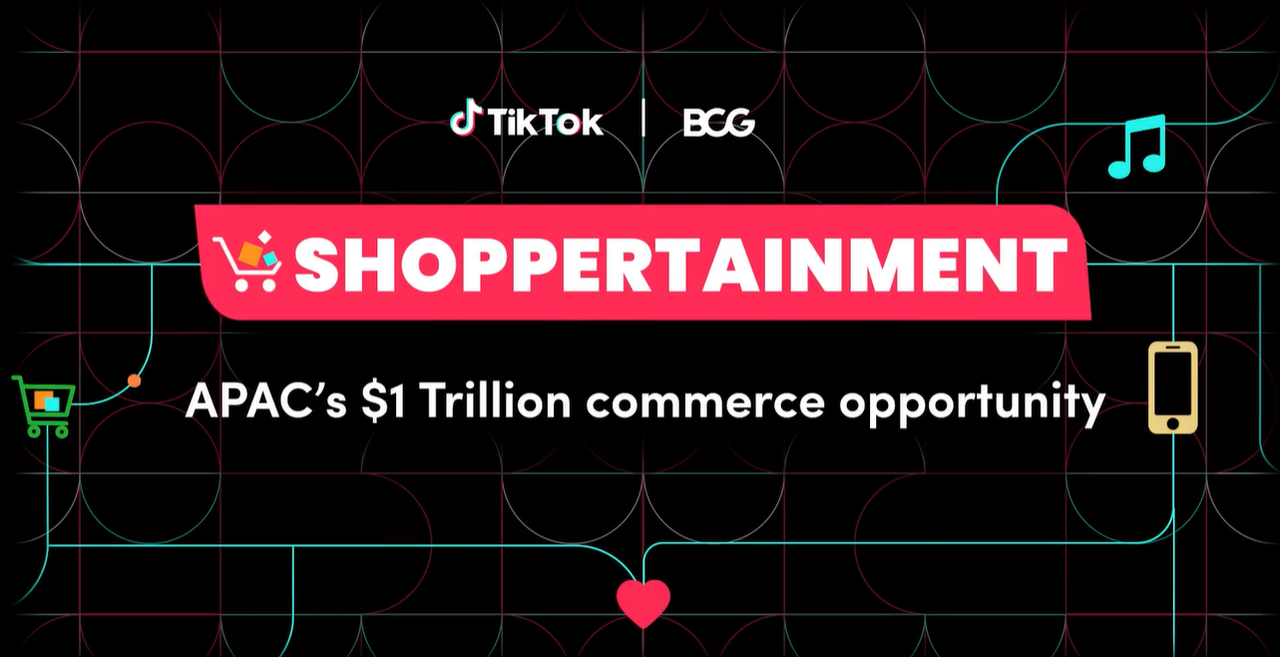 Singapore, 23 August 2022 - Shoppertainment could uncover USD 1 trillion in market value for brands in Asia Pacific (APAC) by 2025, according to the latest study published by TikTok and Boston Consulting Group (BCG). Titled 'Shoppertainment: APAC's Trillion-Dollar Opportunity', the report surveyed markets across APAC, including Indonesia, Thailand, Vietnam, Australia, South Korea, and Japan, and found that the immense choices afforded by technology have shaped consumers' appetite for discovery, authenticity and community-driven recommendations, giving rise to next era of online commerce, Shoppertainment.
Shoppertainment is content-driven commerce that seeks to entertain and educate first while integrating content and community to create highly immersive shopping experiences. This presents an intriguing pathway for brands to revolutionise the way they engage with audiences through video-first, sound-on formats. Analysis conducted by BCG also predicted that Shoppertainment is expected to grow at a 63% compound annual growth rate (CAGR) for markets included in the report, with Australia, Indonesia, Japan, South Korea, Thailand, and Vietnam driving significant value opportunities in this area.
"The e-commerce experience has always been about bringing the best deals to the right audiences as efficiently as possible. However, consumer purchasing habits are evolving, and people are looking to be delighted online. Nobody wants to be sold to, but everyone will say yes to being entertained," said Sam Singh, Vice President of Global Business Solutions, APAC. "This presents an opportunity for businesses to embrace Shoppertainment: a content-first approach where brands educate and entertain audiences. Shoppertainment combines content and culture and commerce in a seamless way, allowing brands to engage with audiences throughout the purchasing journey without overtly selling. This allows brands to meet both functional and emotional needs, thereby building stronger and longer relationships."
Connecting with a digital but distracted APAC
Research conducted by TikTok and BCG found that online experiences have now reached a saturation point for advertising, with consumers citing key pain points in the path to purchase as follows:
Inertia to make decisions: 26% of consumers want more time to consider purchases and 46% decide to buy on a different day.
Distracted journey with multiple pathways: 89% of consumers research inside and outside the app, 63% need to see content at least 3-4 times, and 85% switch apps while going through the purchasing journey.
High scepticism of branded content: 34% are sceptical about branded content, keeping them from making the purchase.


To further understand consumers' needs, BCG conducted in-depth ethnographic insights and quantitative research, unveiling six consumer demand spaces - intersections of context and consumers' functional and emotional needs, and dividing them into two main groups. These define what consumers desire when it comes to making a purchase, and carry important implications for future brand engagement efforts:
Functional demand spaces: covers approximately 60% of the entire network of buying and selling, where consumers transact out of habit, focusing on existing products and services without considering new options.
Emotional demand spaces: covers approximately 40% of the entire network of buying and selling, where change is happening, and consumers are actively considering new products, and making brand switch choices.

By understanding these demand spaces, brands can capture the attention of new consumers as well as re-engage with existing customers through entertainment-first content that inspires and integrates consumers back into their respective online purchasing pathways.
Putting entertainment at the core of commerce
While consumer sentiment varies from market to market, Shoppertainment is likely to grow more rapidly to represent larger shares of the total e-commerce market.
The study revealed that APAC consumers are expecting brands to focus on entertainment before complementing it with clear product information and intuitive paths to purchase to seamlessly drive consumers from awareness, and desire to conversion.
Fun and entertainment: 81% expect storytelling and educational-first content and 76% are keen on video-first formats. This can be created by influencer and brand collaborations and shown through shoppable TV, livestream broadcasts or even live events online, weaving in comedy to entertain and engage.
Credible and original: 71% find that authenticity is important in making content engaging. Brands can create an authentic brand sentiment, with credible reviews and open and engaging community conversations that inspire the community through product reviews or unboxing videos.
Inspiration and indulgence: 71% expect brands not to force decision-making when engaging consumers. Brands must ensure content is associated with interests and hobbies that align with consumers by targeting good feelings and nostalgic recollections that rekindle excitement while building stories around uplifting and engaging themes.
Trend and community: 65% want to see trusted advice and recommendations on brands online. It is important to include the voices of credible and trusted community experts and facilitate extended conversations between friends and users.


Local brands such as SleepTown have leveraged platforms like TikTok to build brand awareness and audience engagement with story-led ads that helped them to stand out in an increasingly crowded marketplace. In particular, SleepTown's videos, which parodied period dramas to highlight the benefits of their mattresses, kept that top-of-mind during the hectic lead-up to the 11.11 Mega Sales Season, where their videos had garnered over 2.6 million video views, fuelling record-high sales.
"Shoppertainment can provide the sweet spot for brands to reignite consumers' purchasing passions in an authentic and consumer-driven way. Aligning brand aspirations with consumer demand spaces, especially at key moments of truth when consumers are seeking new products and experiences, enables highly immersive online experiences that leave a lasting impression on consumers throughout the path to purchase. Brands can then look forward to carving out a lucrative share of the trillion-dollar Shoppertainment opportunity for growth," said Aparna Bharadwaj, Managing Director and Partner, BCG.
To view the full findings of the report, visit http://www.tiktokshoppertainment.com/