Investment over three years will help more than 120,000 small businesses (SMBs) transition their businesses online and participate in the digital economy
In a new regional survey, SMBs reported increased revenues of nearly 50% by using TikTok to sell their products and services
Across Southeast Asia, more than 325 million people come to TikTok every month; 15 million businesses use the platform [1]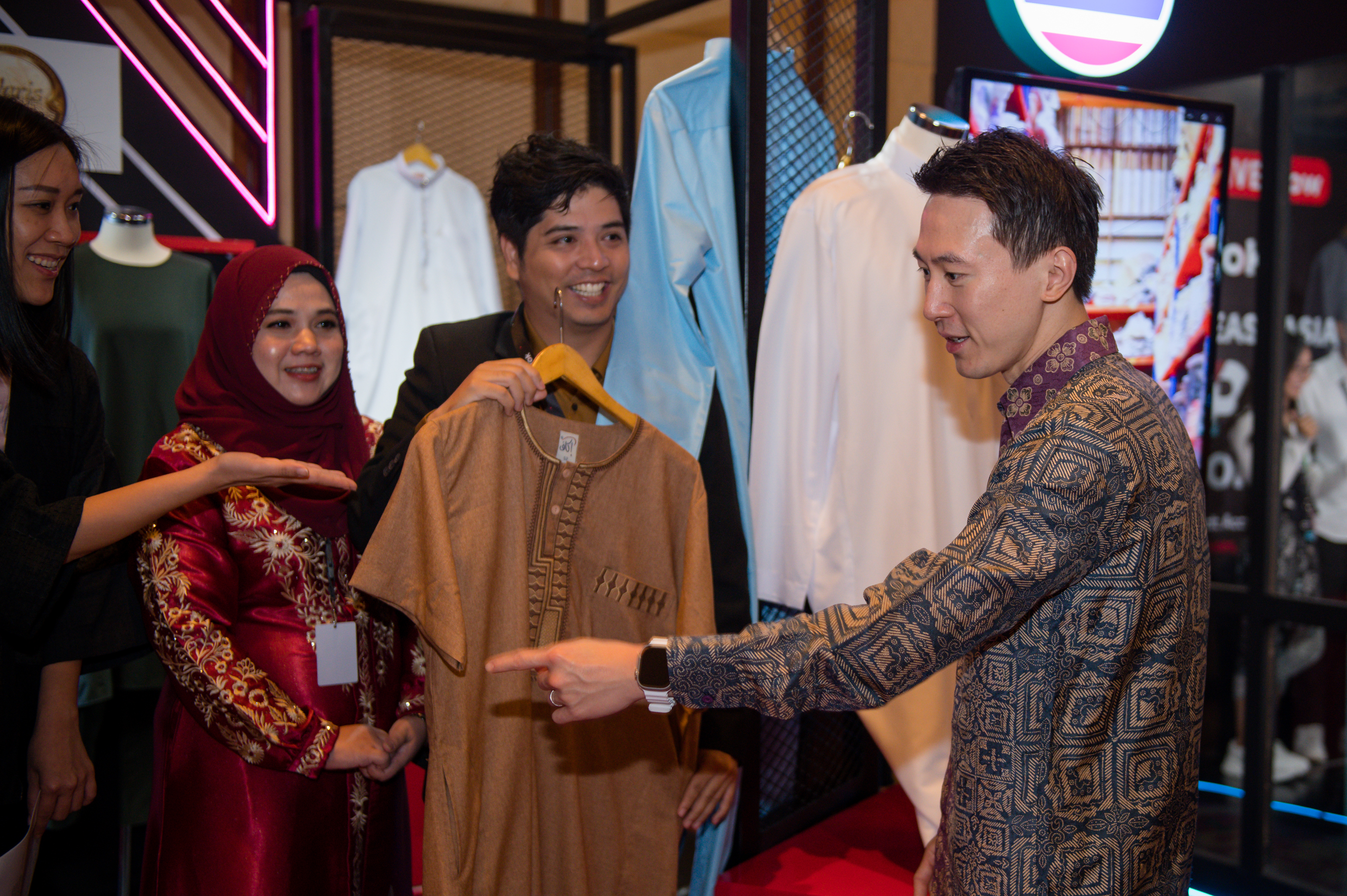 TikTok CEO Shou Chew with Waris Muslim, a business on TikTok
TikTok today announced a multi-million dollar investment aimed at helping more than 120,000 SMBs transition their businesses online and participate in the digital economy. The US$12.2 million investment comprises cash grants, digital skills training and advertising credits for SMBs, including micro businesses, in rural and suburban areas.
This comes as TikTok has become a valuable platform for businesses and creators. According to The TikTok Effect: Accelerating Southeast Asia's Businesses, Education and Community Report [2], SMBs polled increased their revenue by nearly 50% through selling their products and services on TikTok, and close to four in five businesses (79%) transitioned from offline to online marketing channels using the platform. In addition, more than 80% of TikTok creators polled boosted their incomes through avenues such as TikTok LIVE and brand sponsorships.
"Across Southeast Asia, more than 325 million people come to TikTok every month and 15 million businesses use the platform. The role we've played in expanding economic opportunities, education and community-building in this region and around the world is immense. We are excited to see the positive impact TikTok has had and are committed to continuing the work of helping individuals, communities, and businesses grow and thrive," said Shou Chew, Chief Executive Officer, TikTok.
TikTok's commitment to Southeast Asia
Support Local: Unlocking economic opportunitiesOver the next three years, the "Support Local" programme aims to empower micro and small businesses, particularly those in rural areas, who may be new to social commerce. Partnering more than 25 government agencies and non-profit organisations across Southeast Asia, the programme will give businesses the opportunity to reach new digital consumers through cash grants, digital skills training and advertising credits.
In addition, in Indonesia, TikTok will partner the Ministry of Tourism and Creative Economy, Asosiasi Pusat Pengembangan Sumberdaya Wanita (PPSW), Platform Usaha Sosial (PLUS) and Telkom to launch TikTok Jalin Nusantara. This initiative will establish internet connectivity in community hubs across nine rural villages in East Nusa Tenggara and North Sumatra. Besides strengthening the local digital infrastructure, TikTok Jalin Nusantara will offer training programmes in these villages, as well as in five creative hubs in key tourism and creative economy centres and five Telkom IndigoHubs. The programmes will provide the community with digital and financial literacy training, and essential digital skills modules such as content creation, e-commerce, and digital marketing, enabling them to participate in the digital economy.
Broadening access to education and self-improvement
As a platform that provides a window to the world, TikTok enables discovery and learning. The report revealed that nine in ten (90%) respondents who use TikTok to learn, said they gained new skills they would not have otherwise, and three in five (61%) surveyed believed TikTok made online learning more accessible. To support this further, the company will collaborate with social enterprise Kid Kid, the Ministry of Natural Resources and Environment, and Bangkok Metropolitan Administration to raise environmental awareness and action among youth in Thailand. This includes educational workshops and challenges on everyday sustainable lifestyle choices, such as waste segregation and energy consumption. The programme is in line with the company's goal of increasing educational climate content and achieving operational carbon neutrality by 2030.
Building communities for support and development
Beyond on-platform education, TikTok will continue to develop the next generation of entrepreneurs, particularly youth who may not have equal access to economic opportunities. In partnership with ASEAN Foundation, the Social Enterprise Development Programme will provide capacity building, mentorship, facilitation to market, and seed funding of up to US$320,000 to 20 youth-led social enterprises in the region, contributing to UN Sustainable Development Goals in Southeast Asia.

Deepening the local talent pool
With a workforce of close to 8,000 employees across the region, TikTok is also committed to investing in developing local talent. Initiatives such as the regional TikTok Shop Graduate Development Programme, aimed at building talent for the e-commerce industry, and Singapore's TikTok Tech Immersion technical boot camp for tertiary-level students, offer opportunities for young tech talent to thrive.
"In just over six years, we have created new avenues for income generation for both creators and businesses on the platform. We have also introduced e-commerce channels such as TikTok Shop, which allows SMBs to connect with new consumers and grow their businesses," said Teresa Tan, Head of Public Policy, Southeast Asia, TikTok. "Our mission to inspire creativity and bring joy is firmly rooted in our desire to enable discovery, growth, and connections among individuals and communities in Southeast Asia. Today's newly-formed partnerships and initiatives will expand our efforts to empower micro and small businesses who may face limited access to digital resources and opportunities. We are grateful for the support we've received throughout the region and are excited about the future impact we can make together," said Tan.
For more information on "The TikTok Effect: Accelerating Southeast Asia's Businesses, Education and Community" report, visit the website here.


About TikTok
TikTok is the leading destination for short-form mobile video. Our mission is to inspire creativity and bring joy.TikTok's global headquarters are in Los Angeles and Singapore, and its offices include New York, London, Dublin, Paris, Berlin, Dubai, Jakarta, Seoul, and Tokyo.

Footnote
Includes people and businesses from Brunei, Cambodia, Indonesia, Laos, Malaysia, Myanmar, Philippines, Singapore, Thailand and Vietnam. Data as of April 2023.
On behalf of TikTok, Kadence International conducted this survey to explore the impact of TikTok across SEA. It was conducted across nine SEA markets and included more than 3,400 TikTok users and 25 non-profit organisations and ran between August and September 2022. The survey used a mixed methodology of both online surveys and offline interviews.