TikTok celebrates a new era of creative expression with #ItStartsOnTikTok and the impact the TikTok community has and continues to make on culture and society
TikTok invites all Malaysian users to share their TikTok journey with the community and how it has impacted their lives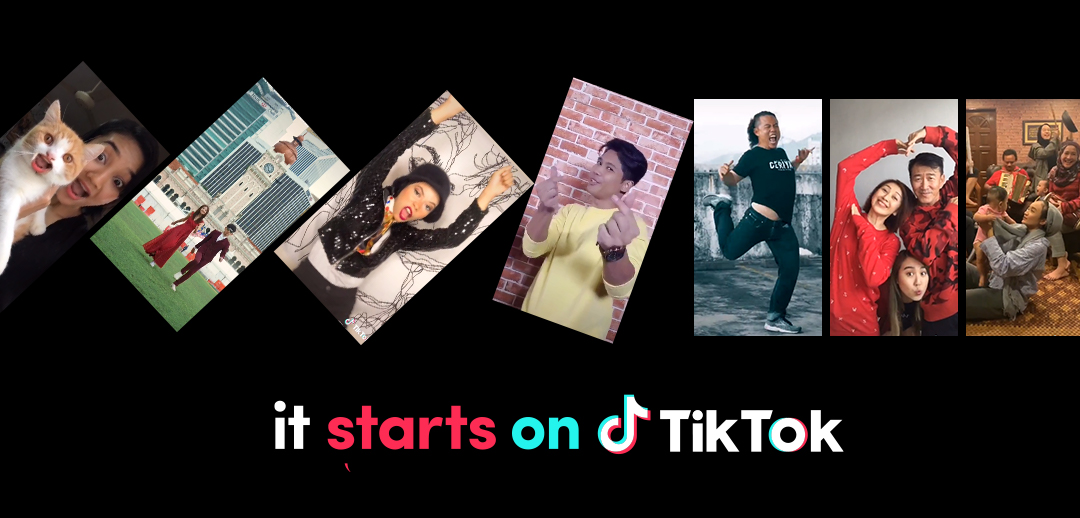 KUALA LUMPUR, MALAYSIA, 15 SEPTEMBER 2020 – TikTok, the short-form video app with a mission to inspire creativity and bring joy, is set to launch its inaugural #ItStartsOnTikTok campaign on 15 September 2020. The campaign celebrates the trends, stories, songs and conversations that started on TikTok and exploded into popularity, delivering cultural and social impact on and off-platform. #ItStartsOnTikTok reinforces TikTok's role as a platform where 'culture' is created by our community, users in Malaysia and throughout the world.
Since its inception, TikTok has grown to become a vibrant, positive and safe platform for creators to let their imagination soar and use their creativity to create powerful content that reaches a worldwide audience. The impact the TikTok community has made on every facet of culture, from arts to food to beauty, fashion, and film, is undeniable. This is represented by our diverse community of creators like Harith Zazman, the singer of the hit song 'Cute' who was discovered on TikTok, the #headdancechallenge started by Malaysian creator Afiq Hakim that became a viral worldwide challenge, and when K-pop superstars BTS launched the #CNSChallenge to promote band member J-Hope's latest hit.
TikTok is a convenient tool to explore and experience new things such as travel with #ExperiencePenang when TikTok partnered with Penang Global Tourism. TikTok highlighted Malaysian culture by celebrating important cultural festivities such as #Raya2020 and Malaysia's Independence Day with #KitaBersama all while staying safe at home. Recently, TikTok launched the #thinkb4youdo campaign to promote online safety, draw greater attention to the dangers of posting harmful content on the platform, and outline ways to combat cyberbullying.
Harith Zazman's 'Cute' that propelled him to stardom
Afiq Hakim's head dance became a worldwide challenge
BTS's #CNSChallenge video which received over 43M views
TikTok and Penang Global Tourism brings you new ways to #ExperiencePenang!
Creators showed how they celebrated #Raya2020 at home this year
Malaysians expressed their love for Malaysia with the #KitaBersama campaign
TikTok's #thinkb4youdo campaign promotes healthy online behaviour
Loh Kai Zhi, Head of Marketing, TikTok Malaysia elaborates, "TikTok is the ultimate destination where entertaining, inspirational, and meaningful trends start; where memorable moments in life are recorded and shared, and where new talents have a chance to be discovered by the community. With #ItStartsOnTikTok, we are inviting all Malaysians to share their TikTok journey with us and how it has changed their lives, as well as encourage others to try and tap on the magic that is TikTok; creating, entertaining, learning, teaching, inspiring, experiencing and so much more!"
Whether it's learning something new, bopping to the latest chart topping hits, joining viral dance trends, filming precious moments shared with family and friends, or finding your own community - #ItStartsOnTikTok! From 15 September onwards, all Malaysian creators are encouraged to share their TikTok journey with the community and how it has changed their life.


So what are you waiting for? Download or open the TikTok app now to learn more about the #ItStartsOnTikTok campaign today!
###
About TikTok
TikTok is the leading destination for short-form mobile video. Our mission is to inspire creativity and bring joy. TikTok has global offices including Los Angeles, New York, London, Paris, Berlin, Dubai, Mumbai, Singapore, Jakarta, Seoul, and Tokyo. www.tiktok.com.