~ Featuring Virat Kohli, Kriti Sanon, Ayushmann Khurrana and Sara Ali Khan, directed by Anurag Basu for TikTok as part of an awareness initiative ~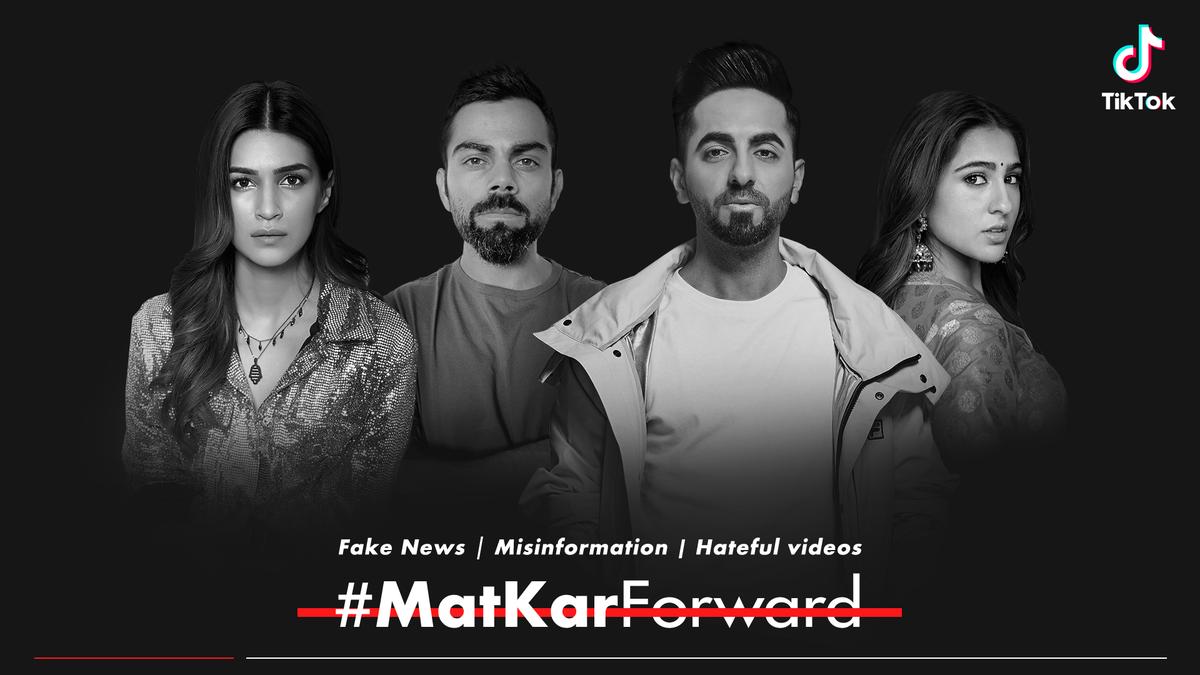 In today's times when misinformation and inaccurate news is rampant, as responsible netizens, we all need to be extremely careful with what we create and share online. Fake news is harmful, makes us ill-informed, erodes trust and impacts communities. TikTok has launched its Public Service Announcement (PSA) titled #MatKarForward to help raise awareness among the digital community around creation and sharing of misinformation.
Directed by Anurag Basu, the PSA features some of the most credible voices in the country including Virat Kohli, Sara Ali Khan, Ayushmann Khurrana and Kriti Sanon who have joined forces with TikTok to lend their support in spreading the #MatKarForward video message, far and wide. Given the deluge of information today, the PSA urges the netizens to verify the details from credible sources before sharing it with others.
Commenting on the initiative, Nikhil Gandhi, India Head, TikTok said, "Spread of misinformation is an industry-wide concern and a shared responsibility. As a leading short-format video platform where users enjoy the freedom of creative expression, we continue to take proactive steps to prioritize the safety and well-being of our communities. #MatKarForward is part of our ongoing initiatives to raise awareness around the spread of misinformation and to maintain a safe and positive environment for our users."
As a platform that brings joy to millions of users, the goal is to develop policies and community tools that make TikTok a safer platform for users. Earlier this year, greater clarity was added to our Community Guidelines in order to maintain a supportive and welcoming environment on TikTok. Most recently, to fight the menace misinformation in times of COVID-19, we introduced a 'Misleading Information' category, along with a COVID-19 sub-category, within the in-app reporting feature. Last year, a similar awareness campaign called #WaitASecToReflect was launched, urging users to pause and think before sharing anything online.
Tackling misinformation is an integral part of TikTok's ongoing effort to foster a welcoming space for users to express creativity and find joyful, meaningful content. Additionally, users too can participate by pledging support to this initiative by sharing videos with a specially created and animated in-app #MatKarForward sticker.
The PSA was shot by the cast and edited by the Director at their respective homes, following the Government of India's social distancing guidelines and COVID-19 norms.
Virat Kohli:"We live in an era where anyone with a smartphone can create and share information. As responsible citizens we must verify facts before sending it to others. #MatKarForward is a step towards encouraging the users to minimize the spread of misinformation on the internet. I support this initiative by TikTok and I am sure that it will be a wake-up call for the people to do their bit and make this world a better place for everyone."
Sara Ali Khan:"I believe sharing of misleading content is as dangerous as creating it. I am proud to be a part of TikTok's #MatKarForward initiative to raise awareness around spreading of misleading misinformation."
Ayushmann Khurrana:"As responsible netizens who are constantly bombarded with information, we should have our guard up at all times given the amount of fake news/information that is being directed at us. We should double check before hitting forward because we all have the power to put a stop to malicious information that intends to tear down our society. TikTok's #MatKarForward is an effort to discourage internet users across the country so that they think twice before sharing any and every piece of information."
Kriti Sanon:"No matter how interesting a forwarded controversial video seems, #MatKarForward urges content platform users to always check for its authenticity before believing it, let alone sharing such a piece of content. I hope TikTok's effort in this direction will urge the users to give an extra thought before sharing and creating misinformation."
Anurag Basu:"Today, we have a bigger responsibility than ever before to prevent the spread of misinformation. We all have the power to share the right information by evaluating the information we have at hand. I am glad to collaborate with TikTok and other inspirational voices on this project to further contribute to the efforts in reducing misinformation. I hope this is an awakening for everyone of how our actions can affect others today and every day."