TikTok reveals that it has removed over six million videos for violating community guidelines since July 2018
TikTok introduces its age gate feature for new users in the market to prevent underage users from accessing the platform
TikTok recently launched an in-app notification with a public service announcement (PSA) reminding Indian users to behave responsibly during this election season
India, 12th April 2019: TikTok, the world's leading short video platform, as part of its commitment towards providing a positive in-app environment for its users in India, revealed that it has removed over six million videos* that have violated its Community Guidelines.
This is part of TikTok's ongoing efforts to make its millions of users feel safe and comfortable within the community by empowering them with the right tools and resources.
TikTok has also introduced its age-gate feature for its new users, which will only allow users age 13 years and above to login and create an account on TikTok, further adding to the safety mechanisms in place to ensure that underage users do not use the platform.
"As a global community, safety has been one of TikTok's key priorities. The launch of our age-gate feature in addition to our existing takedown of content that violates our Community Guidelines reinforce our ongoing commitment to ensure that our platform remains a safe and positive space for our Indian users and we discharge our obligations under the Intermediary Guidelines of India, in a meaningful manner. We are looking forward to introducing more relevant features and initiatives to help Indian users be safe and continue to enhance their experience with TikTok," said Helena Lersch, Director, Global Public Policy, TikTok.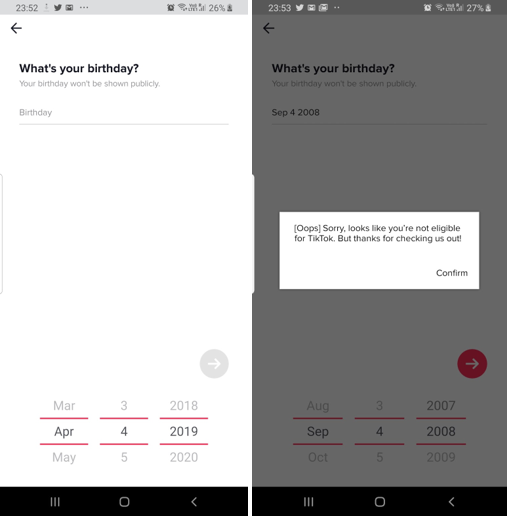 TikTok introduces its age gate feature for new users in the market to prevent underage users from accessing the platform
TikTok's continued safety efforts in India
These announcements closely follow the launch of TikTok's Safety Center and resource pages tackling Anti-Bullying in ten major local languages - Hindi, Gujarati, Marathi, Bengali, Punjabi, Telugu, Tamil, Kannada, Malayalam and Oriya.
Additionally, TikTok recently added an advisory for the upcoming General Elections in English and 10 major local languages on the Safety Center page which links to the website of the Election Commission of India (ECI) and the cVIGIL app.
To further educate and encourage our users to behave responsibly on our platform during this election season, TikTok recently launched an in-app notification which contains a public service announcement (PSA) reminding users to use the platform responsibly in conformity with the guidelines of the ECI and also linking out to the ECI's website.
TikTok's protective measures in place, which combines content moderation technology with a robust human moderation team, has enabled the removal of inappropriate content and termination of users' accounts that violates its Terms of Service, Privacy Policy and Community Policies. This team, which is based in over 20 countries and regions including India, covers major Indian languages, including Hindi, Tamil, Telugu, Bengali, Gujarati and more.
The launch of the localized Safety Center empowers the users to keep their accounts safe and learn how to choose to keep their accounts private and use other features in their own language. The users can even enable the 'Digital Wellbeing' feature from within the app, which limits the number of screen hours along with the tools to report, flag, block and delete comments and a Restricted Mode further enabling users to filter content.
In continuation with its commitment to a positive environment, TikTok recently also launched its comments filter feature to help users prevent predatory, hateful, and obscene comments from appearing in response to their videos on the platform. The feature empowers users to self-define 30 keywords in English and Hindi that they would like to automatically filter out from their comment section.
Kicking off 2019 on a positive note, on Safer Internet Day TikTok launched its safety initiative titled #SafeHumSafeInternet in partnership with the Cyber Peace Foundation to educate users on creating a safer online experience. The safety campaign which was part of the global #BetterMeBetterInternet campaign played an important role in raising awareness and addressing the online safety of TikTok users. As part of the campaign TikTok encouraged users to take part in the #SafeHumSafeInternet challenge and test their online safety IQ through the in-app safety quiz. The quiz was taken by over 4.7 million TikTok users!
TikTok, is a platform that celebrates trends and embraces diversity. It has fast become the preferred platform for expression, given its lowered boundaries for sharing, creating, discovering content — all made easy on the mobile.
As it fosters a global community that thrives on creativity and expression, TikTok is committed to helping make its millions of users feel safe and comfortable within the community, which is why it is continuously enhancing and updating its policies like community guidelines, Anti-Bullying resource page and the age-gating feature to ensure a positive and safe in-app environment for its users.
For more information about TikTok's safety efforts, please visit: https://www.TikTok.com/safety/.
###
Notes to Editors
The timeframe for the content takedown is from July 2018 to date.
About TikTok
TikTok is the world's leading destination for short-form mobile videos. Our mission is to capture and present the world's creativity, knowledge and moments that matter in everyday life. TikTok empowers everyone to be a creator directly from their smartphones and is committed to building a community by encouraging users to share their passion and creative expression through their videos. TikTok has offices in Beijing, Berlin, Jakarta, London, Los Angeles, Moscow, Mumbai, Sao Paulo, Seoul, Shanghai, Singapore, and Tokyo. In early 2018, TikTok was one of the most downloaded apps in the world. TikTok is available worldwide for iOS and Android. Visit www.tiktok.com.