By Joshua Goodman, Director of Product, Trust and Safety, TikTok
TikTok's mission is to inspire creativity and bring joy. At the heart of our mission is a commitment to inclusivity, because users need to feel safe in order to feel inspired to create.
As part of our work to make TikTok more accessible, we're introducing a series of features which protect people from photosensitive content. Over recent months, our team met with epilepsy experts who shared feedback on how we can improve our platform. These conversations have informed changes to the platform such as a new feature, which launched a few months ago, that warns creators when they produce videos with effects that could trigger photosensitive epilepsy. Today, we're pleased to introduce another important accessibility feature to protect people from potentially dangerous content. With this new feature, viewers who come across a video which may trigger a seizure will receive a notification inviting them to "Skip All" similar videos.
Epilepsy is a serious condition, characterised by recurring seizures, affecting around 50 million people globally, including six million people in Europe. According to Epilepsy Society UK over 600,000 people in the UK have epilepsy, around 3% of which have photosensitive epilepsy. In Ireland, nearly 40,000 people have epilepsy according to Epilepsy Ireland. Flashing lights or contrasting light and dark patterns can cause some people with epilepsy to have seizures. The initial accessibility changes we're making to our platform are designed to make TikTok friendlier and increase TikTok safety for all, especially those who live with photosensitive epilepsy.
TikTok is working with a number of leading epilepsy organisations across the world, including the Epilepsy Society in the UK and Epilepsy Ireland, to spread the word about the new feature and bring awareness to epilepsy in general.
Our team is committed to serving the needs of everyone in our global community and our long-term goal is to become the most inclusive and accessible online platform. We're committed to rolling out more product features to support this goal, and look forward to sharing them with you in the months ahead.
Introducing the photosensitivity feature is part of a number of user safety initiatives TikTok have undertaken this year. This includes proposing a global coalition to protect against harmful content and providing the community with greater clarity on why some content is removed.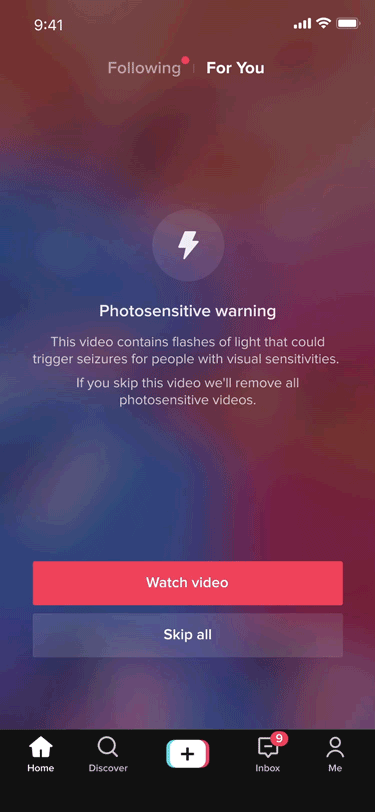 From our UK & Ireland partners:
Epilepsy Society
"Social media can be a lifeline for many people with epilepsy, allowing them to connect with others with the condition from around the world. A downside has increasingly been the number of flashing images and photosensitive content shared either intentionally or maliciously, which could trigger a seizure in those with photosensitive epilepsy. We are delighted that TikTok has recognised this problem and is introducing important new features that will make its platform safer and more accessible for those with epilepsy. We hope that other platforms will follow TikTok's lead in ensuring greater inclusivity." - Nicola Swanborough, Acting Head of External Affairs, Epilepsy Society (UK)
Epilepsy Ireland
"At Epilepsy Ireland, our vision is to achieve a society where no person's life is limited by epilepsy. With this photosensitive feature launch, TikTok has taken an important first step towards making social media video content safer and more accessible for millions across the world, including upto 2,000 people in Ireland who live with photosensitive epilepsy.
While this is an extremely welcome initiatitve, many people are not aware that they have this type of epilepsy until they are exposed to a triggering event, so the risks have not been fully eliminated. We look forward to working with TikTok in taking further steps to raise awareness of the potential dangers of flashing video effects.
We encourage users of TikTok to use caution when adding effects to videos that may unintentionally cause harm to other users who may have undiagnosed photosensitive epilepsy." - Peter Murphy, CEO, Epilepsy Ireland