Ever wondered how Lewis Capaldi became the King of TikTok 🤴? What colour will Anne Marie dye her hair next 👩🏻‍🎤? And how does Ella Henderson reach those epic notes 🎤?
If you want answers then join us for a week of TikTok LIVEs with some of the hottest artists and musical celebrities on TikTok! We've got a scorcher of a schedule for you that's bound to make lockdown a little #BrighterInside.
This week we're welcoming Lewis Capaldi, Ella Henderson and Anne Marie to our very own TikTok tent for a festival of laughs and LIVES. Plus, it's all in aid of some worthy causes!
Each artist has chosen either the British Red Cross or Help Musicians to support for their TikTok LIVE, through our new Donation Stickers feature. So tune in to rock along to their latest tracks, hear from the artists themselves about what makes them tick and donate to these important appeals.
Check out THE ONLY schedule you need this week!

@lewiscapaldi's TikTok has become the stuff of legend, find out he became King on Wednesday at 6pm
@ellahendersonsocial plays samples of her top tracks on piano, and spills stories about her music on Friday at 6pm
Ella said"I'm so excited to be joining TikTok for a live stream! It's kept me so entertained and sane during lockdown!! It's been so fun dressing up, and making my own videos and having a laugh to keep me distracted. I can't wait to have a chat with you all about my songwriting process, what my music is all about and answer any burning questions you may have!!"
@annemarieiam will share her skincare routine and do a makeup tutorial on Sunday at 7pm!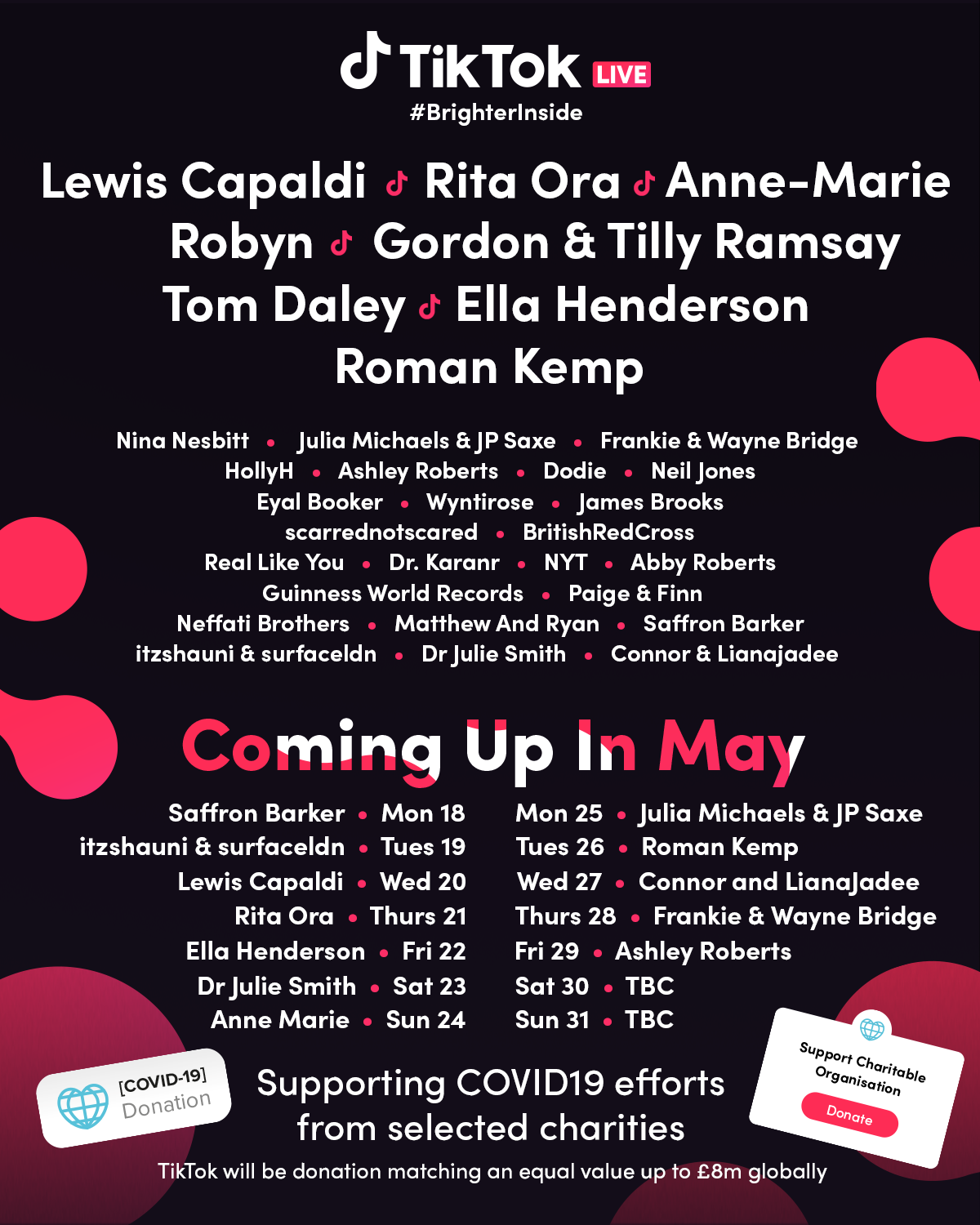 To keep you going until then, here's our favourite TikTok from this week's music stars:
Lewis Capaldi singing 'Before You Go' to a sandwich
Anne Marie singing her track 'Her' in sign language
Ella Henderson showing us her best Hocus Pocus impression 😂
New toTikTok and fancy seeing more? Getting involved couldn't be easier, simply download the app for free via the Apple App Store, Google Play or Amazon.