Today, we're kicking off TikTok World, marking our second global product summit for brands to connect, co-create, and thrive with the TikTok community. Over the past few years, we've seen communities on TikTok push the boundaries of the entertainment and marketing industries and what it means to engage with an audience. Brands have become a core part of this entertainment experience by embracing storytelling, community, and creativity.
As we build for the next era of advertising, we're excited to unveil new solutions and research at this year's TikTok World that give brands and marketers the tools to reimagine engagement with the TikTok community and deliver real impact for businesses of all sizes.
Like other TikTok features, our ad products are designed to enhance the experience of the TikTok community, inspire creativity, and bring joy. Through studies, we've learned people spend more time viewing ads on TikTok compared to ads on other platforms.
TikTok is now the fastest-growing channel for discovery with 15% of product discoveries across media channels, emails, and word of mouth (3).
We're here to build ad solutions that get brands discovered in a fun and community-first way, make ad campaigns more cost-efficient and effective, and meet customers wherever they are throughout their purchase journey. Here are the highlights from TikTok World.
Supercharging brand growth with authentic creativity only found on TikTok
On TikTok, creativity delivers performance. Through a study with Hotspex, we learned 71% of the TikTok community says that it's a creator's authenticity that motivates them to buy from a brand (5). Our recent study with Kantar shows that working with creators to produce TikTok creatives will have a higher chance of gaining a significant brand lift and doubling engagement rate and watch time (6). As we continue working with our community of creators, partners, and users, we're committed to building solutions that bring even more creators into the ecosystem, making it easier for brands and creators to work together.
As the official platform for branded content collaborations on TikTok, TikTok Creator Marketplace (TTCM) connects brands and agencies with over 800,000 qualified creators around the world. We're now introducing several updates to TTCM that will enable brands to find creators more efficiently, activate creators at scale, and measure and optimize campaign performance.
With improved search capability and integrations of a brand's campaign insights, TTCM now provides better creator-matching results with precise and granular keyword searches.
TTCM Match, a new recommendation functionality, can automatically generate lists of creators based on a brand's brief in under 10 seconds.
Open Application Campaigns, available by invite-only in the U.S., U.K., Canada, and Australia , allows brands to post details of an upcoming campaign on the TTCM platform for creators to proactively apply.
Invite Links allow any brand or any agency to work with ANY* creator, even those not enrolled into TTCM. With Invite Links, advertisers gain access to key TTCM features like real-time campaign reporting and performance tools (Anchors) without going through every collaboration step
Gaming Anchor enables creators working with mobile gaming companies to add iOS or Android app store links to download the game to their content.
Comment Anchor allows creators to add and pin a clickable link at the top of comments for viewers to learn more about the product or service in the video.
Enhanced post-campaign reporting: TTCM offers new branded content metrics including audience overlap, audience interest distribution, Spark Ads campaign dates, and more, that help advertisers better analyze campaign performance and video audiences.
*creators must be 18+ to participate in campaigns on TTCM
As part of our TikTok for Developers program, we've also introduced Profile Kit, which allows users to integrate their TikTok accounts to display their content on third-party apps. We've partnered with Linktree on the first Profile Kit integration, empowering creators to showcase their TikTok content directly on their Linktree page, with additional options to engage and encourage audiences to navigate to their TikTok profile.
Engage your audience with a new campaign objective: Focused View
What truly sets TikTok apart is the high level of engagement and attention. TikTok is an immersive, full-screen, and sound-on experience, where people give their undivided attention. Not only do they spend more time watching TikTok every day, but they are also more engaged on TikTok than any other platform. 46% of users engage with content on TikTok without distractions or multi-screening (7). Engagement is TikTok's superpower and an opportunity for brands.
To help brands stay focused and drive impact, we're introducing Focused View. Focused View is the next generation of our current Video View campaign objective on TikTok Ads Manager. With Focused View, brands only pay when users have voluntarily watched an ad for at least 6 seconds or when they interacted with the ad within the first 6 seconds (whichever comes first). This means that ads are shown to users who are truly paying attention and voluntarily engaging with the brand.
Focused View has delivered amazing results during the testing stage with our global brand partners. In an ever-changing digital marketing world where returns on ad spend are increasingly valued, Focused View offers a way for brands to engage with their audiences more effectively and cost-efficiently.
Closing the deal with solutions tailored for your audiences
Communities are the new demographics on TikTok. People come to TikTok every day to be entertained and inspired by diverse communities, along the way they also participate, create, and share. This is how culture is created, moments turn into trends, and industry paths get reshaped. #TikTokMadeMeBuyIt now has over 25 billion views. The top 100 gaming-related hashtags on TikTok receive more than 40 billion video views per month (8).
With more and more industry marketers turning to TikTok, we're committed to continuously innovating and introducing solutions designed specifically for brands in different industries to best showcase products and services and convert customers.
We've recently launched Shopping Ads. A smart, simplified solution that maximizes the potential for sellers' product catalogs, supercharges e-commerce campaigns, and helps brands connect with communities on TikTok and meet shoppers wherever they are throughout the purchase journey.
Shopping Ads makes it easier to convert demand into sales, and it comes with a new "Product Sales" objective in TikTok Ads Manager, so brands can do all of the planning and buying for e-commerce campaigns in one place.
Shopping Ads provides three engaging ad formats: Video Shopping Ads, Catalog Listing Ads, and LIVE Shopping Ads, which maximize the potential for merchant's catalog and extend campaign reach beyond the TikTok For You feed.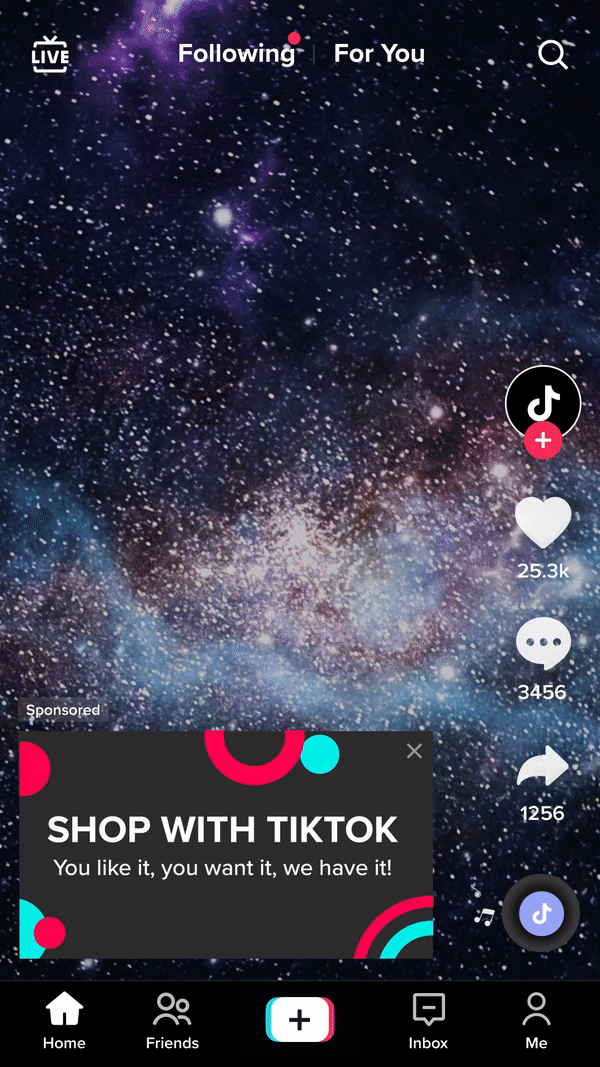 Building for the future
TikTok is building for the future of entertainment with responsible innovation at the heart of it all - where discovery, community, and culture create unique opportunities for creators and brands to drive meaningful impact. TikTok is a place where businesses of all sizes can connect with audiences, grow their customer base, and drive revenue. We are excited to see how brands continue to connect and create more cultural moments with the TikTok community using our diverse set of advertising tools. See you at our next TikTok World event, possibly in your city!
Check out deep dive on advertising product demos, additional product details, and case studies here. Keynotes and sessions are available on October 19th.
Index:
TikTok Marketing Science Global Community and Self-Expression Study (US Results) 2021 conducted by Flamingo
TikTok Marketing Science US Brand Building Study 2022 conducted by DIRT
TikTok Marketing Science Post-Purchase Analysis conducted by Fairing, 2022
TikTok Marketing Science, CPG Meta-Analyses+ Closed Beta, US, Conducted by NCSolutions, 2021-2022
TikTok Marketing Sciences Global Creators Like Me Study, 2021, conducted by Hotspex
TikTok Marketing Science Creative Coding Analysis based on 3,500 TikTok ads that ran from 1/1/2021 - 10/1/2021 representing all major verticals, conducted by Kantar, 2022
TikTok Marketing Science Global Time Well Spent 2021 conducted by Kantar
TikTok Internal Data, US, May 2019 – Feb 2022, based on top 100 gaming related hashtags
TikTok Marketing Science US Entertainment Study 2021 via Suzy, Base: US TikTok MAUs 18+
TikTok Marketing Science US, TikTok Made Me Watch It Survey via Suzy, July 2021. Base: US TikTok MAUs 18+