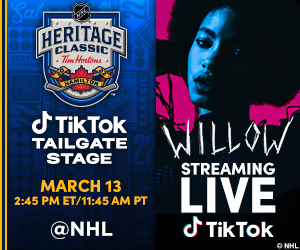 Last week, we announced a partnership with the National Hockey League (NHL) and the National Hockey League Players' Association (NHLPA) to deliver original content and unique experiences to TikTok's global community. This included the introduction of the TikTok Tailgate Stage at the 2022 Navy Federal Credit Union NHL Stadium Series on Feb. 26 in Nashville, Tennessee featuring a performance by "Fancy Like" hitmaker Walker Hayes. Today, we are excited to share that superstar pop-punk songstress and TikTok heavy hitter Willow will hit the TikTok Tailgate Stage as the featured performer for the 2022 Tim Hortons NHL Heritage Classic™ outdoor game between the Toronto Maple Leafs and Buffalo Sabres on Sunday, March 13 at Tim Hortons Field in Hamilton, Ontario, Canada.
Pop-punk phenom Willow continues to make waves on and off TikTok. After shaking things up with her pivot from R&B to power-chord laden rock, and sparking the creation of over 1M videos on TikTok with her track "Meet Me At Our Spot," Willow is bringing her emo magnetism to the NHL.
On the heels of an explosive 2021 that saw the release of her album, lately I feel EVERYTHING, which featured heavy hitters such as Travis Barker and Avril Lavigne, Willow is taking the world and TikTok by storm. The album reached Top 5 on Billboard's Alternative Albums chart and has amassed nearly 400 million global streams to date. lately I feel EVERYTHING was also featured in several end-of-year "best of" lists, including NPR and Complex's "Best Albums of 2021." A clear fan favorite on TikTok, Willow's track with Machine Gun Kelly, "emo girl" sent over 100K creators running for their eyeliner and legwarmers, while "t r a n s p a r e n t s o u l" became the soundtrack for over 300K videos.
Tune in to see Willow's exhilarating performance, which will be exclusively live streamed on the NHL TikTok account on Mar. 13 at 3pm ET/12pm PT for music and hockey fans globally.