Music is a part of our creative DNA at TikTok - from catching a song on the verge of breaking to creating a 24/7 TikTok Radio channel on SiriusXM - TikTok is a global platform redefining entertainment and powering music discovery today while helping artists reach new communities and audiences.
We're always looking for more ways to support artists both on and off the platform while also fostering opportunities for fans to connect with favourite artists, or discover the next rising star. That's why we're partnering with Montreal-based festival OSHEAGA to livestream the three-day Get Together event to our global community.
As the exclusive video streaming partner, TikTok will be exclusively streaming all of the festival's performances via OSHEAGA TikTok profile, @osheaga_festival, for free! Taking place from Oct. 1-3, the TikTok community will be able to enjoy the all-star, all Canadian line-up at home or on the go, including performances by Charlotte Cardin, Jessia, DVSN, Jessie Reyez and Faouzia.
With festival opener Magi Merlin kicking things off at 3pm EST on Friday, Oct. 1 and Half Moon Run closing things out at 10:35pm EST on Sunday, Oct. 3, viewers will be able to enjoy 30 free, LIVE performances from both emerging and established artists, seamlessly alternating between the two stages set up at Parc Jean Drapeau.
Sets will be aired each day globally on TikTok between 3pm-11pm EST, with up to 11 artists performing per day. Not only does this event represent a massive step forward for the live music industry that has persevered through the pandemic, but it's a definitive leap for TikTok's LIVE music content. Gone are the days where geography determined your festival attendance - TikTok is giving music fans access to global, world-class events right in their homes, while providing a front-stage experience.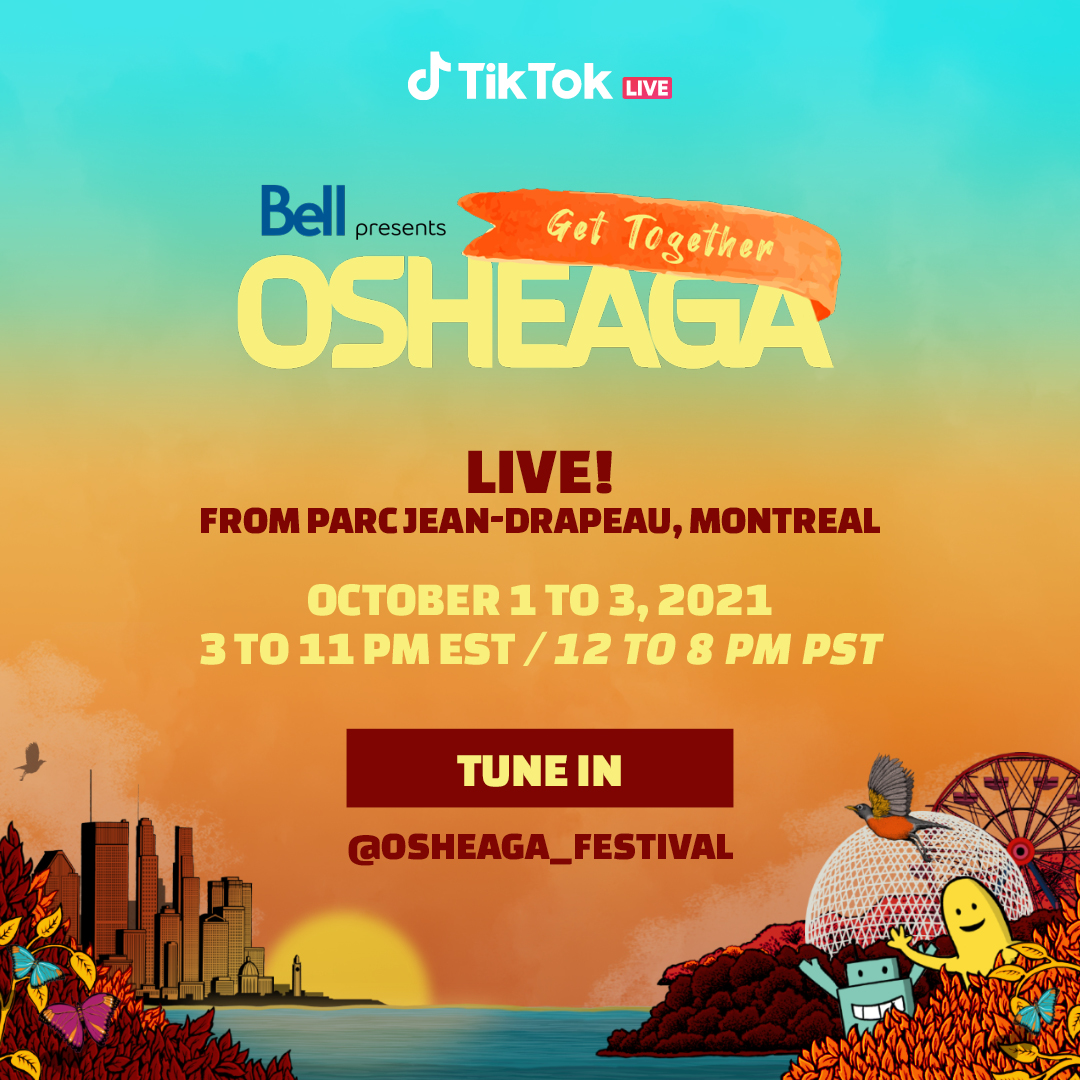 For more information, to purchase tickets or to view the full schedule, please visit osheaga.com. Follow @TikTokMusic for the latest on charting talent and rising trends.
** OSHEAGA requires all in-person attendees to follow local COVID-19 health & safety guidelines, and requires mandatory vaccine passports.