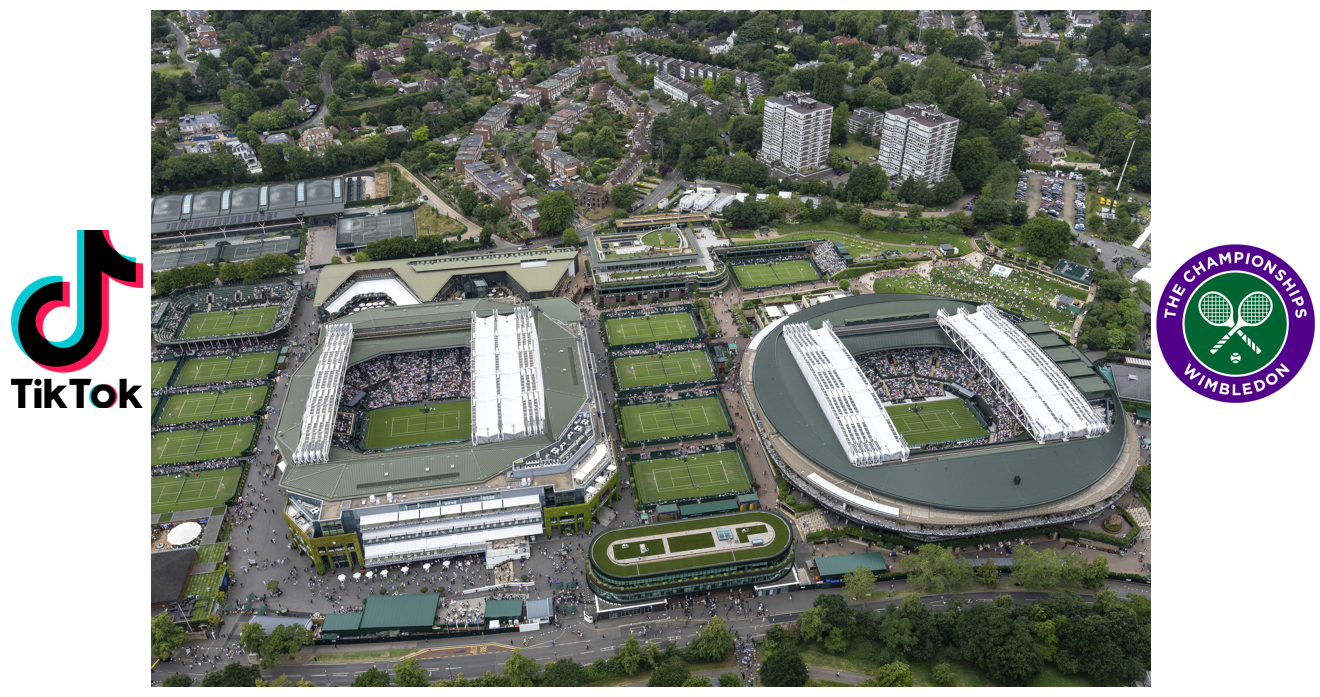 From incredible serves and epic rallies to exhilarating tie-breaks, TikTok's collaboration with The Championships, Wimbledon (@wimbledon) enters its second year.
Throughout this year's event (July 3-16), the official @wimbledon account will feature exciting new content from the court, bringing our community behind the scenes and closer to the action of one of the world's most prestigious tennis events. Fans can also search keywords like "Wimbledon" on TikTok and get access to the Wimbledon Hub, featuring the newest content from Wimbledon and the players - all in one place.
For the first time, TikTok and Wimbledon will be partnering to launch an exciting competition in search of the next generation of tennis commentators. Throughout the fortnight, fans will be able to Duet select videos from the official @wimbledon account to showcase their best commentary skills, using the hashtag #GameSetDuet. The creator with the best commentary will win tickets to either the Gentlemen's or Ladies' Singles Final in 2024.
Judged by Wimbledon, the competition launches on Monday, July 3 and will be open until the tournament ends on Sunday, July 16. The winner will be announced the day after the Final. Fans can find out more about the competition here.
Throughout the event, the @wimbledon account will also share content from some of the best matches from previous years, including:
Steffi Graf vs Venus Williams (1999)
Roger Federer vs Pete Sampras (2001)
Serena Williams vs Heather Watson (2015)
Venus Williams vs Coco Gauff (2019)
Nick Kyrgios vs Stefanos Tsitsipas (2022)
Djokovic vs Kyrgios and Rybakina vs Jabeur (Last year's singles finals)
Harish Sarma, Global Head of Sports at TikTok, said: "Wimbledon represents one of the Grand Slam pillars in tennis with its iconic grass courts and famed hospitality. We are thrilled to be partnering to bring sports fans around the world closer to the action throughout the tournament. With the launch of our new fan competition, we're excited to give our passionate sports community the opportunity to engage with Wimbledon content in creative ways and ultimately take the fan experience to the next level on TikTok."
William Giles, Wimbledon's Content Lead, said: "We are delighted to be teaming up with TikTok for another year. The platform offers a unique opportunity to bring Wimbledon to new audiences in creative and engaging ways, and given the success of our collaboration thus far, we are excited to see what 2023 holds for us on TikTok." From behind-the-scenes moments to game highlights to educational videos about the sport, tennis content continues to thrive on TikTok, with over 17 billion views on #tennis to date. With more than 1.7 million followers on the @wimbledon account and over 1.5 billion views on #wimbledon, this legendary event is reaching a whole new set of fans on TikTok.