Super Bowl celebrations might look a little different this year, but we're still kicking off gameday in style. The NFL has embraced the TikTok community, and throughout the 2020 NFL season the league has provided unique access and behind-the-scenes moments to fans rooting for their favorite teams and players from home. We want to keep fans connected as they get hyped for the Big Game, so this year we're bringing the excitement of Super Bowl LV to the TikTok community.
Join the TikTok Tailgate, the Ultimate Super Bowl LV Pregame Experience
We're teaming up with the NFL for an unforgettable pregame celebration that delivers everything fans come together to enjoy on Super Bowl Sunday: good food, great music, and football. The first-ever TikTok Tailgate will be a two-hour, virtual pregame experience exclusively for the TikTok community. Starting at 2:30PM ET/11:30AM PT on February 7, fans watching from home in the U.S. and Canada can tune into @NFL on TikTok to catch tailgate cooking tutorials, interviews with creators and special NFL guests, a look back at the best Mic'd Up moments and TikToks from the 2020 NFL season, LIVE musical performances, and more.
Hosted by Steve Harvey (@steveharvey) and MJ Acosta (@mjacostatv), the TikTok community can expect appearances from Rebel Wilson (@rebelwilsontiktok), Adam Devine, Kane Brown (@kanebrown), Ajani Huff (@ajani.huff), Dave Jorgenson (@washingtonpost), "TikTok's most popular QB" Trace McSorley (@tracemcsorley), and more as they discuss their favourite tailgate food, who they think will win Super Bowl LV, and what the perfect touchdown celebration looks like. TikTok foodies and creators including our very own Canadian celebrity chef @mattymatheson along with @chefcuso, @goodeatswithtati, and @acooknamedmatt will also share their best gameday recipes so fans can recreate the tailgate dishes they've been craving.
The TikTok Tailgate will culminate in a LIVE concert from Grammy-nominated artist Miley Cyrus, who will also be performing in front of 7,500 vaccinated health care heroes the NFL invited to attend Super Bowl LV in Tampa starting at 3:30PM ET/12:30PM PT. We can't think of a better way to start off gameday.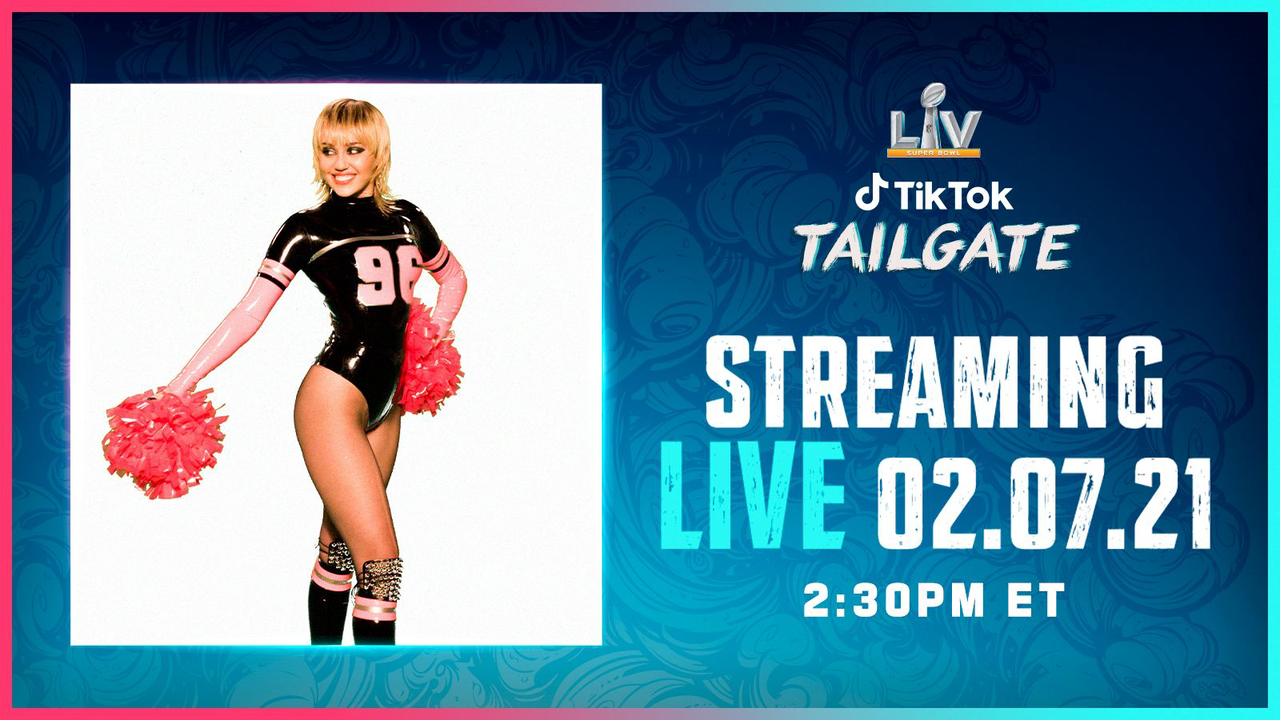 Kick Off Super Bowl LV Celebrations with these #Hashtags
#TikTokTailgate - The Super Bowl kicks off on Sunday, but our party starts today. Whether they're playing corn hole or cooking up a few burgers, fans are invited to show off their #TikTokTailgate.
#SuperBowlLV - We're encouraging fans to pull on a jersey, settle in for the game, and show the TikTok community how they're celebrating #SuperBowlLV.
Check Out Our Game Day Prediction Creative Effect
Fans can try out our Game Day Prediction Creative Effect to find out whether they'll be set for a trophy or overloading on snacks. The effect will go live on Friday, February 5, giving fans plenty of time to prepare for the Big Game (and their touchdown celebration).
We're excited to start Super Bowl LV off right and celebrate all the moments that make this time of year so special, even when we're apart. To catch the TikTok Tailgate, tune into @NFL on TikTok LIVE on Sunday, February 7 starting at 2:30pm ET.