When we kicked off our Pride 2021 celebration, we put out a global rallying cry: Free to be. The freedom to be you means living life on your own terms, without fear of judgment and harassment. It also means finding the support and community you need to live your life authentically. Most importantly, it means feeling empowered to share your true self with the world, #ForYourPride.
As a global entertainment platform, we've been so inspired to see how the LGBTQ+ community and allies have rallied together in Canada and the rest of the world. And the celebrations aren't over—far from it! On June 24 at 12pm ET/9 amPT, we hope you'll join us for the first-ever global TikTok Pride Finale, a TikTok LIVE event.
Join artists, creators and the TikTok community for 12 hours of LIVE programming from around the world—featuring musical performances, makeup tutorials, Q&As, and more.
Kicking off the event at 12pm ET will be GRAMMY-nominated singer-songwriter Kesha, an LGBTQ+ advocate and pop superstar who has earned 10 Top Ten singles, over a billion views on YouTube, 2 number one albums, and 4 number one songs at top 40 radio. And don't miss out when she returns at 4:30pm ET to perform three of her hit songs.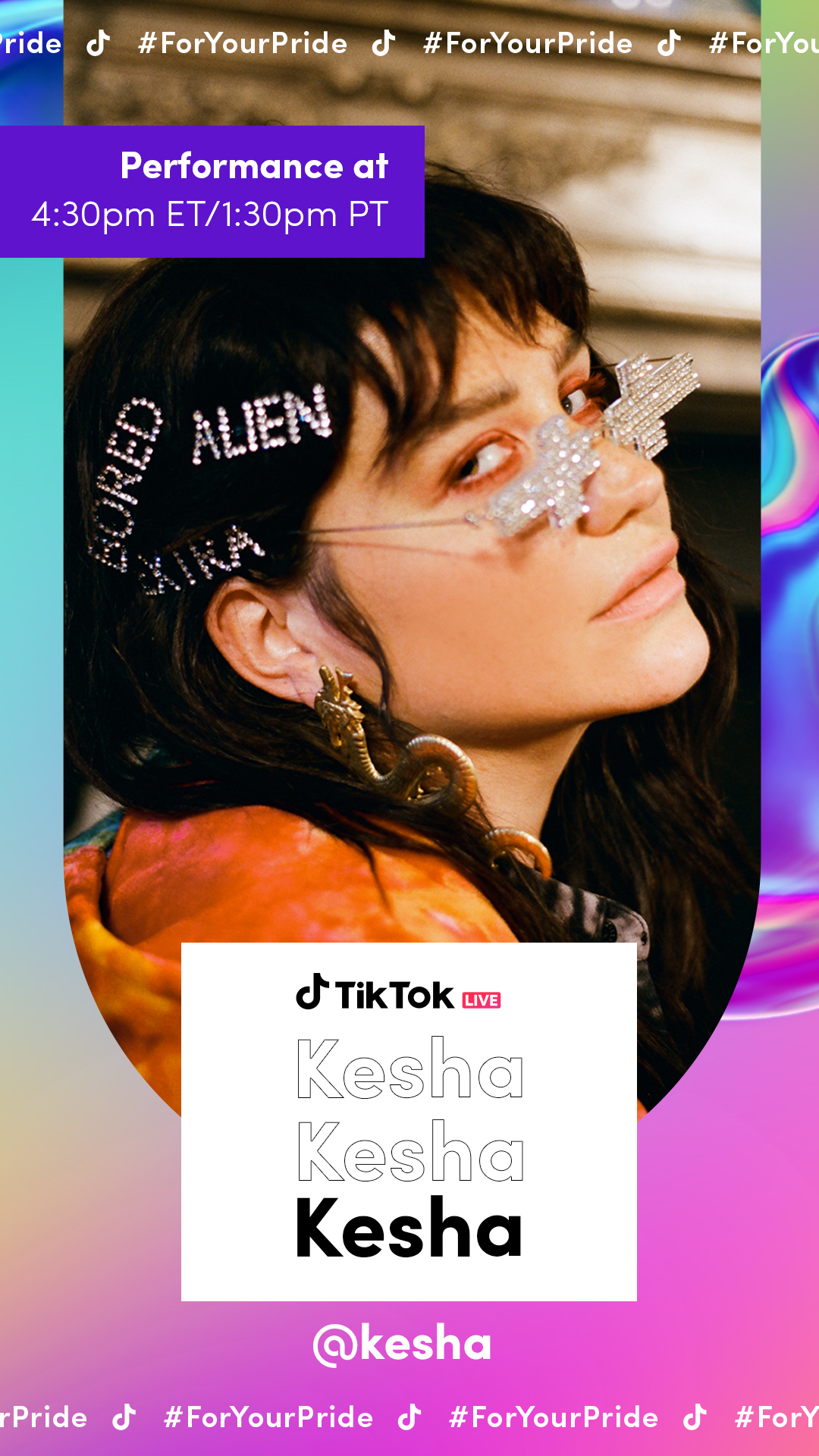 "Advocating for the rights of the LGBTQ+ community is part of my artistic and moral foundation," said Kesha. "All people need to feel safe and be accepted for exactly who they are, love who they love, dress in what makes them feel like their truest selves, and I can't wait for the day that this isn't even a conversation that needs to be had. I'm excited to be part of the TikTok Pride finale. We have a long way to go in the fight for equality but as always I'm so excited to celebrate Pride!"
We'll also feature some of our LGBTQ+ TikTok Trailblazers and creators, including queer educators AsapSCIENCE (@asapscience) and fashion icon Tika the Iggy (@tikatheiggy). Stay tuned for additional musical performances from artists including Tinashe, a vocal supporter of the LGBTQ+ community.
Although Pride Month 2021 may be coming to an end, we will continue working hard to provide a safe, welcoming and supportive environment for the entire LGBTQ+ community. With almost 120 billion global views and counting, the #lgbt hashtag on TikTok is one of several hashtags where you can find inspiration, support, and the freedom to be truly you.
Discover the many ways our global community brings their creativity to life by celebrating, #ForYourPride.
We're proud to stand in solidarity with this incredible community not just during Pride Month, but every day. Be sure to tune in for the LIVE finale on June 24 at 12pm ET/9am PT / only on @TikTok! ❤️🌈
New to TikTok? Find out more and simply download the app for free via the Apple App Store, Google Play or Amazon.