TikTok Canada acknowledges and celebrates Indigenous Peoples' traditional and contemporary ties to their lands, and we are grateful to share this space. We thank Indigenous creators for being a part of the TikTok community, and for trusting our platform as a space to share your stories, your knowledge, your culture, and your joy.
June marks National Indigenous History Month (NIHM) - the beginning of which was marked by a somber tone following the discovery of the remains of 215 children at the former site of the Kamloops Indian Residential School on Tk'emlúps te Secwépemc territory. TikTok Canada stands with the Indigenous community and recognizes the continued trauma caused by the atrocities committed at Residential Schools throughout the country.
Healing takes time, and we put all of our programming, including our NIHM celebrations, on hold as we took the time to start to heal and grieve these profound losses, together. We believe that it's important now, more than ever, to use NIHM to celebrate and elevate the voices of the Indigenous creators and community on TikTok. This is also an opportunity to enlighten our users on the sometimes dark history and incredible contributions of Indigenous peoples; throughout June, TikTok will be shining a light on the profound global impact Indigenous creators have made using humour, music, fashion, beauty, food and culture to share their stories. We'll be amplifying these stories both on and off-platform, using #IndigenousTikTok and #LivingStories.
But our commitment to showcasing and celebrating Indigenous creators and stories goes beyond NIHM, spanning all year-round to inclusion in evergreen programming and campaigns. In addition to June's celebratory initiatives, TikTok Canada will be launching long-term programs focused on supporting Indigenous creators.
LIVE Programming
On May 31 we featured a #215Children banner on the Discover page, linking to resources to support anyone feeling affected by the discovery in Kamloops. Starting on June 8 and throughout the month, #IndigenousTikTok and #LivingStories will be added as banners, highlighting an amazing slate of storytelling and LIVE programming spotlighting Indigenous creators and artists. On June 10 at 8pm PT/10pm ET join @jayroymakokis and his nephew for 'Jay's Home Fire', a LIVE that invites viewers to relax and unwind. The one and only @chelazonleroux will be co-hosting a LIVE on June 21 at 2pm PT/5pm ET featuring @lesley_hampton, @4generationscreations and @cheekbonebeauty to discuss and highlight Indigenous-owned small businesses. Check the Discover page daily for the latest LIVE programming schedule!
#LivingStories Campaign
Indigenous stories live on beyond their storytellers. Passed down from generation to generation, they live through their children, and their children's children. Now more than ever, it's imperative that TikTok helps to ensure Indigenous stories continue to live on through our platform and reach a global audience.
Through an expansive cross-country campaign rolling out June 8, TikTok Canada's #LivingStories features creators @NotoriousCree, @atribecalledred, @gihhaa, @aichella, @ThatWarriorPrincess and @ohkairyn sharing histories, experiences and tales that have been told by elders and community figureheads. Working closely with Indigenous-owned agency Creative Fire, the campaign blends traditional storytelling with modern technology to give a platform to Indigenous stories and creators throughout Turtle Island and Inuit Nunangat.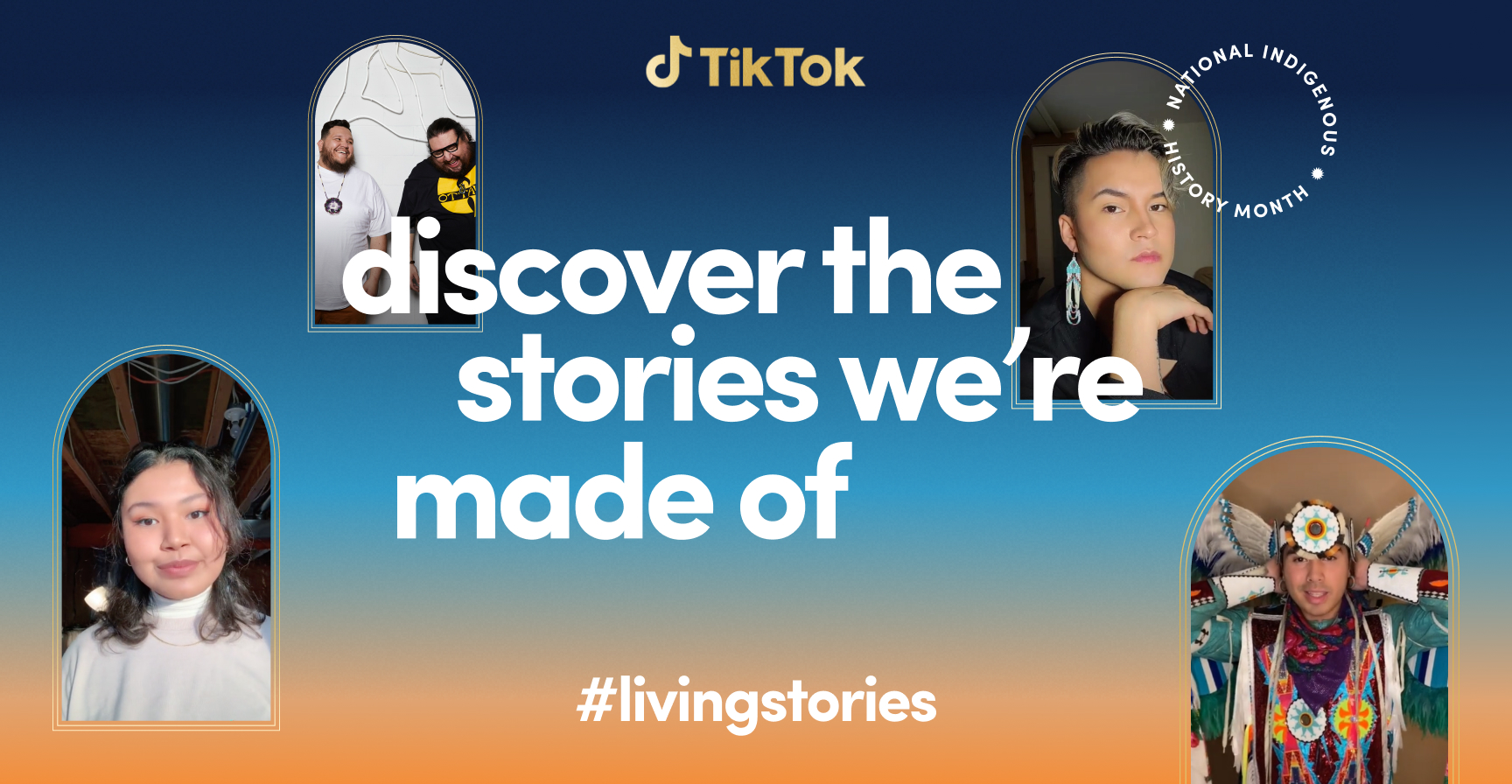 New in-app creative effects
Our in-house design and content team have introduced two creative features for NIHM: the first is a new effect called Aurora Burst - a combination of the popular Neon Burst effect and a stop motion trend involving the Northern Lights. The second is the first-ever informational sticker designed by an Indigenous artist for TikTok. The team was also honoured to partner with Patrick Hunter, a two-spirited Ojibiway artist originally from Red Lake, ON. Patrick shared this about the inspiration for the sticker:
The turtle represents not only my clan, but North America is often referred to as Turtle Island amongst many of the Indigenous communities whose territory we all call home now. The tree of life in the middle of the shell is not only a significant symbol to Indigenous people in North America, but many cultures globally. We all need to remember that we occupy one branch of the tree, and share the rest of it with the other creatures on this earth that rely on the tree for their food and shelter.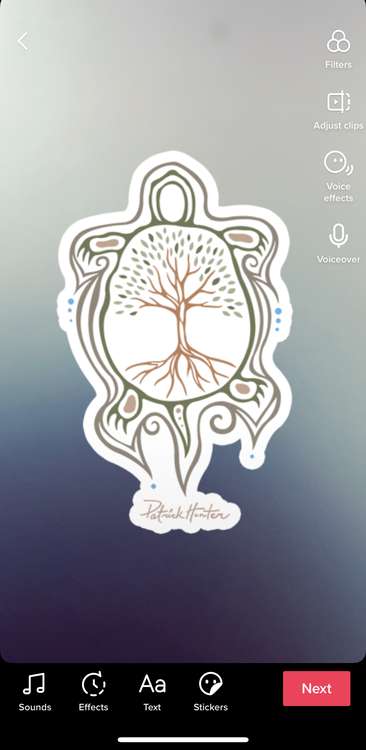 Creating safer and more supportive online spaces for Indigenous creators
We're committed to supporting and uplifting Indigenous voices, and we work to create a safe and inclusive environment by continually investing in our technology and moderation strategies, and in a variety of tools that help people feel empowered over their TikTok experience. We recently introduced a feature that allows people to report up to 100 comments at once or block accounts in bulk and also introduced prompts that ask people to reconsider posting a potentially unkind comment as we actively work to cultivate kindness in our community. There's no finish line when it comes to safety, and our Community Guidelines exist to protect the Indigenous community and others as we maintain a safe and welcoming experience on our platform.
Community Support
While celebration and acknowledgement are key to our efforts to support Indigenous creators, we know the work continues in and across Indigenous communities, especially for younger generations. This NIHM, TikTok will be partnering with and contributing $100,000 to non-profit organizations across Canada that support Indigenous communities focusing on culture, education, youth leadership and youth mental health. This includes support for Indspire's Rivers to Success Mentorship Program, We Matter's mental wellness resources for Indigenous youth, the National Association of Friendship Centre's Aboriginal Youth Council, and Downie Wenjack Fund's educational efforts during NIHM. This is in addition to TikTok Canada's support of the MusiCounts Learn teaching resource, KANATA: Contemporary Indigenous Artists and Their Music.
We're proud to celebrate Indigenous creators year-round and are committed to being a safe and inclusive platform for them to tell their stories, launch their careers, and share their cultural heritage. Building on this ongoing commitment, we'll be holding monthly virtual community programming with topics covering TikTok best practices, audience growth strategies, creator wellbeing, how to work with brands and more. We'll be announcing more at the #IndigenousTikTok Creator Circle, an exciting virtual event exclusively for our growing community of Indigenous creators. We'll have musical performances, appearances by TikTok creators, exciting special celebrity guests and virtual mingling that will uplift, thank, and celebrate all our guests.
We can't wait to celebrate Indigenous creators and share their experiences and stories with our TikTok community around the world. Follow #IndigenousTikTok and join us as we honour their impact and creativity!